With five editions of BFI London Film Festival under her belt and a sixth just beginning, Clare Stewart has transformed the event after five years of radical evolution.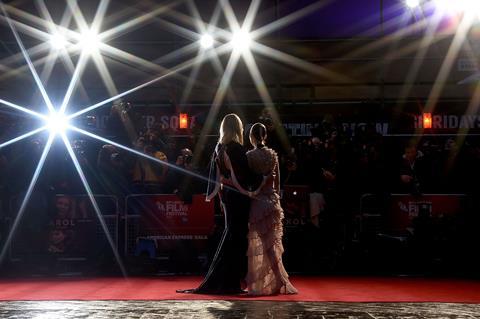 Arriving in London in August 2011 to a newly created role of head of exhibition at the British Film Institute (BFI), Clare Stewart had a whole year to plan and implement her vision for London Film Festival (LFF), before unveiling her inaugural 2012 edition.
In those months, anyone who met this feisty Australian would have picked up hints that change was a-coming. Indeed, Stewart did deliver a bold reinvention of the programme that, with further tweaks over subsequent years, represents a thorough transformation. Five years after that first Stewart-curated festival, and with the festival director's sixth edition (October 4-15) just beginning, the time is right to take stock and measure the impact of those changes.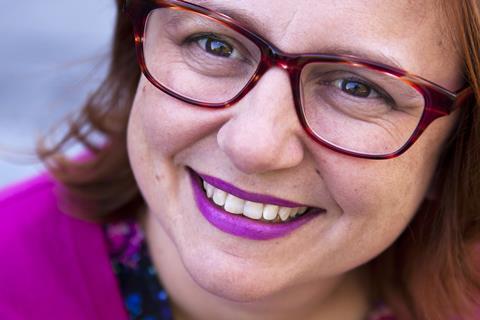 Six years ago, Stewart inherited a programme structure that had undergone only modest change in two decades under festival directors Sheila Whitaker, Adrian Wootton and Sandra Hebron. In addition to galas and the commercially appealing Film On The Square strands, most titles were organised into regional categories covering British, French, European and world cinema. Odeon West End and BFI Southbank (formerly National Film Theatre) provided the principal venues for most of this period, and the festival lasted an unwieldy 16 days.
Stewart arrived with respect for the "very strong programme integrity" at the festival she had inherited. "But I also perceived there was, from an external point of view, a perception that the festival was a bit of a closed shop; that it was for BFI members and for the industry," she says.
Her analysis developed into a two-pronged mission: to expand the audience by making the programme and festival look and feel more accessible; and to give the event a more significant position in the international arena.
Stewart looked at the day-by-day metrics of past festivals and felt that "an exhaustion factor was starting to creep in, both with audiences and media. I could see we weren't maximising in the last three or four days of the festival". She determined to shorten the duration to 12 days, in line with festivals such as Cannes and Venice. But in order to do so, without sacrificing attendance, she needed to expand the venue footprint.
"As an outsider coming to London," says Stewart, talking to Screen International at her BFI Southbank office during the build-up to the festival, "one of the significant characteristics of the city that I immediately identified was that the culture was very neighbourhood-driven, and that people had a tendency to prefer to stay local. Now, having been a Londoner for six years, I exactly know why that happens."
Recasting the festival
By far the biggest change came with the programme structure, jettisoning the regional categories; creating official competition strands to group titles competing variously for best film, first feature and documentary, which had hitherto been scattered rather invisibly throughout the programme; and branding films under mood banners such as Love, Laugh and Debate. The festival had introduced the best film award and an awards ceremony as recently as 2009, but its status remained fledgling.
"It wasn't engaging audiences with the idea that these are the films that were vying for awards," says Stewart. "Even though competitive sections is actually a very old-fashioned festival structure, I felt it had come back around in the age of social media, because people want to be involved in a conversation about what's going to win. It also gave significant profile to some of the more challenging and international films that may not otherwise break out."
For Stewart, the introduction of themed strands "was about addressing that question of access, for the person who is not a practised cinephile or who is not in the film industry, or is not a BFI member. How do they look at this daunting programme of 250 films and find a way in?"
But the shift was not universally popular, least of all with the existing programme advisers. "There was some resistance," Stewart concedes. "Not the BFI as an organisation, but there were some individual resistances. Not everybody was comfortable with the shift - and I get that - because I introduced a very different programmer matrix, as previously all the expertise that was being brought in from our consulting programme advisers was regional."
The festival now has a complicated programming structure, utilising a set of advisers representing regions with another set attached to the themed strands. "So each film effectively has to have a vertical champion and a horizontal champion," she explains.
Stewart's ambitions went beyond engaging wider audiences. While not wishing to sacrifice the LFF's 'festival of festivals' programming ethos, "I also wanted to see us hitting more in the [date] window that the festival exists in, in terms of the international landscape. I felt there was a big opportunity."
The festival had already grown in status under Hebron's tenure as a local launchpad for the awards season, especially with regard to London's many Bafta voters. Stewart then set about engaging the large cohort of US Academy voters resident in the city, giving them access to press-and-industry screenings, and liaised with Ampas over an annual event to welcome European members during the festival.
In 2015, the festival officially partnered with Screen's Stars of Tomorrow, bringing the event from summer into a date within the festival, and combining the brands for amplified power. Stewart arrived in the UK just after the BFI had inherited many of the functions of the abolished UK Film Council, and within a couple of months of Ben Roberts joining to head up the Film Fund. "While I was on a trajectory of developing the festival, Ben was on the trajectory of developing the Film Fund," she says. "There was an immediate crossover of interest around new British talent."
"I saw a strong link between our programming and the Stars of Tomorrow from previous years," she continues. "It felt much more natural to me to pursue that as a partnership rather than to set up something that might be similar in the festival. And I felt the work the event was already doing to engage the British film industry could be augmented by having more of a connection to the international industry that's in town when the festival is on."
Home front
One of the challenges Stewart inherited from her predecessor related to festival venues. Odeon West End, long the principal home of the LFF in Leicester Square, was definitively lost after 2014, and the 2015 edition saw strand galas and competition titles instead playing across the Vue West End's two biggest screens, with a 30-minute difference in start times to allow both audiences to benefit from talent introductions and Q&As: a cumbersome solution. On top of that, the festival lost audience in 2015 due to capacity challenges.
"It was clear to us that we were not going to be able to continue the growth trajectory if we didn't do some game-changing piece. We were also facing a real loss of being able to deliver a significant gala experience for the films that are being presented as strand galas and official competition films."
The festival did a major feasibility study, looking at all options, including other existing venues such as theatres. "In London's West End, that's a very demanding ask in terms of the number of days of the festival and the years you might need to book ahead to get a 12-day run anywhere."
Consulting with other festivals, including Toronto, Venice and Cannes, the solution — unveiled in 2016 and repeated this year — has been the 800-seat pop-up cinema in Embankment Gardens, sponsored by Christie's, Dolby and Harkness Screens with support from the BFI Trust. It is an expensive undertaking, but the numbers add up: the festival's paid admissions rose from 157,000 in 2015 to 185,000 in 2016, a rise that almost identically matches the 26,000 tickets sold for Embankment Gardens.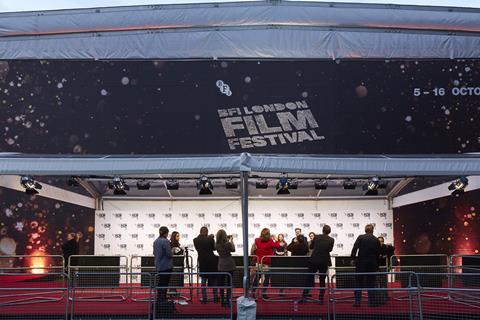 Growth amid austerity
Festival growth has been achieved against a background of reduced government support and an expanded cost base (up 33% in the Stewart era), linked to venue growth and a wider array of gala premieres — there are 31 galas and special presentations in the 2017 line-up, compared with 16 in Hebron's final year. During Stewart's tenure, government support has fallen from 45% to 22% of the overall budget, while box office has grown 85%. Sponsorship revenue has grown 53% since 2008. Increasingly, distributors are being asked to shoulder costs for red-carpet events, talent travel and hospitality. "Our growth has been achieved while juggling an actual reduction in subsidy, while being ambitious in how we open up the festival for both filmmakers and audiences," says Stewart.
Observers of internal BFI politics will have noted that Stewart was hired in 2011 as head of exhibition, with a dual role straddling the festival and the BFI Southbank programme. This was a job for which existing LFF director Sandra Hebron opted not to apply, reportedly believing it to be impossible to accomplish. Stewart was well placed to deliver both parts of the role, having served as programme director of the Australian Center for the Moving Image in Melbourne (2002-06) as well as at Sydney Film Festival (2006-11), and was attracted by the notion of creating greater synergy between the BFI's venue and its festivals. Since 2013, Stewart has been designated BFI head of festivals — no longer overseeing Southbank programming — directing the LFF and BFI's LGBT festival Flare with support from her deputy Tricia Tuttle.
Explains Stewart: "It gobbles you up. You go down the tunnel of locking the programme for a couple of months. You're then in delivery mode. It's not easy to give the same level of focus and attention to the year-round venue when you're in that space. For the Southbank programme to go through a significant revision, it needed a lot more focus than I could give while I was also on this trajectory with the LFF, and we also deliver another significant festival [with Flare]."
While Stewart may not be delivering the anticipated synergies in person, they have nevertheless been achieved, since the BFI Southbank now offers a more enhanced programme of contemporary cinema to complement its archive. Under Stuart Brown, appointed BFI head of programme and acquisitions in 2015, the Southbank now presents what is in effect a year-round festival programme, and titles from LFF 2016 that went on to play the venue for full runs this year include Manchester By The Sea, Moonlight, Certain Women, Toni Erdmann, Elle, Raw, Frantz and The Levelling.
As for future plans, Stewart remains tight-lipped: "Change requires focus and energy, and there's always a need to take stock and consolidate," she says. "But right now all I'm thinking about is delivering a knockout 2017 edition."
LFF 2017: talking points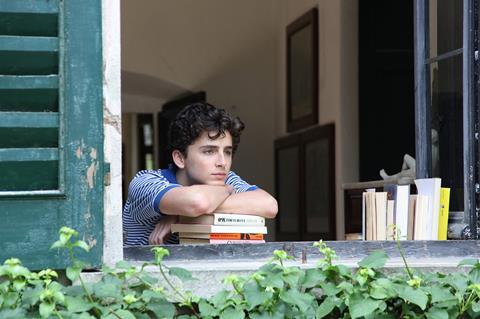 In 2015 and 2016, BFI London Film Festival nailed its colours to the mast via symposiums that addressed themes, respectively, of gender in media and black representation. In 2017, there is no symposium and neither is there a keynote address. Instead, the festival spotlights talking points in three distinct areas: LGBT — represented in gala titles Call Me By Your Name, Battle Of The Sexes and A Fantastic Woman — and, strongly throughout the programme, immigration and social division, and deafness and disability — most visibly present in festival opener Breathe and Jake Gyllenhaal drama Stronger. An event in the industry programme will focus on the latter, looking at both representation on screen and access for audiences affected by disability.
Explains Stewart: "We didn't want [discussion points] Strong Woman and Black Star to disappear and be one year only, and one of the apparent topics that was rippling through this year's selection was around immigration, refugee experience and social division, which is a very topical thing to talk about but doesn't necessarily then relate specifically to an industry event. I don't feel we should have a symposium for the sake of having a symposium."
LFF Connects and NET.WORK@LFF
Introduced in 2015, LFF Connects is a series of talks expanding the scope of the festival by reaching out to other creative industries including television, art, music and games. This year's participants include musician Nitin Sawhney, author Ian McEwan, moving-image artist Julian Rosefeldt, virtual-reality artist Johan Knattrup Jensen and David Fincher, presenting his new Netflix series Mindhunter.
The strand was inspired by Stewart's experiences on the World Economic Forum's first Global Advisory Council for the creative industries, as well as in recognition of London's important position in the international creative landscape. But, asks Stewart: "Is the film industry active enough about looking at what's happening in other industries and thinking about how we might change up creative practices, change up business models?"
BFI emerging talent scheme NET.WORK will feature at the LFF for the fourth year, with 17 emerging writers, directors and producers selected from 260 applicants. They will attend five days of masterclasses, screenings, networking and one-to-one sessions with UK and international filmmakers and executives — including Luca Guadagnino (Call Me By Your Name). For Stewart, NET.WORK@LFF sits alongside the festival's First Feature competition (which this year features UK debuts Beast, I Am Not A Witch and Apostasy) and its partnership with Screen on Stars of Tomorrow.
"Those three things together became a very compelling way to focus on new British talent, something we identified was of high value to our international visitors — producers, agents, casting directors, and so on," says Stewart.
The 2017 London Film Festival runs from Oct 4-15.