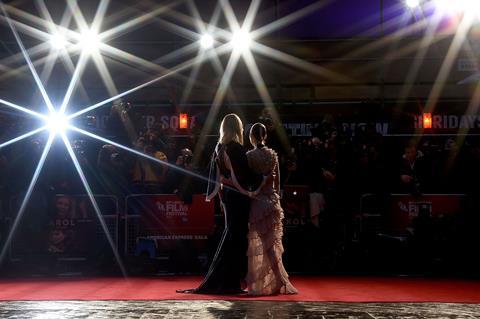 The BFI London Film Festival (4-15 October) has unveiled the line-up of industry events set to take place alongside the 2017 festival.
This year's guests include Ben Roberts, director BFI Film Fund, Dawn Hudson, Academy of Motion Picture Arts & Sciences CEO, Daniel Battsek, director of Film4, Rose Garnett, director of BBC Films, Oscar-winning producer Iain Canning and Oscar-winning costume designer Jenny Beavan.
Events
Battsek, Roberts and Garnett will take part in panel on the future of public film funding and discuss their respective strategies for supporting films and filmmakers, and the issues facing the independent sector.
Roberts will also participate in an 'Inside the BFI Film Fund' event, where his team will explain what they are looking for in the films and filmmakers they support and how they make their decisions.
Other highlights include a casting panel on how to secure stars without finance in place, which features producers Iain Canning (Lion) and Daisy Allsop (Orthodox), Slow West director John Maclean and casting directors Lucinda Syson (Wonder Woman) and Debbie Williams (Skyfall).
A session titled 'Does Gen X Give a damn about the big screen?' will explore ways to attract the 16-30s audience.
BFI head of international Isabel Davis will host a panel on the impact of Brexit on the UK film landscape so far.
AMPAS CEO Dawn Hudson will take part in a panel that examines how to encourage more women to enter the VFX industry that will also feature Sara Bennett, the first female VFX Supervisor to win an Oscar for Ex Machina. Double Negative's Andrew Lockley and Framestore's Neil Corbould also take part.
There will also be two events that focus on diversity; a session presented by the Production Guild on improving inclusion behind the camera; and a panel on the inclusion of disabled people featuring Christine Payne, the general secretary of Equity and Tunde Ogungbesan, head of diversity, succession and inclusion at the BBC.
The 2017 Screen International Stars of Tomorrow will also be introduced to the industry at a networking reception, followed by a dinner hosted by the British Council and supported by CSA.
These events are in addition to the previously announced LFF Connects and Screen Talks with participants including Julian Rosefeldt, Cate Blanchett, David Fincher, Ian McEwan, Demis Hassabis, Nitin Sawhney, Johan Knattrup Jensen and Takashi Miike.
The industry accreditation deadline is 5pm, Friday 15 September 2017.