The climax of Ford V Ferrari may be pedal to the metal but the racing drama's journey to the screen involved a decade of stops and starts, director James Mangold tells Mark Salisbury.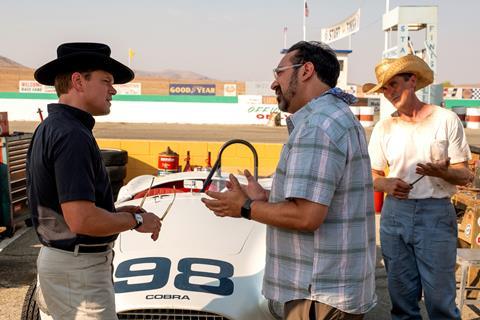 Nine years ago, director James Mangold read a screenplay by Jason Keller called Go Like Hell, recounting the fierce battle between US and Italian car giants Ford and Ferrari that climaxed at the 1966 Le Mans 24-hour race in France. "I had been slipped the script as a writing sample," Mangold recalls. "It was character-based, first and foremost, really unique characters, but what blew me away was how the film wound down. The result of the race was not at all what I expected, because I knew nothing of the history when I read the script. I really experienced it with this kind of shock. I thought real life had such Aristotelian perfection to it, the way these characters' lives had intersected and been changed by this race."
Get in line
The script was set up at 20th Cen­tury Fox, for whom Mangold directed Knight And Day and the Oscar-winning Walk The Line, so he went in to see the studio's president of production (now also vice chairman) Emma Watts, to discover Michael Mann was already attached. "They said, 'There's no way you're getting on this movie, it's got other people on it and they're not leaving.'" Nevertheless, Watts had something else in mind for him.
"She handed me the newly, suddenly freed Chris McQuarrie script for The Wolverine, because Darren Aronofsky had stepped off, so I started looking at that," recalls Mangold, who subsequently directed Hugh Jackman in the Japan-set X-Men spin-off to the tune of $415m worldwide. He followed it with 2017's Logan, which scored $619m at the global box office and earned an adapted screenplay Oscar nomination for Scott Frank, Michael Green and himself.
By the time Mangold finished with Logan, Go Like Hell had lost Mann, gained then lost Tron: Legacy director Joseph Kosinski and stars Tom Cruise and Brad Pitt, and was languishing in development on account of a budget prohibitively north of $100m. "They couldn't figure out the money side of it, which has been the big question on this movie forever," reveals Mangold. "It's a very expensive proposition and studios are not in the habit of spending this kind of money on movies that don't involve a pre-existing popular character of some sort that guarantees them a little more worldwide box office than an original film about some racers that most people haven't heard of."
Undeterred, Mangold signed on, hedging his bets by also attaching himself to a Patty Hearst biopic written by Scott Alexander and Larry Karaszewski (Ed Wood, Dolemite Is My Name). "I didn't know if we could get the numbers down fast enough to get a greenlight and [the Hearst project] was a lower-budget film I was going to make in the interim." But Fox pulled the plug when Hearst herself publicly slammed the book by Jeffrey Toobin on which the script was based. "The political world blew up on that movie and destroyed it. Which was literally Patty Hearst feeling there was too great a chance we were going to misrepresent her experience."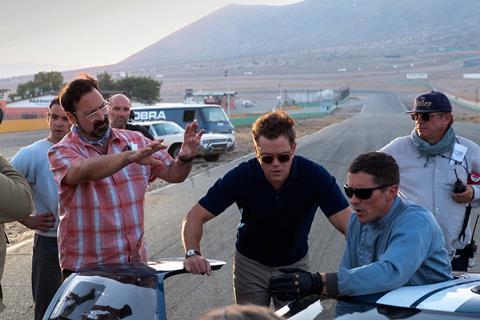 With the Hearst film on hold, Mangold threw himself into Go Like Hell, which originally had been based on a 2010 non-fiction book by AJ Baime, although the finished film does not credit it (Mann is listed as an executive producer). "By the time I got round to it, it had departed so much from the book, it wasn't the book any more. Then I revised it more," explains Mangold who worked with UK screenwriters Jez and John-Henry Butterworth to make further changes, "reshaping the ending, leaning into the race more. I wanted it to be a chamber piece, building up to this one gigantic race, a kind of reverse Saving Private Ryan, if you will. I wanted to save our limited resources towards mounting a race where you really felt the marathon aspect of Le Mans."
To reduce the budget, Mangold slashed most of the racing — "because that was so expensive. Especially because it was my intention to shoot with real cars. I didn't want to do a Fast & Furious CG-arama" — including an entire sequence at the 1965 Le Mans, having Christian Bale's character listen to it on the radio instead. "Staying home with Christian, living it through his character, saved $7m-$8m in one fell swoop."
Bale, who previously starred in Mangold's 3:10 To Yuma remake, was the filmmaker's first choice to play eccentric Birmingham-born racer Ken Miles, who is hired to drive for Ford. "There was no question, I needed to get him," Mangold says. "I prayed when I offered it to him. And I felt he would respond to the character because I know him pretty well. Christian's had very few chances to play a character closer to who he is, I don't just mean being a Brit. For me, the playfulness of the character, the passion of the character, the kind of idealism and romanticism of Ken Miles is very much who Christian is. Also, Christian and Ken Miles are not interested in fame per se. They love what they do and want to do it."
As Miles' long-suffering friend, former racer-turned-car-designer Carroll Shelby, Mangold cast Matt Damon. "I've known Matt as long as Christian, even longer," he notes. "I met him when his girlfriend was Winona Ryder, I was making Girl, Interrupted, and he was hanging out on our set a lot. We stayed in touch. We've tried to work together [before], and this became a great opportunity for the three of us."
Mangold's references for shooting the race scenes were Steve McQueen-starrer Le Mans (1971), John Frankenheimer's Grand Prix (1966) and William Friedkin's The French Connection (1971), rather than the documentarian style of Ron Howard's Rush (2013), although he admits to not actually liking motor sports. "I asked myself, 'Why? You like cars. You like sports. You like competition. What is it about this?' And I realised, watching it on television just bores the shit out of me," Mangold says.
"My theory was, to make racing accessible, I had to put you in the cockpit, on the track, in a way that allowed you to understand the decisions the driver and the pit team are making before they make them, so like any film, you're allowed to have anxiety or anticipation or suspense about what could go wrong, as opposed to having this odd distance as a passive observer. That determined a lot of how we shot it, meaning my crew and I had to figure out ways to put the camera and our actors on to the road, at all costs."
The results are spectacular, both on screen and off, with Ford V Ferrari, as Go Like Hell was eventually titled, earning an impressive $31m in its opening weekend at the US box office. In the UK, where the film is called Le Mans '66, it debuted with a solid $2.4m. Why the different titles? "I made the mistake of not having a solid title when we were shooting, which I will not make again, because then it becomes this giant question mark for all of post-production," says Mangold. "The title we landed on was Ford V Ferrari, but we found out you can't use trademark names of companies in a title without their permission in the UK, and we weren't prepared to screen the movie to get their mutual permission."
From debut Heavy, through Cop Land, to Girl, Interrupted and Walk The Line, Mangold has trod a career path lined with mostly original adult dramas — the type of movies that are now gravitating to the small screen. While Mangold has directed episodes of TV, he remains committed to cinema, citing "the romance of the big screen, not unlike the romance of Le Mans, and getting at least a week in the culture to occupy attention".
He adds: "To me, the tough thing about streaming and television isn't just the loss of the big screen, but the loss of the cultural moment. I have friends who make shows and they come out and kind of exist in the ether. I'm going to make movies as long as they let me. And certainly, after the success of Logan, I knew I had a window to do something a little trickier and so I tried."
Slow and steady
While Mangold is developing a slate of movies, including an adaptation of Don Winslow's novel The Force at Fox, he has yet to commit to his next project. "One of the things I am very conscious about — if I'm getting the opportunity to make theatrical movies, ones that are largely original or different — is to make sure I don't fuck it up. Because if movies like this don't work, that's just one more nail in the coffin of the original feature film.
"I grew up on The Guns Of Navarone and David Lean, films that were epic and adult, and I'd hate to see that all go to the province of Star Wars and Marvel. That somehow you can't make a movie of scope without it having some identifiable brand or market angle that guarantees it a base audience. What Sam Mendes is doing, or what I'm up to, [is] between the franchise pictures, trying to do something interesting. And I think it's largely an effort to keep alive the very cinema that inspired us."