As he commands awards attention for his role as enigmatic real-life serial killer Charles Cullen in The Good Nurse, Eddie Redmayne tells Screen about the challenges of playing a villain.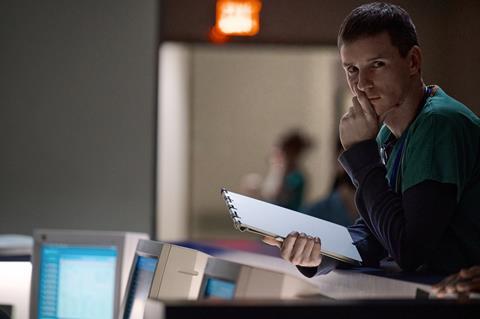 "I find the moments that I've done more interesting work is often when people see something in me that perhaps I don't see myself," says Eddie Redmayne. It is something the actor experienced in 2011, when he took the title role in Michael Grandage's Donmar Warehouse production of Shakespeare's Richard II. Over the years, he had been told many times of his suitability for the role of the 14th-century monarch who was deposed by Henry IV, and says that he was shocked when finally reading the play to find a "pathetic, completely incompetent, sort of wet king who fails at everything".
He laughs at the memory, but Redmayne is in earnest when he says he enjoyed playing the role. He now finds himself in a similar situation with his latest project, Net­flix's The Good Nurse. The Protozoa Pictures and FilmNation Entertainment production is based on the true-crime book by Charles Graeber, adapted by UK screenwriter Krysty Wilson-Cairns (1917) and directed by Denmark's Tobias Lindholm (A War).
Redmayne plays Charles Cullen, a New Jersey nurse who befriends colleague Amy Loughren, played by Jessica Chastain, who eventually helped to convict Cullen of killing 29 patients (the figure is possibly hundreds more) during his 16-year career.
The UK actor, who in recent years has alternated a trio of films in the JK Rowling Fantastic Beasts And Where To Find Them franchise with dramas such as The Aeronauts and The Trial Of The Chicago 7, did not set out to play — nor did he see himself in — a seemingly kind, compassionate and sincere serial killer. In fact, he never sets out to play a certain character, and after 24 years of acting on both stage and screen has realised that relying on instinct when choosing roles yields the best results.
"It's all about… that moment when you're reading a script and you transfer from it being an objective thing to imagining yourself in the part; and then a slight rumble of sort of a sick feeling [happens] in your stomach that tends to mean you've got to do it," says the 40-year-old Academy Award and Bafta winner, who earlier this year appeared opposite Jessie Buckley in the London West End revival of Cabaret. "In the past, I've talked myself into things by going, 'Oh, it's a great director or an interesting other actor' or all those sorts of things. But those times when I haven't felt that gut instinct, it tends not to have worked."
The Good Nurse, which premiered at Toronto International Film Festival in September and made further festival pit-stops before landing on Netflix in late October, is told distinctly from Loughren's point of view, and Chastain holds the audience captive with tense moment after tense moment. Charlie, as he is known in the film, is a mystery, unknowable, and Redmayne — who was not aware of the murders or the man prior to taking the role — felt that was the right way to approach the story for the purposes of this film.
"There's a documentary about this case [Tim Travers Hawkins' Capturing The Killer Nurse, also on Netflix] in which you hear a huge amount more about Charlie's life and [his] astonishing trauma," says Redmayne, referencing the horror of Cullen's early life and the failures of the systems that kept him out of jail or psychiatric hospitals where he most likely belonged. "And when prepping the film, you do all that research, and I love that part, but that's not what this film is about. But [I do] try and bottle all that and work with what that trauma may be to humanise him."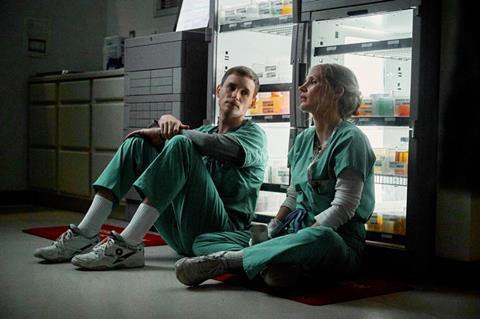 Preparation time
Redmayne — first attached about six years ago to The Good Nurse, which went into production in April 2021 — says that one of the most important conversations he had in preparing to play Cullen was with Loughren.
He describes her as an extraordinary woman and recalls speaking to her at length before filming began about the complicated relationship she had with this man who did "monstrous things… horrific, indescribable things", says Redmayne. "[But he] also helped save her life, and was lovely and kind and funny and gentle. The playing of this was about the truth in friendship; it was about real empathy and real kindness. It just happens that this man was then weaponising those traits in a horrific way."
Redmayne has played a few real people over the years, most famously physicist Stephen Hawking in The Theory Of Everything, which won him an Oscar and Bafta. His second Oscar nomination came only a year later for The Danish Girl, in which he portrays transgender pioneer Lili Elbe. His process in approaching these real-life characters is ever-changing, he says, but what stays constant is that he needs a long runway: "I'm not an actor that can go from job to job."
With The Good Nurse, Redmayne started with Graeber's book, of which the first two-thirds covers Cullen's upbringing and abuse, and the final third narrates his meeting and working with Loughren and the misguided "mercy" killings. The film is based on the latter part.
"What's riveting is that it's told by a great storyteller who gives his own artistic inflections on who he believed this man to be," explains Redmayne. "The more I play real people, the more other people's interpretations of those people — particularly artists, whether it's painters or writers — become really important to me. Because you accept it's not a documentary and you're never going to be the [exact] person, that there is a level of licence. So seeing how other people interpret him is really useful."
For example, in a particular section of the book, Graeber describes Cullen as looking like a question mark; Redmayne read that as a physical trait but also that the man was this anonymous enigma. It was a glimpse into not just who Cullen was but how he was, and helped Redmayne build the next steps in his process of portraying him on screen. He worked with dialect coach Michael Buster to nail down Cullen's US accent, and with choreographer and movement coach Alexandra Reynolds to perfect Cullen's physicality.
"I like to work months in advance so that by the time I'm filming, it's second nature," says Redmayne, who at press time had no new role announced. "I [worked on] all those technical elements, all the research so by the time I arrived in New York with Jessica and Tobias, all of that was almost, hopefully, embedded in me somewhere. Getting to play opposite someone as extraordinary as Jess in the circumstances that Tobias puts you in, all the conscious thought disappears and you're just reacting."