In the life of Richard Williams — father to tennis stars Venus and Serena — producers Tim and Trevor White identified a powerfully relatable tale of love and determination. Screen talks to the King Richard team about realising their collective vision.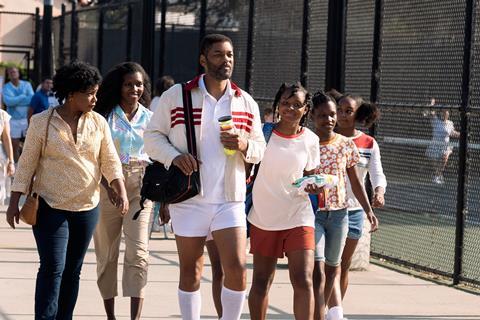 As a decent young player himself at the time, Tim White took notice when Richard Williams and his daughters Venus and Serena arrived on the world tennis scene in the mid-1990s. And 20 years later, the charismatic, somewhat-ebullient Williams patriarch was still on White's mind when he and his brother and producing partner Trevor were discussing development plans for their Star Thrower Entertainment.
"This was a character we kept talking about," Tim White recalls. Trevor White admits that at first he had only a vague idea of Williams as "a fairly controversial figure", but his brother "came to me and said this might be the greatest coaching story in the history of sports. And from that we could extrapolate, a much larger story about this family and the love and determination that goes into it."
While building their company's reputation with films such as LBJ and Ingrid Goes West, and earning executive producer credits on Taylor Sheridan's Wind River and Steven Spielberg's The Post, the Whites spoke to a number of potential writers for their Williams story — but "no-one cracked what the movie actually was", says Tim White. Until, that is, a 2017 meeting about a different project with Zach Baylin, an up-and-coming writer who had not yet had a screenplay produced but who happened to be a tennis fan.
Over the course of a weekend, Baylin read and watched everything he could on Williams and his audacious plan to turn Venus and Serena into champions: the years the sisters and their father spent training on rundown courts in the family's rough Los Angeles neighbourhood of Compton; the push to get recognition from the tennis world's often sniffy coaches and organisers; and the family's move to the tennis mecca of Florida.
The outline that resulted "gave us goosebumps instantly", says Tim White. According to Baylin, it closely resembled what would become the finished script for King Richard, confining the story to a five-year period during which the Williamses faced their biggest challenges.
For the story's exit point, Baylin picked the 1994 match in which the then 14-year-old Venus, playing her first pro tournament, nearly beat world number two Arantxa Sanchez Vicario. "Everything they were hoping to achieve boiled down to that moment," says the writer.
Leading up to that finale were story beats including Richard's potentially fatal close encounter with local gang members, the securing of the girls' first coach and the decision to allow Venus to go professional.
Identifying the story's entry point — with Williams pitching his daughters' talents to dismissive coaches in a string of fancy tennis clubs — was "much harder", says Baylin. "I probably wrote and rewrote the first 15 or 16 pages [of the script] the most, trying to set up the stakes of everything Richard wanted to achieve but still dropping you into the story with some momentum."
Throughout the writing process, painting an accurate portrait of Richard Williams was crucial, Baylin contends. "The story is so unbelievable I was concerned anything that deviated too far from the truth in the telling of it could negate the veracity.
"I was drawn to the fact this was going to be a very complicated guy," Baylin continues. "There were perceptions of him being an overbearing sports parent and when I went into researching it, I suspected that that's what I was going to be writing. But what I was surprised to discover was that at home and in his family life, Richard was this light goofball and that Oracene [Richard's then wife and Venus and Serena's mother] was more of the strict disciplinarian."
Star power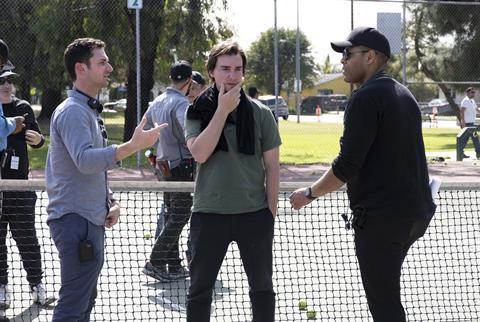 With an early version of Baylin's script in hand, the White brothers next approached Will Smith, their top choice to play Richard and someone whose involvement would, they hoped, win the approval of the real Williams family. "We wanted to be able to go to the family with an actor or filmmaker attached that would help them take the project seriously," explains Trevor White.
Smith agreed to star — and become a producer through his Westbrook media operation — as long as the family was on board with the project. And that began an extended period of consultation that would help shape the film's telling of the Williams story, with Isha Price, half-sister to Venus and Serena and eventually an executive producer on the film, acting as primary point of contact between the filmmakers and the family.
"We didn't want to make the movie without the family blessing it," explains Tim White. "It took nine months of conversations between us and Zach and Isha — and ultimately Oracene, Serena, Venus and the whole family — to really talk about what this project would look like and have them feeling comfortable and trusting us."
"Surprisingly," he adds, there was little back and forth with the family about details of the film's story: "All their notes and comments on the script were always about making things more real."
There was no need, according to Tim White, to negotiate a life-rights deal with the family, or a deal for rights to Richard Williams' 2014 memoir Black And White: The Way I See It. (Rights to the memoir and Williams' life story were later claimed by two companies filing a breach-of-contract complaint against Star Thrower, King Richard studio Warner Bros and others, though the matter was soon settled out of court.)
"We felt — and our lawyers definitely advised us and ultimately Warner Bros agreed — that the story was in the public domain and everything in the script fell within fair use, and there was no need to actively go out and secure any rights in that form," says Tim White.
Warner won an auction for the project — with Universal and Netflix reportedly among the other bidders — in March 2019 and set a budget in the $50m-$60m range. The Whites then began to fill out the project's cast and search for a director who could handle both the dramatic and sporting elements of the Williams story.
The roles of elder sister Venus, who had her tennis breakthrough first, and Serena, who dominated the sport longest, were hardest to fill, for obvious reasons. "We knew it was going to be very challenging to find two young girls who were both phenomenal actresses and natural athletes," says Trevor White. "We thought we could train girls to pull off the tennis piece, but you can't work backwards from people who couldn't sell the emotional core of these characters."
Early on, there was a discussion about casting two sets of actresses, one to play Venus and Serena at nine and 10 and another for later scenes when the sisters are 13 and 14 years old. But, says Tim White, "We all felt it would be distracting if the actors changed faces at some point."
In the end, the producers chose Saniyya Sidney (Hidden Figures, Denzel Washington's Fences) to play Venus, and Demi Singleton (TV series Godfather Of Harlem) to play Serena — actresses who had both figured in the earliest auditions for the roles. Sidney and Singleton's handling of the big emotional scenes won them their roles, says Trevor White: "The fact they're both natural athletes was just a cherry on top."
To direct, the Whites and Smith picked, after another extensive search, Afro Latino US filmmaker Reinaldo Marcus Green, whose debut feature Monsters And Men had won the special jury award for a first film at the 2018 Sundance Film Festival, where Smith's wife Jada Pinkett Smith was on the jury.
"We felt like there was something exciting about a younger filmmaker with a fresh vision," explains Trevor White. "Beyond that, he could relate to these characters in a way no other filmmaker we talked to was able to. He came from a family that was not unlike the Williams family, with a father who raised him and his brother to be baseball players. He understood what that dynamic was like. And Tim and I wanted to have a person of colour telling this story. We thought that was important to accurately portray this family."
First serve
King Richard began its California shoot — securing a $7.5m tax credit from the state, and with the story's Compton scenes filmed in the real city and the Florida settings created with some visual-effects assistance — in February 2020. Then, less than three weeks later, the production was forced to shut down as the Covid-19 pandemic began to bite.
What eventually became an eight-month lay-off, with filming only recommencing in October that year, inevitably caused the project some problems: the shooting schedule had to be extended from 45 to 50 days to account for safety protocols; the number of extras in crowd scenes had to be reduced; and, due to a scheduling conflict, the role of coach Paul Cohen had to be recast, with Tony Goldwyn joining the ensemble in place of Liev Schreiber.
But there were also, says Tim White, "silver linings. It gave Rei and Will a chance to cut together what they had shot, to assess what was working well and see some changes that could maybe happen. And it gave time for the girls to do more preparation for the tennis."
The tennis, of course, was always going to be an important part of a film about the Williams family, and creating convincing scenes of the sport being played at a high level involved a mix of techniques and talents.
"Not only did we have to figure out how to make the tennis believable," Trevor White points out, "we had to make it look like it was evolving over the course of three or four years."
According to Green: "Saniyya and Demi trained rigorously for months in order to do it. We had them run though all of the tennis in the film and they were able to do a lot of it."
Doubles were brought in to perform the power hitting of the film's big match scenes, Green adds, and the doubles worked with tracking marks on their faces so that, if necessary, their faces could be replaced by those of Sidney and Singleton.
In other instances, CG artists were able to 'move' balls hit by Sidney and Singleton to make stray shots look like winners. "It's a marriage of all the materials together, and then Rei and Pam [Martin, editor] did a wonderful job editing it and making it come to life," Trevor White explains.
A little over a year after King Richard's shoot finally wrapped, the film has become a major awards contender, with six Oscar and four Bafta nominations, including Smith and Ellis in their respective acting categories at both awards, and ditto Baylin for original screenplay. The White brothers and Smith have a best picture Oscar nomination; other nominations include Producers Guild, Writers Guild and best cast at the Screen Actors Guild Awards.
King Richard's release was affected by Warner's shift to a simultaneous theatrical-streaming strategy for its entire 2021 slate, but the participants are believed to have benefited from the 'make-good' deals agreed with the studio (Smith reportedly ended up with $40m for his work on the project and passed some of it on to his co-stars).
The release strategy "was ultimately a good approach for movies like ours in the middle of a pandemic", says Tim White. In financial terms, he adds, "at the end of the day, we felt we were treated fairly by the studio".