This year Open Doors Lab is again helping producers develop the local film scene and forge international collaborations.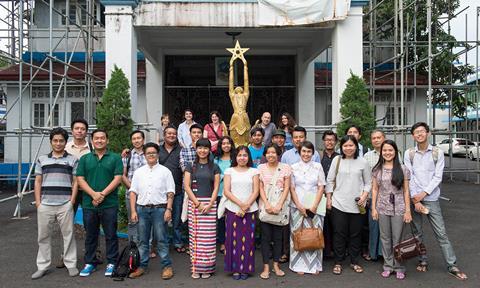 It can be hard to be a producer in South Asia, a region with a severely limited independent film infrastructure and little chance of developing peer-group cohorts to support and sustain. Which is why Locarno Festival is stepping in to help. For the second year of a three-year initiative focused on the region, this year's Open Doors Lab (August 2-8) is an intensive networking and training programme for eight producers selected from the South Asian countries of Afghanistan, Pakistan and Sri Lanka.
Read more:
Locarno Festival 2017: 10 films to look out for
While the film industry in each of these countries is dominated by a privately funded, popular version of Bollywood, Open Doors is dedicating three years to identifying the region's most internationally minded independent producers and giving them the tools they need to help create an outward-looking alternative local industry.
"We don't want to impose any ideas," explains Sophie Bourdon, head of Open Doors. "The idea is for the producers to find their own adaptation of what we do in the western film industry and take it back to their own country and region, while becoming more internationally engaged."
The initiative is overseen by Bourdon with Delly Shirazi, Lab head of studies, who has also worked with Doha Film Institute, and brings in international film professionals (including Locarno industry delegates and guests, partners from TorinoFilmLab, Initiative Film, ACE, EAVE and OLFFI, and sales agents, distributors, script editors and fund executives) to talk candidly with the producers about their role in the industry. Each producer brings a project to be used as working material in the Lab's practical discussions, although the aim is not to further any specific project.
Entrepreneurial spirit
Particular focus is placed on the importance of both the development and post-production stages, which can be overlooked in privately backed film cultures where filmmakers are encouraged to start shooting the moment they have the budget. In contrast, the Lab encourages producers to be more entrepreneurial, and to consider the financial benefits of taking the time to develop and finish projects.
"The trick is to open the door to our world," says Bourdon. "We want them to understand it and play with it, and try to work with it from their region. They're coming from an industry where one person generally does everything. We talk to them about how to apply for public funds, when and how to work with a local co-producer, how to work with a sales agent and distributors, and so on."
Bourdon emphasises the Lab is only the beginning, both for the producers and for Open Doors itself. "In the three years [of focusing on the region], we want to initiate something," she says. "We want the producers to really care about their film world back home. We hope they are the driving forces who help forge greater connections to the international film world. A one-week Lab can trigger something but it can't answer all their needs. They need to do the hard work."
Following a four-day workshop in Myanmar at the end of 2016, in collaboration with MEMORY! International Film Heritage Festival, Open Doors hopes to conduct Labs in Karachi and Kathmandu over the next 12 months, working closely with the nascent local independent industry.
One of the most empowering elements of the Lab for participants is how the producers are regarded right from the beginning. "We are keen to make them understand they are producers and are not disadvantaged in any way because of where they come from," says Bourdon. "We tell them, 'As long as you are a producer, you are part of the filmmaking community.' The idea is to open doors to them."
Open Doors Lab 2017 Participants
Mohammad Mehdi Zafari - ADFO Afghanistan Documentary Film Organization (Afghanistan)
Jawed Taiman - Tora Bora Media (Afghanistan)
Abdul Tamim Zarabi - Rumi Films Productions (Afghanistan)
Mehnaz Alavi Diwan - Studio Rail Films (Pakistan)
Jamshed Mahmood - Azadfilm (Pakistan)
Mohamed Adamaly - Monad Art (Sri Lanka)
Rasitha Jinasena - Sky Entertainers (Sri Lanka)
Anura Silva - Ashram Films (Sri Lanka)
Observers
Jamyang Wangchuk (Bhutan)
Nwaye Zar Che Soe (Myanmar)
Read more:
Locarno Festival 2017 highlights eight upcoming South Asian projects