In the awards fray again this year, Marielle Heller tells Screen how she won over Tom Hanks for Fred Rogers story A Beautiful Day In The Neighborhood.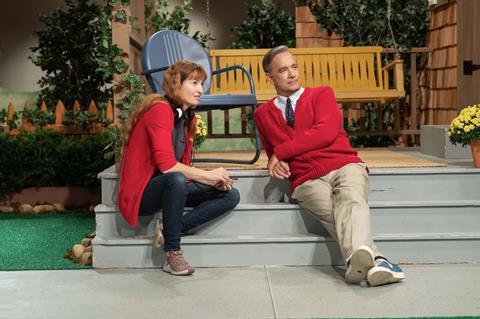 Back in 2015, when Marielle Heller was directing an episode for the second season of Jill Soloway's Transparent, her path collided with writing team Micah Fitzerman-Blue and Noah Harpster. The duo penned a pair of episodes for each of the first three seasons of the Amazon series, and were also at this time working on a screenplay called I'm Proud Of You, about famed US children's TV host Fred Rogers.
Having already landed on the 2013 Black List of most highly regarded unproduced screenplays, the project had another director attached at the time. In early drafts, the script had been an adaptation of Tim Madigan's 2006 autobiographical novel of the same name, which recounted the Texas journalist's nine-year friendship with Rogers up until the TV icon's death in 2003. But as they went along, the screenwriting pair eventually settled on Tom Junod's November 1998 US Esquire cover story on Rogers, 'Can You Say… Hero?' as their main source of inspiration.
"I remember when Noah and Micah first told me about it, I said something ballsy like, 'That sounds like something I should be directing!'" recalls Heller. "They kind of laughed awkwardly and said, 'Oh, we're sorry.'"
Years went by and Heller was nearing completion on her second feature Can You Ever Forgive Me? (2018) starring Melissa McCarthy and Richard E Grant, when she received Fitzerman-Blue and Harpster's screenplay from producer Peter Saraf. "It was the day I was starting to really imagine making another movie," says Heller.
As the parent of a kindergarten-age child, the filmmaker had recently found herself extracting valuable lessons from animated series Daniel Tiger's Neighborhood — a direct successor to the long-running (now concluded) Mister Rogers' Neighborhood, and featuring beloved animal characters from that show. "I read the script right away and just knew it was something I wanted to make," she says.
The screenplay, at that point retitled You Are My Friend, tells the story of investigative journalist Lloyd Vogel, who is initially peeved at an assignment to write a profile of Rogers for a hero-themed edition of Esquire. But the New Yorker's cynical world view is challenged when Rogers turns the tables on his interviewer.
As Heller worked with Fitzerman-Blue and Harpster to further develop the script, she set out to explore the impact being a new parent is having on Vogel. "I think there's this phenomenon that happens when you become a parent where any trauma or old baggage from your childhood that you think you've dealt with comes barrelling up to the surface," she explains. "I've watched it with all of my friends. You end up reflecting on yourself and your own childhood a lot, and it can be positive and painful at the same time. We spent a lot of time mining our own lives and becoming close, and talking through those most intimate details."
The film, which finally settled on the title A Beautiful Day In The Neighborhood, is produced by Saraf alongside Youree Henley, Marc Turtletaub and Leah Holzer, and is backed by Sony's TriStar Pictures in association with Tencent Pictures. (Confusingly, there was another Rogers-related screenplay on the 2013 Black List called A Beautiful Day In The Neighborhood, which Heller was unaware of until Screen mentioned it; her representative later confirmed the two projects are entirely unrelated.)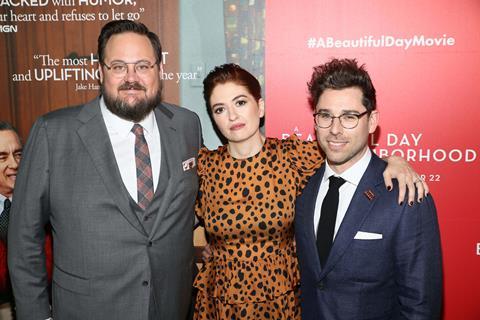 Thanks for Hanks
With a reported production budget of $25m, A Beautiful Day In The Neighborhood needed a name actor to play Rogers, but the obvious candidate — Tom Hanks — had already turned down the role more than once. With Heller now attached, and Hanks an acknowledged fan of her first feature The Diary Of A Teenage Girl (2015), the filmmaker was encouraged by the producers to approach him anew.
Heller has already told the story about how she turned Hanks' "no" into a "yes", but it is one she is happy to repeat. "Nothing makes me feel more like a super­hero than telling this story, it's probably going to be the best story of my life," she says. "[Tom] is very aware that he's played a lot of real people and I think he is conscious of not wanting to overstay that welcome." To allay Hanks' fears that he would be embarking on another biopic, Heller said she viewed it very differently: "To me, this is a character piece and it's about childhood trauma and all of the pain of becoming a parent and what we're all dealing with right now in our lives. When I described what I didn't want it to be, I think he started to open up to the idea of what it could be."
For the role of Vogel, modelled on Junod, Heller turned to Matthew Rhys, the Welsh star of FX Networks' The Americans. Since the production had snagged an A-lister to play Rogers, the financiers were not pushing for a second big-name star and, suggests Heller, she could focus fully on the creative needs of the role.
"The most important thing for me was to find somebody who could be an emotional and intellectual match for [Rogers], a real foil," she says. "It was a difficult role to cast because you have to believe at once that he is the smartest guy in every room and that his anger is deep-rooted, and yet you also have to believe in his transformation when it happens. It's a complex part.
"Tom Hanks said to me at one point, 'I've got a hard job, but Matthew's got a much harder job.' My favourite thing with actors is when they are able to play so many multiple levels at one time. It's rarer than you think that an actor is approaching a scene showing a wide range of emotions, and you believe in the emotional arcs for all of them. Matthew is very adept at that. He can do these emotional somersaults."
Heller decided to change the name of the protagonist, both because "we were taking some artistic liberties, which Tom Junod was very aware of and totally fine with" and because in casting Hanks she did not want to cloud anything for audiences. "Just from a linguistic point of view, having Tom Hanks calling someone else Tom through the whole movie I thought would be confusing to the brain."
Friendly competition
In January 2018, Morgan Neville's documentary about Rogers, Won't You Be My Neighbor?, premiered to acclaim at Sundance Film Festival, before opening in late June in US cinemas and going on to gross $22.8m via Focus Features. "'Oh, is this good for us, or bad for us?'" Heller recalls she and the producers asking each other when they heard about the documentary.
"I think, pretty quickly, we all kind of looked at each other and thought, more Fred Rogers in the world is only a good thing. Particularly, we were aware of the fact that he's not necessarily known outside of Canada and the US. The documentary did a lot of work for us in terms of awareness of who this wonderful person was. And it helped to pave the way for people to be able to appreciate the film on a deeper level."