Kenneth Lonergan tells Jeremy Kay why he balanced tragedy with humour in his third feature film, Manchester By The Sea.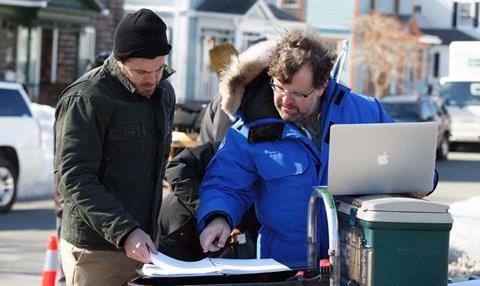 Kenneth Lonergan may not choose complicated, but complicated has a knack for choosing him.
Take the origins of Manchester By The Sea, the third feature in the New York dramatist's 16-year film directing career. It was convoluted the moment it bubbled into life in 2010-11, around the time Lonergan was mired in heartache and lawsuits over his second feature Margaret.
Yet while that film snaked its way into the annals of notoriety, thanks to a battle over who owned the final cut, the elaborate inception of Manchester By The Sea was more benign.
"Matt Damon and John Krasinski brought me the idea for the film. I was just going to write it and John was going to be in it and Matt was going to direct," says Lonergan. "Then Matt was going to be in it and direct and then Matt was just going to be in it and I was going to direct. And then Matt couldn't do it."
When Damon's prior commitments forced him to scale back his role to producer, he and Lonergan concluded their mutual friend Casey Affleck was the only man to play Lee, a Boston janitor who returns to a fishing community to take charge of his teenage nephew after his brother dies, while he has to confront another tragedy from his past.
Lonergan is a lauded playwright whose This Is Our Youth starred Affleck and Damon on stage in London's West End in 2002.
He first ventured into screenwriting with the 1999 mafia comedy Analyze This, but tends to eschew writing by committee and script doctor jobs.
Lonergan typically takes around two years to write his screenplays and Manchester By The Sea took three because he abandoned the first pass after a year and started over.
The film was fully financed by newcomer Kimberly Steward of K Period Media, and Lonergan and his producers assembled an impressive cast in Affleck, Michelle Williams, Kyle Chandler, Lucas Hedges and Gretchen Mol. He also secured a cameo from his friend Matthew Broderick and a smattering of theatre pros.
Weathering the storm
As Boston's fiercest winter storm on record ravaged the region, the writer-director corralled his cast for two weeks of rehearsals in March 2015. The 32-day production on the $8m drama then got underway in the North Shore area in April.
"It was kind of gruelling," says Lonergan. "I've only done two movies [previously] and they've both been fairly gruelling and that may just be the nature of movies. It was long days for the most part and more scenes per day than I would have liked, but that's the way it worked out."
The director knows about hard knocks when it comes to the film business.
After his 2000 feature directorial debut You Can Count On Me earned Oscar nods for original screenplay and Laura Linney's lead role, Lonergan began to shoot his second feature in 2005.
Margaret was an intensely wrought, sprawling drama starring Anna Paquin and Damon. The project turned into a hellish, litigious clash for creative control with the film's financier Gary Gilbert, co-owner of the Cleveland Cavaliers basketball team.
Martin Scorsese, for whom Lonergan had co-written Gangs Of New York, did a free edit as a favour. The lawsuits went on and Fox Searchlight eventually released a version of Margaret in 2011 and the parties settled their grievances in 2014.
The fiasco weighed on Lonergan as he considered Manchester By The Sea. "I was tired after the whole Margaret ordeal, but I also felt, eventually, the film did get made and seen," he says.
"There was no way that experience could be repeated with the editing and the arguing and the lawsuits, all that shit - there was no way that was going to happen twice, so I wasn't too worried about that.
"I just had a generally wrung-out feeling for a couple of years and I'm glad Matt encouraged me to direct [Manchester By The Sea] because I was resistant - not because I thought anything bad would happen but I was just tired. Ultimately it was a really good decision."
Manchester By The Sea premiered in Sundance in January and sparked a bidding war that saw Amazon Studios prevail in a reported $10m deal for North American rights. Such was the impact of the film that Amazon founder Jeff Bezos reportedly took a strong personal interest in the acquisition.
Critics have also shown their support and it notched up four Gotham nominations, including a best actor win for Affleck, as well as five Spirit Award nods.
"There's a sad element to the story that I wanted to be respectful of because these things do happen to people and I was hesitant or cautious about even making a movie about something this serious," says Lonergan. "To me it's a movie, but to somebody else it's their life.
"But why shouldn't movies take on anything they can? One of the challenges after that was to make sure it wasn't relentlessly grim beyond the point of having a real impact, because I don't care for movies that are grimmer even than life itself, which as we all know can get pretty grim.
"But when movies and books become grimmer than real life, [you get] a dramatic version of sentimentality, or that feeling you have in comedies when there's no real feeling allowed in any form, but when they do go there they become very sentimental and mushy instead of staying funny and true-to-life.
"I just tried to keep the rest of the world going around Casey's character," Lonergan continues, "and that was the quickest way to make sure the film had a reasonable balance of comedy and drama.
"I've said this before but I just don't feel personally there's a great divide between the two. Recently I was watching a production of The Marriage Of Figaro and musically it was beautiful but the performances were very silly and over the top and I thought, 'God, if they just took this a little more seriously it would be a lot funnier.'"
Actors' interpretation
Lonergan's scripts are tight, right down to the overlapping dialogue, but he is not dictatorial about interpretation.
"If you don't let the actors do their job you might as well write a novel," he says. "The fun of it is letting the actors come in and provide all the extra material. I imagine it but they have to become it, which is quite a different challenge."
He set aside half a day for the devastating scene in which Lee and his ex-wife Randi (played by Williams) address a heartbreaking episode. There was a certain amount of foreboding before they shot it. "They are just both so great. We were probably worrying for nothing. I wasn't really worried, I just wanted to make sure it went well."
Manchester By The Sea opened on November 18 and scored the highest opening weekend per-theatre average in the 13-year history of Amazon's theatrical distribution partner on the film, Roadside Attractions.
"I'm glad a company as gigantic as Amazon is choosing not my film [per se] but an independently made film about human beings that's made as much as any film can be made by a single person and not a committee," says Lonergan.
"Some of the response to the film is nothing I should be credited with, but is because the bar is so low these days. If this were the 1970s, nobody would think it was refreshing but hopefully would say it was just another really good movie."