The Production Guild of Great Britain (PGGB) has launched its Northern Ireland Committee, as part of an ongoing drive to boost representation in the UK's Nations and Regions for skilled professionals working behind the camera within the production office, accounting, locations, assistant directing, post-production and VFX.
Sponsored by Sargent-Disc (a Cast & Crew company), the Northern Ireland Committee is the second of PGGB's national and regional committees to be established, following the formation of the Bristol and the South West Committee last September. A further four are set to launch in Scotland, Wales, the North West of England and Yorkshire.
"The fast-paced growth of UK film and high-end TV production continues and shows no sign of easing, which is great news," says Lyndsay Duthie, PGGB CEO. "But there are inevitably going to be stress points for production crews that need reinforcing if our industry is going to stay in the best shape possible."
"What we're hearing from our members is that the challenges that risk causing fracture lines on the ground are different depending on where in the UK they are working. It could be a shortage of workers in a particular role for example, or a need for more mentoring, or a call for additional 'stepping up' support."
"By setting up these new committees in locations that have been specified by our partners the British Film Commission as hub centres for the Government's Stage Space Support Development strategy, we're better equipped to pinpoint the differing needs of crews where they are working. We can have regular conversations with people that understand their nation or region better than anyone. As a result, the support PGGB delivers will be even more effective."
Producer Amanda Black, chair of the Northern Ireland Committee, is currently working with Mammoth Screen on series two of BBC One's Second World War drama World on Fire, which plans to shoot in Belfast from early July. Originally from Scotland, she has worked in Belfast on and off for the past 20 years and has lived there permanently for the last 10.
"It's always been a given in this industry that you go where the work is," says Black. "Moving up the ranks has typically meant moving around to work in different parts of the UK and often overseas. Today it's a different picture. There's a hugely strong industry in Belfast and across Northern Ireland, we've got regular work coming through all the time and a reliable network of local crew who are keen to work where they live.
"It's important that people working behind the camera here are represented well by national organisations like PGGB. The launch of this committee is another strong step in the right direction."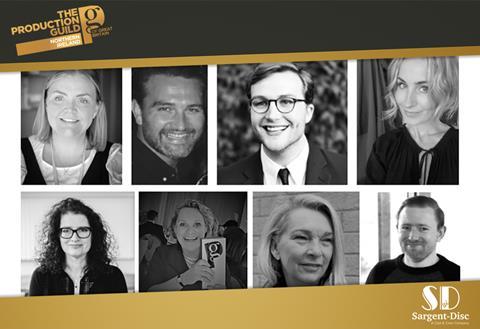 Major filming hub
The recent spate of film and high-end TV releases produced in Northern Ireland has steadily lifted the nation's profile as a major filming hub, and members of PGGB's Northern Ireland Committee have worked on some of the biggest titles to emerge from the nation in past years.
After completing eight seasons on HBO's Game of Thrones, committee member Naomi Liston moved on to become supervising location manager on Robert Eggers' Viking epic The Northman (Universal). The crew took home the 2022 PGGB Film Production Team of the Year Award for their exceptional work on the action movie set in 10th Century Iceland, which was forced to pause production due to the pandemic.
Recreating the Scandinavian look and feel of the film in Northern Ireland, the three-month shoot took place at Belfast Harbour Studios and on location at County Antrim's Torr Head, where a full Viking village was built, and a host of other locations including County Donegal's Five Finger Strand and The Gleniff Horseshoe in County Sligo.
Naomi has since worked on Paramount's upcoming Dungeons & Dragons, alongside fellow committee members, unit production manager Stacey Quigley and production accountants Richard Henry and Michael J Kilpatrick.
"What shows like Game of Thrones and features like The Northman and Dungeons & Dragons have proved is that Northern Ireland can rise to any challenge," says Liston. "Not just by providing these outstanding locations but also skilled crews that can create entire worlds in terms of sets, infrastructure and production expertise. When you can bring content like that to screen again and again, and it looks that spectacular, it definitely raises your game."
Fellow committee member, production manager Darren Chesney, worked alongside Liston on The Northman and has recently completed upcoming Netflix feature The School For Good And Evil, which also shot in Belfast.
"There's no doubt that when I was starting out, London was a magnet for most at the beginning of their careers," he says. "That's simply not the case anymore. The calibre of productions we're bringing to Northern Ireland speaks for itself."
Alex Boden, PGGB chairman adds: "Northern Ireland is home to some of the very best crew in the UK, whose experience and can-do attitude is respected globally for delivering world class productions in recent years. It also has some of the most beautiful natural locations in the UK, with three studios all close to the centre of Belfast, which makes the country a very attractive filming destination.
"With 2022 set to break all records for local production levels in Northern Ireland, PGGB looks forward to working even more closely together with crew and industry partners to support the continued growth. We could not have a better committee on board and cannot wait to start working together."
PGGB's national and regional committees will meet a minimum of four times per year and deliver a variety of activities within their area including forums, masterclasses and networking events. PGGB's chair and CEO will meet with the six national and regional committee chairs annually as a steering group.
For more information, visit https://productionguild.com/about-us/nations-and-regions/.

The Production Guild of Great Britain is the UK's leading membership organisation for those working in film and TV drama production. We represent experienced professionals active in the fields of accounts, production, location management, assistant directing, VFX and post-production. We ensure our members stay at the centre of film and TV drama production by offering strong support for their work and influencing policy and best practice in the UK.