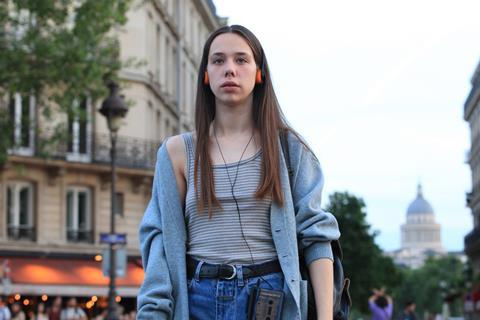 In a rare reverse box office twist, Vanessa Filho's sexual abuse drama Consent has multiplied its ticket sales tenfold since its tepid opening in French theatres last month, fuelled in part by a TikTok trend among young audiences. Opening on October 11 and selling fewer than 60,000 tickets in its first week, the film, based on Vanessa Springora's bestselling memoir of the same title, experienced a 40% jump in ticket sales in its second week, a 72% increase in its third week and has held steady since with 504,640 tickets sold after five weeks in French cinemas via Pan Distribution.
What changed was a TikTok selfie phenomenon, whereby users, mostly female teenagers, post videos to the platform showing their faces before seeing the film - smiling, holding buckets of popcorn or giggling with friends - and then again after the final credits roll, sitting in shocked silence or expressing their feelings aloud with tears in their eyes. Some videos amassed as many as two million views, while the hashtag #leconsentement has been used more than 30 million times on the platform and the film's themes inspired online debate.
Springora's original book, published in January 2020 and detailing how she was groomed at age 14 by a then-celebrated author in his 50s (Gabriel Matzneff, who is not named in the book), ignited a national scandal, catalysed France's delayed #MeToo movement and helped to change French law by shifting the age of consent to 15. The film adaptation stars rising French actress Kim Higelin as Springora.
Consent's upward spiral has defied traditional box office trajectories. "For a French auteur film, in the world of distribution – it's incredible," says Moana Films founder Marc Missonnier, who produced the film alongside Windy Production's Carole Lambert.
According to polling from Vertigo Research, 45% of audiences are under 25, despite Consent having a restricted age rating for under 12s. Its early November upswing was boosted by French school holidays, but the impetus hasn't decelerated, with the additional publicity attracting adult audiences too. However, it's the TikTok trend which is keeping groups of youngsters coming. Many of the videos feature duos or users filming themselves surrounded by friends in cinemas.
"The fact that the teens are coming to see the film in groups is part of its success," says Philippe Godeau, president of Pan Distribution. "Cinema has made many technological advances over the years, but the real emotion of cinema is experiencing it with other people, not to sit alone in a theatre."
The pick-up in ticket sales surprised Pan but the distributor reacted quickly, expanding from 195 screens in the opening week to 460 by week five. While the company initially funded sponsored posts on TikTok as part of its marketing campaign, the in-cinema trend was started by young audiences and has grown organically. "The phenomenon has taken on a life of its own," says Godeau. "It's beyond us."
Consent sparked early attention among global distributors, but its difficult subject matter about a minor's sexual relationship with a much older man has made it a tough sell in certain markets. However, Ramy Nahas, SND's head of international sales and distribution, reports, "The phenomenon in France rekindled the interest of distributors with whom we were already in discussions, and has sparked the interest of others."
While Consent has sold to a handful of territories, including Spain and Japan, Nahas says, "The phenomenon tells distributors that the film can find younger spectators even if they're not the original target demographic and adapt their marketing campaigns to a young, social media-savvy audience. It's this young generation, constantly evolving in our post-#MeToo era, that has latched on to this subject."
The impact has extended beyond the box office, with Higelin telling Screen International: "Ever since the movie came out, young people have approached me to tell me how identifying with my character has led them to realise they had gone through identical situations, that what happened to them was not normal, that it was not okay. I've been secretly wishing for the movie to have a real impact on people's lives, but I never would have imagined reading this many testimonies."
Adds Godeau: "It's already exceeded our expectations. It's part of the magic of this profession – when a film becomes bigger than us."