Greg Basser and Ellen Eliasoph hope new China production venture Perfect Village could emulate their partnership with Warner Bros.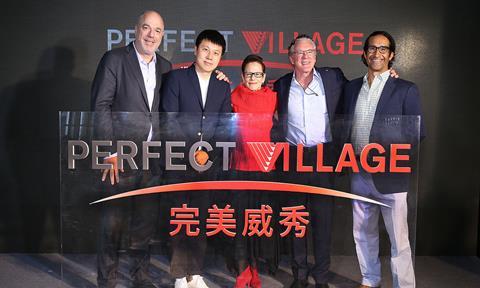 Among the many international companies – studios and independents alike – that have attempted to get involved in Chinese-language film production, Australia's Village Roadshow Entertainment Group (VREG) is one of the longest established and most active.
Since setting up its China production outfit, Village Roadshow Entertainment Group Asia (VREG Asia), in 2011, the company has co-financed and co-distributed a string of Chinese-language films, including Stephen Chow's Journey To The West, Leste Chen's Say Yes! and Liu Jie's Hide And Seek. Headed by China veteran Ellen Eliasoph, VREG Asia has had a good run, but the long-term goal was always to become more deeply integrated in the Chinese film industry.
"About three years ago we pivoted and realised we needed to be the originators and producers of our own product. But inevitably we needed to find a partner, because the rules about having to do a Sino-foreign joint venture are not going to change any time soon," explains VREG CEO Greg Basser (pictured above, far left, alongside Perfect World chairman and CEO Jie Lian, Eliasoph, Village Roadshow co-executive chairman Robert G. Kirby and WME IMG partner Alexis Garcia).
Eliasoph adds: "But this isn't just about finding a local partner – it's about building a fully localised operation. We're not worried about the longevity of what we've started here, because now we're going to be part of this huge, young, dynamic Chinese company."
The Chinese entity that Eliasoph is referring to is Beijing-based Perfect World, which has wisely always kept a relatively low profile, but is a leading film and TV producer, distributor and cinema operator in China, as well as one of the biggest players in the country's online games industry.
VREG Asia has set up a three-way joint venture with the Shenzhen-listed company and US talent agency WME IMG – Perfect Village Entertainment – to make Chinese film and premium online TV content for both China and overseas.
Although Perfect Village will remain an independent legal entity, Eliasoph and her team are moving into Perfect World's Beijing offices and folding some existing VREG Asia projects, including Zhang Yimou's Shadow (pictured below) and Jackie Chan vehicle Bleeding Steel, into the new venture. New projects include cyber thriller Reborn, starring Han Geng, Rhydian Vaughan and Tomohisa Yamashita, and a live-action/CGI hybrid that brings together the popular character of Garfield with China's Hero Dog.
The venture was launched at last month's Shanghai International Film Festival, where many industry executives were panicking about China's slowing box office growth and the long list of recent locally-produced flops. But there are many who believe the market is merely undergoing a correction. "The Chinese film market saw an influx of dumb money that created a bad situation, but that is now rectifying itself," says Basser.
"One reason we've always been passionate about the industry here is because we thought, once you've got the screens, there will be enough demand even without government support to recoup. Chinese people want to see Chinese stories. Last year, the theatrical revenue for local films, after you've taken out rentals, was around $2bn, which means it's already the biggest market for indigenous product outside of the US."
Perfect partnership
Joining forces with Perfect World, Basser believes VREG is better positioned to thrive in this huge but chaotic market as both sides can bring in material – VREG from its library and partnerships in Hollywood and Perfect World from its vast store of Chinese gaming and online IP. The new venture will bring in outside investors, in particular Chinese theatrical distributors, on a picture-by-picture basis, but has the financing muscle to own a majority share of each project. "It's being run as a true partnership and everything will be done by consensus," Basser explains.
It's a strategy that is becoming increasingly popular in China – Warner Bros and CAA now both have separate joint ventures with Li Ruigang's China Media Capital. Such partnerships sit more easily with Chinese regulators as they are focused more on developing infrastructure in the China market than merely taking investment out. They also result in a closer working relationship between Chinese and foreign companies.
Basser likens the relationship to what VREG has had for many years with Warner Bros on its Hollywood films, the latest of which include Ocean's Eight and Steven Spielberg's Ready Player One. "We've been in a partnership with Warner Bros for 46 years and at some level they feel like Village Roadshow is part of the Warner Bros family," Basser says. "That's what we want to be seen as here – part and parcel of our partner's family."
Digital distribution
When it comes to overseas distribution of Perfect Village projects, the company is looking beyond the theatrical sales model – which has only benefitted a handful of Chinese films in recent years – towards digital distribution and OTT platforms. "Digital helps you target diaspora audiences in a way you never could before," Basser says. This is where WMG IMG, with its proven ability to package and syndicate content like The Night Manager, comes in.
"Outside of China we can take advantage of their global resources and reach in terms of distribution – they have relationships with all the major platforms – then inside China they have this network of brands based around fashion, music and sports," Basser says.
"That's incredibly useful when you think about how films are sold in this country. You can't do traditional advertising buys because that's not the way that films are marketed here."
Eliasoph stresses that while digital makes sense for many Chinese films and TV productions internationally, certain titles will be released theatrically outside of China, as well as at home. "We have a primary commitment to our creators and of course films like Shadow and Bleeding Steel – a big-budget action film with Jackie Chan on the roof of the Sydney Opera House – have to go theatrical," she explains.
Antipodean connections
And while the new venture is very much focused on Chinese-language content, Village Roadshow is not forgetting its Australian roots. In recent years, VREG Asia has been involved in taking Chinese producers over to Australia and also welcomed Australian delegations in Shanghai and Beijing.
It was through these efforts that Jackie Chan ended up filming at the Sydney Opera House and while Bleeding Steel, which was co-produced by VREG Asia and China's Heyi Pictures, is not an official Sino-Australian co-production, it's one of a growing number of Chinese projects to bring inward investment to Australia and access Australian incentives.
Basser explains that all the animation on Perfect Village's Garfield/Hero Dog project will be handled by companies in South Australia, including Adelaide-based Rising Sun Pictures, and Eliasoph teases a new project that involves Chinese actresses, armed with gallons of sun-lotion and wide-brimmed hats, shooting on Bondi Beach.
In addition to collaborating with Australia, the new outfit also intends to work with creative talent from Europe and North America. "We are making Chinese films for the Chinese market and will use mostly Chinese talent in front of the camera, but we'll also work with Western directors, cinematographers and physical production people where appropriate," Basser says.
Eliasoph adds that the likely exception to this will be Western writers: "I've still never seen a script written by a foreigner that really works in China. It's just too difficult to understand the cultural nuances. But that doesn't mean that we can't access Western stories and IP."
Photo credits: Unit Photography by Bai Xiaoyan, top photo by Perfect Village Entertainment