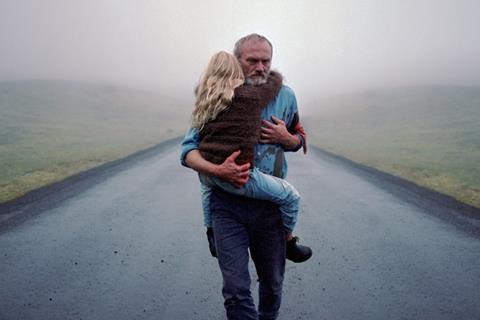 Even though it's a sunny August day in the remote East Fjords of Iceland, filmmaker Hlynur Pálmason can't help talking about fog.
Not just any fog, the special kind of all-encompassing fog that inspires the title of his second feature. It's a fog he knows well, having grown up in nearby Höfn.
"There is a stillness in the fog and it's kind of magical, it can be extremely sunny and beautiful and in a half hour it can be fully white, there's something mysterious about it, something hidden," the director says.
That famous fog occasionally rolled in to add atmosphere to the production, which shot in August and September 2018 for three weeks around in fjords villages of Stöðvarfjörður, Fáskrúðsfjörður, Oddskarð and then for four weeks in Höfn, about 2 hours west.
The mystery drama – which has its world premiere as part of Cannes Critics' Week – marks Pálmason's return to his native Iceland. After studying at the National Film School of Denmark, he shot his award-winning debut feature Winter Brothers in Denmark.
Now he and his wife and kids have relocated from Copenhagen back home to Höfn. "It's a very stimulating place," Pálmason adds. "I don't think we've seen it in cinema." (Indeed no other features have been shot in those fjords of Iceland).
The locals in Höfn were happy to pitch in to help the film shoot, working behind the scenes (Pálmason's father even pitched in as an animal handler) or as on-screen extras and crew.
A human side of mystery
Lauded Icelandic actor Ingvar Sigurðsson delivers a career-best performance as Ingimundur, an off-duty police chief who becomes obsessed with the idea that his wife had been having an affair before she died in a tragic accident.
Despite that plot, you can't call it a thriller. "I always felt it was a mystery drama," Pálmason says. "When I began working on it, I thought it would become some kind of detective story. But when I dived deeper into it, it became clear that I wasn't that interested in the plots, only the human elements. It became more of an emotional detective story, where we dive deeper into the protagonist that is alone with all his fears, anger and sorrow."
Before the characters and plot, the initial spark of an idea was inspired by an old quote he had read somewhere, "If everything was white, and there was no difference between the earth and the sky, then you could talk the dead," and he got an image of this whiteout when fog obscured this remarkably beautiful landscape.
"I think I'm always trying to find an interesting way to write and develop my projects. I find that if I'm playful and creative around the development and writing of the projects, they sort of emerge more truthfully and surprise me."
he explains of how the film developed. "There always has to be something hidden, something I can't grasp, that stimulates me and keeps me motivated and interested."
The story's exploration of grief had an emotional pull for him, too. "Having something you love already gives into the possibility that you will experience great loss.
He continues, "There are two kinds of love in the film, one is very pure and simple and unconditional, that's towards his granddaughter. Then there's the other kind of love, the love and desire for his wife, that's a different kind of love, more complex, brutal and animal. I liked working with these two at the same time."
A warm vibe on set
When Screen visits the set in Stöðvarfjörður in August 2018, there is a relaxed vibe amongst cast and crew; evenings are spent staying together at the Saxa Guesthouse. As post-shoot dinner is served and plans are confirmed for the next morning's activity, Palmason's 10-year-old daughter Ída Mekkín Hlynsdóttir flits between tables charming everyone in her path. She wasn't just playing on set, she was also an integral part of the cast, playing Ingimundur's granddaughter.
"My daughter grew up around the camera, she's used to being filmed and there for it's natural for her to act and be present in front of the camera," he explains. "I feel she brought a warm vibe to the set, it was nice having her on set and working with her. The more family and friend around me the better."
Sigurðsson had also become a pivotal collaborator over the years, Pálmason had already worked with him on his Danish film school graduation short The Painter. Even back in 2013, he told the actor that he had him in mind as the protagonist for A White White Day when it was ready to make.
Pálmason says of the veteran actor, "He's an extremely physical actor, very technically good with dialogue and movement. This gives me a lot of freedom to write and play out long and complex scenes. But he's also a great collaborator and very emotionally involved and present in his work."
For his part, Sigurðsson tells Screen mid-shoot that Pálmason's "scripts have so many layers" and he "has a fresh way of telling a story." Their history together was useful. "He starting talking to me years ago about this film, and kept sending me things like music and visual images. It's a very well prepared feeling….Then we start to work and we talk a lot, we prepare a lot, so we're confident."
Even mid-shoot, Pálmason was excited about the discoveries made during production. "What I really wanted with this film was to prep it as much as humanly possible so I can be just a little bit creative in production," he explains. "We're trying to be extremely focused and exact and at the same time very creative and open."
Pálmason reteamed with several key collaborators from Winter Brothers: DoP Maria von Hausswolff, editor Julius Krebs Damsbo, sound designer Lars Halvorsen, costume designer Nina Grønlund and make-up artist Katrine Tersgov.
Producer Anton Máni Svansson of Join Motion Pictures is the lead producer, after having co-produced Pálmason last two films; his debut Winter Brothers and short film Seven Boats.
Svansson became an early fan of Pálmason after seeing one of his student shorts, and notes they started talking about A White, White Day even before Palmason made Winter Brothers. "I could see he was such an exciting new voice, and after meeting him I realized that not only is he very passionate, productive and sincere in his art, but he is also such a genuine, good hearted and grounded human being. That is what I seek the most, authors that have both sides of the coin, a strong and clear artistic vision along with good communication skills and a healthy personal life.," the producer says.
"The main focus of our company has been on building up long term artistic collaborations," he continues. With A White, White Day the producer was drawn not "just to the story itself, but also the visual approach and the overall style of it." The film has a stronger narrative and a bigger budget (still modest at Euros 2.2m) than Winter Brothers, and he was excited to see "Hlynur make a bigger film while staying true to his vision."
Co-producers are Denmark's Snowglobe, Sweden's Hob AB, Film i Väst, RUV, DR, with support from the Icelandic Film Centre, the Danish Film Institute, the Swedish Film Institute, Nordisk Film & TV Fond and Creative Europe/MEDIA. New Europe handles sales.
The crew was a mix of Nordic nationalities –Icelandic, Danish, Swedish, Norwegian and Finnish. "The team worked really well together, a blend of nationalities as well as a mixture of upcoming and very experienced crew members.," says producer Svansson.
Gesturing out the window to a stunning Icelandic fjord, Svansson adds, "The Danes and Swedes are of course very happy with the view here."
Indeed, the locations were crucial. Even a boring former bank office in Stöðvarfjörður that was turned into the police station set features jaw-dropping fjord vistas outside the jail cell window.
A site near Höfn called Stekkaklettur, a building previously used for telecommunication services, was one pivotal location for A White, White Day – serving as the house that Ingimundur is renovating for his daughter and granddaughter – and Pálmason filmed the changes around the house for two years of different seasons. "The prologue is about time passing, experiencing the seasons changing and the temperament of the weather. I'm interested in portraying the protagonist by showing the world around him."
Locations also included one pivotal stretch of road, Oddskarðsvegur in Oddskarð, leading to the now-closed Oddskarðstunnel. Pálmason explains, "The tunnel and mountain road are very important locations in the film. I wanted them to transform as the film progresses and become spaces, instead of just locations."
Even though it was more expensive shooting on 35mm (footage had to be processed at a lab in Sweden), the format was crucial for Pálmason. He explains, "We really wanted a bigger format for this one. I find it hard to work with figures in landscapes on 16mm. I developed the film with a 35mm still camera and a 35mm lens. So, it felt very natural and effortless to begin filming on the same format and the same size lens when we began filming."
He adds that shooting on film suits his style. "Film has always worked very well with my process. I don't like constantly shooting something. For me it's more about patience and working on something for a long time and then trying to capture the moment."
For the director, his second feature was simultaneously covering new ground as well as exploring themes seen in his earlier work. "It feels like a natural progression and I hope it's a continuing expression of my earlier work. "
He loved his Icelandic homecoming of course, but is interested no matter where his third feature will take him. "I'm working on projects that are both in Iceland and Denmark and I'm very open for wherever the next project takes me."