Austin Butler approached the title role of Baz Luhrmann's biopic 'Elvis' with a mix of thrill and terror. The fast-rising star tells Mark Salisbury about his two sleep-deprived years of intense preparation.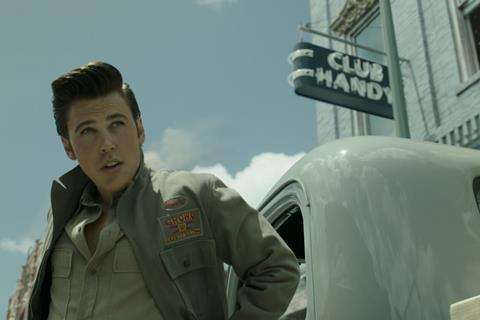 "It was terrifying, because there's so much room for error with someone like him, who has been impersonated so many times," recalls Austin Butler of his initial thoughts about taking on the role of Elvis Presley in Baz Luhrmann's Warner Bros-backed biopic Elvis. "That's why my thing was always trying to find his humanity, to find his soul. I didn't sleep for two years. I would wake up at three or four in the morning every day in terror, and then get to work because I wanted to be incredibly meticulous, so by the time I got to set, it would be second nature."
Born in Anaheim, California, 31-year-old Butler was a successful child actor, working for Nickelodeon and the Disney Channel before moving on to teen shows such as The Carrie Diaries. Unrecognisable as one of Charles Manson's followers in Quentin Tarantino's Once Upon A Time In Hollywood, he had made his Broadway debut opposite Denzel Washington in The Iceman Cometh when casting director Denise Chamian gave him the heads-up about Elvis.
"I heard Baz was going to make the film, but he wasn't casting Elvis yet. He was still trying to find [Colonel Tom] Parker [Elvis's manager, eventually played by Tom Hanks]," remembers Butler, his hair back to its natural blond, his deep voice still flecked with Presley's distinctive drawl. "But Denise was in my corner from the beginning — I owe her a lot."
In preparation for the potential role, Butler listened to Elvis's music in chronological order (he was already a fan); watched every available performance, documentary and film; read every book and interview; and studied the singer from the inside out. "You're seeing the way he moves his legs, the way he breathes, the way he uses his eyes," Butler notes. "So there's a lot of physical things."
The actor also hired a dialect coach, singing teachers and movement coach Polly Bennett, who helped Rami Malek embody Freddie Mercury in Bohemian Rhapsody. "I wasn't a dancer. I wasn't a singer. So those things were very scary. Polly and I would send things back and forth. We would ask questions. You feel like a detective." He even learnt karate (Elvis was a black belt). "I spent every waking moment working on it as though I had the job."
Eventually, he sent Luhrmann a tape of himself at the piano, singing 'Unchained Melody', in memory of his mother who died when he was 23 — the same age Elvis lost his parent. "Music was something I would play for my mom and play for myself," he says. "It was a very therapeutic, private thing. But I wouldn't sing in front of anybody else."
Luhrmann liked what he saw and met with Butler. "We talked for three hours, then the next day, he handed me the script and we started reading, asking questions. Then he said, 'Do you want to sing some songs?' I sang 'Don't Be Cruel'. The next day I sang 'Suspicious Minds'. We were trying to figure out, is it possible for me to play him over the course of so many years? [It helped] me to believe I could do it. But we had a decent amount of time together before I was cast."
Five months to be precise, during which Butler did nothing else. "The logical part of my brain knew I was going to have to screen-test and Warner Bros was going to have to sign off. But I tried to put that out of my mind and focus on the work. I turned down every other audition. I didn't want to dilute my energy, so I threw all my eggs in that basket. It would have been a bummer if I didn't get it in the end."
As well as Chamian, he had another champion in his corner: his Iceman Cometh co-star Washington, who phoned Luhrmann to vouch for him. "I didn't know. Baz said, 'Denzel called and said you're the guy for this.' Denzel didn't tell me beforehand and we didn't talk about it afterward. But I'm very grateful, 'cos he's my hero."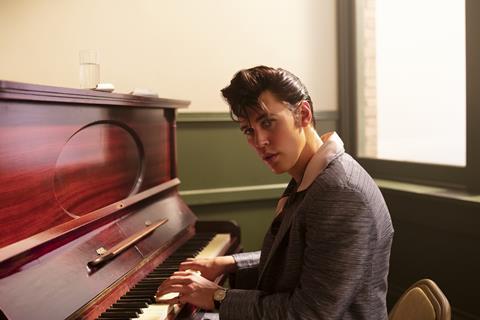 Time traveller
Butler plays Elvis from pelvic-thrusting 19-year-old to a bloated, drug-dependent 42, thanks to "very subtle" prosthetics and make-up "that shifted and aged my skin" along with a body-adjustment suit lovingly called the "dad bod".
"That was before Covid," says Butler. "The plan had been to take a hiatus; I'd gain weight and we'd go on, because we were going to film chrono­logically."
Set to start shooting in Australia in March 2020, the production shut down four days beforehand, when Hanks tested positive for Covid-19. Rather than fly home, Butler chose to remain Down Under while Luhrmann pressed pause. "I knew if I went back, the focus would get shattered. It ended up being this beautiful time where I could have uninterrupted prep."
Bennett took the opportunity to put Butler in touch with Malek. "He was hugely helpful. Rami said, 'We don't want to see the wax-museum version. We want to see your soul and his soul colliding. Then we see something we've never seen before.' That resonated with me, so I shifted a lot of my focus from those things that were external."
While Butler pre-recorded Presley's songs at the same RCA Victor Studios in Nashville where Elvis recorded most of his hits, he also sang live. The first time was recreating the 1968 TV special that put Elvis back on the map after several years in the wilderness, a show that was arguably his most electrifying hour. Beforehand, Butler had "almost crippling anxiety. I felt if I go out there and bomb, I will let everybody down. But then I thought that was the same for Elvis. He hadn't performed on stage in years, and the pressure was on him. I didn't need to push those feelings away. I could feel the fear and transfer that into the songs and connect to the audience. It was such an out-of-body experience."
Post-Elvis, it took Butler a while to shake off the King, but his career has since skyrocketed. He is the lead in Masters Of The Air, a Second World War miniseries set on a Flying Fortress bomber plane, and is now in Cincinnati riding Harleys for Jeff Nichols' The Bikeriders, alongside Tom Hardy and Jodie Comer. Then there is the villainous Feyd-Rautha Harkonnen in Dune: Part Two, a role previously essayed by Sting in David Lynch's movie, for which he wore a bright blue codpiece. As for whether he will follow suit, Butler remains tight-lipped. "No comment," he laughs. "I won't get into specifics of codpieces… but it's spectacular."