I Lost My Body tells the story of a severed hand searching for its owner. Screen talks to the filmmakers about the creative journey behind one of the year's most inspired animated features.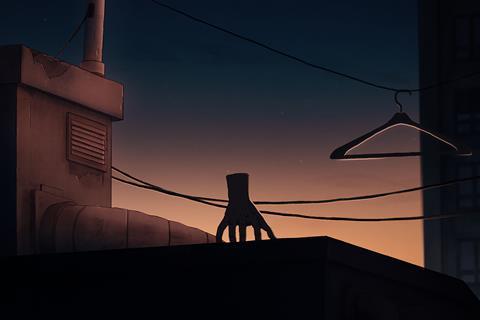 A Netflix deal can be a golden ticket for filmmakers, providing not just finance but a ready-made audience for precious work. There are, though, considerations in making such an agreement. For the team behind Jérémy Clapin's French-language animation I Lost My Body (J'ai Perdu Mon Corps), that meant navigating the English-language dub requested by the streaming giant.
Marc du Pontavice, producer of the $5.5m (€5m) budget title through his Paris-based Xilam Films, had doubts. "We were sceptical about what it was going to be in English, because we were so attached to the sensitivity and fragility of the original performance."
However, when Clapin spent a week in Los Angeles in September, the process of dubbing made the director see his work anew. "I had to rediscover my movie," he says. "You cannot copycat a film, asking people to do exactly the same thing as the French voice. You have to play out the sincerity of your new actors." In this case, his new actors were Dev Patel and Alia Shawkat, voicing lead characters Naoufel and Gabrielle. He now considers he has "another original version of the film", a sentiment echoed by Du Pontavice. "It doesn't feel like a dubbed movie — that's a good sign of universality," says the producer. "With proper dubbing and a good performance from the actors, it works as if it were the original version."
Clapin is now totally on board with the anglophone rendition of what is his first feature. "I'm in love with the two. I don't know which one I would choose."
I Lost My Body is a loose adaptation of 2006 novel Happy Hand by Guillaume Laurant, the Oscar-nominated co-writer of Amélie, and co-writer here with Clapin. It follows a disembodied hand attempting to traverse the urban sprawl of Paris to reconnect with its body —young pizza delivery guy Naoufel. Meanwhile, flashbacks explain how the separation came to be.
Du Pontavice and Laurant first met in 2011; soon after, the producer read Happy Hand and was hooked on the angle of the story: "It's not the body that's missing the hand, but the hand that's missing the body," he says.
After purchasing the rights, a six-month search for a director brought the producer to Clapin, via the director's 2008 short Skhizein, about a man whose consciousness becomes separated from his body by a distance of 91cm after being struck by a 150-tonne meteorite. "That short has a lot of affinity thematically with Guillaume's book," says Du Pontavice. "In animation, it's usually only in shorts that people dare to tell stories that are so mature."
Clapin and Laurant began collaborating on a script in 2011. It was the first time the director had adapted another person's material, and there were some early hurdles. "We mainly did some ping-pong. I work, I show my work to Guillaume and he slaps me," jokes Clapin of their process.
The first two years bore little fruit. It was only when Du Pontavice and Laurent pushed Clapin to, as the director says, "bring much more of my universe into it", that he started to make headway. "I had to betray the book some more; not start from scratch, but really think about what captivated me."
The page-to-screen transition required careful consideration. "When you do something in literature, you can take a lot of shortcuts, because there is voiceover and you can jump easier to different temporalities," says Clapin. "In the movie, you can't fit such complex things into reduced time. I decided to keep only one point of view and be very strong on that."
Knuckling down
The team was small for an animated feature; Du Pontavice says just over 30 people worked on the animation across CGI and 2D (2019's The Addams Family, another film featuring a disembodied hand, has 159 credited animators alone). The majority of production took place in less than 18 months in Xilam's studios in Paris and Lyon, with supplementary work in Avignon. Auvergne Rhone-Alpes Cinema served as co-producer.
It was not broad vistas or intricate tableaux that posed the greatest animation challenge, but rather something more intimate: how to bring the extremity to life. "Making the hand move was not easy in the beginning; we didn't want it to be creepy, to look like a spider," says Clapin. "On the first animation test I was really focused on the perception of the hand. It doesn't have to be funny, but it shouldn't be creepy — it should be as if you are seeing something normal."
Du Pontavice embraced the test. "It was an ultimate challenge of cinema and animation, to have the viewers feel empathy for a character that has only five fingers through which to express itself. I loved that."
The film became the first feature animation to win the top prize in Critics' Week on its debut in Cannes. The Netflix deal, brokered by sales agent Charades, had bubbled under for several weeks prior, and was announced on the last day of the festival. Further prizes included a best feature and audience award double at Annecy International Animation Film Festival in June, and then the Los Angeles Film Critics Association jury award and audience award at Colcoa French Film Festival in September.
Netflix conducted a limited theatrical release for the film in France on November 6, in the US on November 15 and the UK on November 22, before both French- and English-language versions land on the online platform on November 29.
The small screen was not Clapin's first choice for I Lost My Body's carefully crafted art. "We built the film for the cinematic experience; because of the very singular point of view that you have to feel as an audience — it's much easier to do it in a theatre," he says. But he also champions the company's broadening of the audience for animated films. "Looking at animation for adults, it's not easy to screen all around the world. This kind of film is really hard to make exist."
Du Pontavice wants the release to bring about change in viewing tastes. "There is something big at stake with the film — to make people believe that we can tell grown-up stories for animation," he says. "We overcome the dilemma of whether it should be a theatrical experience or on a platform, because it's bigger than that."
In June, Clapin told Screen International that by the end of the summer he would have chosen between two ideas for his next feature. Since then, I Lost My Body's success has put future projects on hold, but both he and Du Pontavice say they will team up again.
"I'm torn between promoting the film and sending him away to write," says the producer. Whatever they create, with I Lost My Body in their credits, one senses it will be in good hands.