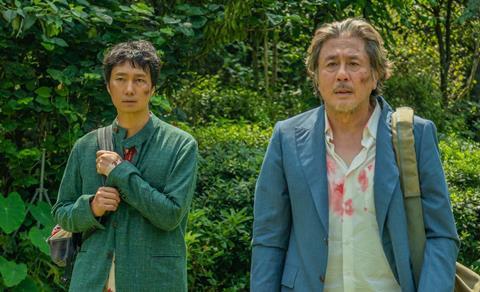 Korean director Im Sang-soo is back at the Busan International Film Festival (BIFF) with Heaven: To The Land Of Happiness making its world premiere as Opening Film.
As a regular at the Cannes Film Festival with works such as The Housemaid, The Taste Of Money and The President's Last Bang, Im's latest was selected for 'The Faithful' category of the Cannes 2020 edition which went without screenings due to the Covid-19 pandemic.
The road movie stars Choi Min-sik (Old Boy) as a terminally ill inmate who makes an escape with Park Hae-il (The Host) as a direly sick man who can't afford his medication joining him when they get their hands on a large sum of money.
What made you make this film at this point in your career?
From the time we started developing this film, I talked with producer Kim Won-kuk [CEO of Hive Media Corp.] and agreed we'd try to make a good-hearted and kind-natured film that doesn't seem to have the sort of sharp, pointy thorns that were in my previous films, which is what the general public seems to find difficult. From my point of view, I felt it could be interesting to make this sort of film as well as the other kind.
And as you grow older, you witness the deaths of people around you. For instance, your own parents and others. And I've gotten to the age where you think about death and at the same time, look back on how you have been living your life. Death doesn't come according to a promised schedule so then, how have I been living? And if this isn't the life I wanted to live, then I should try to live better from now on. I haven't made any films where I can look back on all the films I've made before, but I could in the future.
Tell us about casting and working with Choi Min-sik, Park Hae-il and Yuh-Jung Youn.
I think Choi Min-sik and I are the same age. Like I said before, it's an age where you think about death and look back on life, so we shared our thoughts on that before and during the shoot. When it comes to acting, he and Park Hae-il are the best. Park Hae-il also gives the feeling of a much younger actor. The two characters needed to have an age gap for the flavor to come alive, and so that was a great help.
As for Yuh-Jung Youn, she's gotten so expensive after winning the best supporting actress Oscar for Minari that I would have a hard time giving her the script to even look at now, but she did this role before that happened. Her character appears briefly but I wanted to portray her impressively. It's like a villain boss, but an old woman who's practically a grandmother and she played it in an interesting way differently from other characters she's done before. She worked with me on The Taste Of Money and The Housemaid, and we get together on a personal basis from time to time. She helps me a lot whether it's with life advice or appearing in films inexpensively when needed even when it's not convenient for her, and I love her.
What was it like shooting the film?
The film keeps on moving without staying in one place so I wanted to at least show the kind of nature that is rare to see in Korean films these days. We did location hunting all around the country to find places that are shocking to urbanites. It was good to be able to shoot a lot of woods and the place where they smash and eat the watermelons was so green and nice.
We have some action scenes, but I'd rather call them adventurous. We didn't have a lot of budget and you can't compete with the numerous American action adventure movies that inject a lot of money into them. With that in mind, the cinematographer, the action choreographer and I tried to be witty and use the locations' characteristics in each situation so that even if we didn't have an action scene that would make your mouth drop open, we would have scenes that would be interesting to follow. Like the motorcycle chase scene in the small city, we tried to shoot it as cutely and interestingly as possible.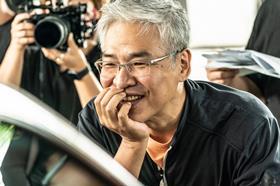 The film's world premiere was delayed by more than a year because of the pandemic. What's it like for you to have it opening BIFF?
I made my feature debut in 1998 with Girls' Night Out and its world premiere was at Busan film festival in the New Currents competition. That was how I became known to people from Europe, including from Cannes. I've since traveled to film festivals all around the world, and it's because of my start at Busan with my 1998 debut film. To have Heaven: To The Land Of Happiness be at Busan as the opening film after all these twenty-odd years, I'm filled with emotions. Busan has been an important platform that has travelled with me in my career as a director.
Can you talk about your next projects? How is the Soho Sins adaptation coming along?
I'm ready to go as soon as the US side's preparations are done. I think it can go well, but the pandemic doesn't make getting funding like it was before. I'm developing a few other projects. Not all of them are Korean-language because I'm interested in geopolitical stories. I think once this pandemic is over, we will see a lot of strong films jumping out at us from all over the world.