IMAX is set for a huge summer, continuing its global expansion. Wendy Mitchell talks to company executives Andrew Cripps and Greg Foster.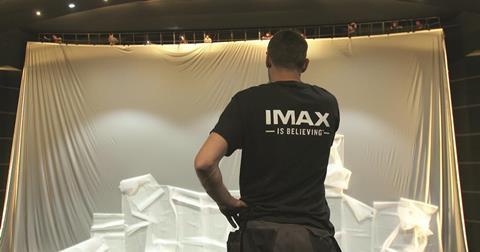 It wasn't just Tom Cruise causing a stir in London's Leicester Square at the end of May. On May 30, the IMAX screen in the Empire Leicester Square officially opened for business, showing Cruise's blockbuster Edge Of Tomorrow.
The fact IMAX now has a home in the UK's starriest square is part of the company's strategy to have hubs in notable locations around the world.
"It will be a great advantage to do premieres and press events in Leicester Square, in the heart of London. It's alongside the TCL Chinese Theatre in Los Angeles [formerly Grauman's], Lincoln Square in New York and Potsdamer Platz in Berlin," says Andrew Cripps, IMAX's president, EMEA. Just across the River Thames, the BFI IMAX is the highest-grossing IMAX site in the world.
'It's part of our new strategy to get into new markets'

Andrew Cripps
More big-earning sites are coming — and international is key. First-quarter box office from IMAX titles saw two-thirds from international markets. IMAX has announced its first commercial theatre deal for Scandinavia, with Nordic Cinema Group, and an IMAX is set to open in autumn 2015 at the SF Bio anchor multiplex at the Mall of Scandinavia in Stockholm in autumn 2015.
"It is part of our new strategy to get into new markets," Cripps says of the Scandinavian move, which follows recent deals in Germany, Switzerland, Portugal, Estonia and Slovakia.

Flying success
The company will be debuting its first laser system in Russia in 2015 — where IMAX already has 58 screens — and booking another local-language Russian project, Nikolai Lebedev's Flight Crew, to open in October 2015. This follows the success of Russian hit Stalingrad, which also went down well in China, where it earned more than $11.5m (€8.5m).
Flight Crew is a reimagining of the 1979 hit film Air Crew. Greg Foster, IMAX Entertainment CEO, says: "When there was state-sponsored cinema, 100 million people saw the original film."
He adds: "In Russia the business is working well — we're seeing incredible growth there. Stalingrad was a huge success. Russian local-language films are a bit of an anchor."
China is another territory of special importance to the company for future growth. There are 184 IMAX screens open, with a backlog of 238. Chinese local-language offerings include Zhang Yimou's Coming Home.
"[IMAX Corp CEO] Richard Gelfond saw the opportunity there 15 or 16 years ago. He is why that market is working for us," says Foster. "We invest in our business in China." IMAX's revenue in the territory last year grew 26%, to $56.5m (€41.5m) from 2012.
'Russian local-language films are a bit of an anchor'

Greg Foster
Earlier this year, the company sold a 20% stake in its Chinese subsidiary IMAX China to media veteran Li Ruigang's CMC Capital Partners and private equity firm FountainVest.

New hubs
Back in the US, an interesting trend has been emerging away from the biggest cities.
"Markets we wouldn't normally think of as IMAX markets are places where an entrepreneurial exhibitor has decided to make IMAX an anchor and use it as a regional hub," Foster explains.
These include Warren Theatres in Wichita, Kansas, and Galaxy Theatres' site in Sparks, Nevada, which Foster notes "has gone from being number 125 in the country to being number five. It becomes a regional hub."
In the US, IMAX has 378 sites open, with 38 in backlog.

Educational content
In addition to screens, IMAX is pushing ahead in the content business. Last month, the company confirmed a $50m (€36.7m) fund — with $25m from the Knights of Columbus — to invest in a portfolio of 10 large-format educational documentaries.
On the Hollywood side, Disney has confirmed that Star Wars Episode VII will be released in IMAX, though there is no word yet if the film will be shot using IMAX cameras; Michael Bay has shot part of Transformers: Age Of Extinction with an IMAX 3D cameras and the format's biggest fan Christopher Nolan has again shot a "significant part" of his next film, Interstellar, using the cameras.
"We hope and expect that more new films in 2015 and 2016 will use our cameras," Foster says. "Film-makers design their films not for an iPad or iPhone — they dream about playing them on the biggest screen in the world."
IMAX by the numbers
840 theatres
57 countries
431 theatres in backlog
117 open in Europe
53 backlog in Europe
Top 5 Euro markets
Russia 58 (33 screens open, 25 backlog)
UK 40 (25 open, 15 backlog)
France 13 (all 13 open)
Netherlands seven (six open, one backlog)
Ukraine seven (five open, two backlog)
Upcoming releases
How To Train Your Dragon 2 (DreamWorks Animation, Fox; international only)
Transformers: Age Of Extinction (Paramount)
Guardians Of The Galaxy (Walt Disney Pictures)
Interstellar (Paramount, Warner Bros)
The Hobbit: The Battle Of The Five Armies (Warner Bros)