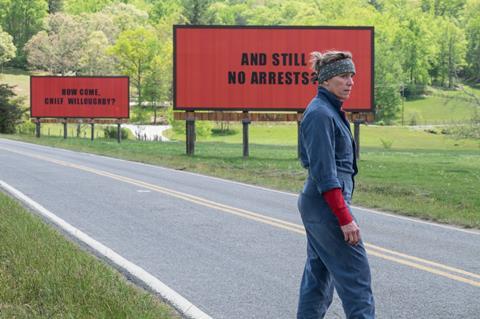 Alongside London's array of facilities and locations, it's also home to a melting pot of talent. The capital has a history of producing a steady stream of creative individuals who are making an impressive impact on the global stage. This includes filmmakers like Martin McDonagh (Three Billboards Outside Ebbing, Missouri), Amma Asante (Where Hands Touch), Christopher Nolan (Dunkirk) and Steve McQueen (currently in post-production on Chicago-set drama Widows). In front of the camera, actors such as Daniel Kaluuya (Get Out, Widows), John Boyega (Star Wars: The Force Awakens), Emily Blunt (Mary Poppins Returns) and Phoebe Waller-Bridge (Solo: A Star Wars Story and TV's Fleabag and Killing Eve) are making waves well beyond their London roots.
"Discovering and developing the next generation is incredibly inspiring and rewarding work," says Jordan McGarry, Film London's head of talent development and production. "We have a very strong track record of helping filmmakers find their voice and tell their stories, and we want to continue that."
McGarry cites initiatives such as London Calling, the short-film scheme run in partnership with BFI and Creative Skillset, and the new BFI Network shorts and early feature film concept development funds, for which Film London is the London partner. The alumni speak for themselves — talent including Hope Dickson Leach (The Levelling), Riz Ahmed (Rogue One: A Star Wars Story) and Michael Pearce (Beast) have benefited from these schemes.
Feature filmmakers
Now in its 12th year, Film London's Microwave continues to support new filmmakers across the breadth of production. The scheme helps filmmakers from script development through to post-production and marketing, with recent years seeing filmmakers also receive Film London's Green Screen training so as to embed a sustainable, environmentally friendly approach to the craft.
Previous Microwave success stories include Hong Khaou's Lilting, which was nominated for multiple awards including a Bafta for outstanding debut, and Ben Drew's ill Manors. Currently at various stages of pre-production are anorexia drama Sick(er), which is now shooting in London and Essex, and crime tale Looted, both from the 2015/2016 slate, along with thriller Zero and psychological horror The Visitor, from 2014/2015. Joining them are the two films from the 2016/2017 slate: Violets Are Blue, the tale of a trans man diagnosed with cervical cancer by writer/director Marley Morrison; and Mari, from writer/director Georgia Parris, in which a young dancer struggles to cope with the death of her grandmother.
"The last 18 months have been a complete roller coaster, but having mentoring from the Microwave team made the transition from shorts to feature far less daunting," says Parris. "Their guidance and support played a crucial part in how I developed the script but, ultimately, they gave me the confidence to be bold and made sure my first feature accurately represented me as a filmmaker."
For Mari producer Emma Duffy, Microwave helped hone practical skills that she will take forward into her career. "Though a lot of the challenges were very specific to this project, it helped me grow confidence in my own instincts and tastes as a producer, and demystified a lot of things. It's also built a great relationship between me and Georgia, and we're now developing our next projects."
McGarry says this continued focus on practical talent development is crucially important to London's status as an international production hub. "If London is to maintain its reputation as one of the world's filmmaking capitals, we have to make sure we're training up the next generation so they'll be ready to make the films that will inspire and entertain audiences of tomorrow."