With a star-studded guest list and a revitalised programme team led by Berlinale veteran Christoph Terhechte, Marrakech International Film Festival (Nov 30-Dec 8) is set to roar.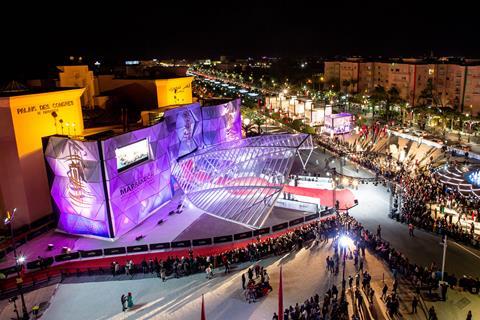 A revamped Marrakech International Film Festival (MIFF) opened its doors on November 30 after a one-year hiatus to restructure, with a new artistic director, programming team, sidebars and venues alongside its first-ever large-scale industry event.
"When you stop a festival for a year, you're taking the risk that it might not start up again, but it was a necessary move and we're back with renewed energy," says Mélita Toscan du Plantier, festival lynchpin and adviser to Morocco's Prince Moulay Rachid, president of the event's governing foundation.
Toscan du Plantier has worked tirelessly for the festival since its creation in 2001, first alongside her husband, the late producer Daniel Toscan du Plantier, and then alone after his death in 2003.
Armed with a formidable contacts book, she is the connected driving force behind the festival's high-profile guest list. This year, it includes MIFF habitué Martin Scorsese and Guillermo del Toro, who give masterclasses; guests of honour and L'Etoile d'Or recipients Robert De Niro, Agnes Varda and Robin Wright; jury president James Gray and jury members Dakota Johnson and Lynne Ramsay.
"Once people come here, they want to come back again and again," says Toscan du Plantier. "We never pay our guests to come. They come back because they feel an authentic connection with the place."
This year, Toscan du Plantier is flanked by newly appointed artistic director Christoph Terhechte, who arrived in June from Berlinale, where he was the Forum section director for nearly 20 years.
He in turn is supported by a new programme team comprising art curator and Middle East and African specialist Rasha Salti; film critic Anke Leweke, who worked with Terhechte at Berlinale; Rémi Bonhomme, who is overseeing the industry-focused Atlas Workshops; and festival coordinator Ali Hajji.
In an impressively quick turnaround, the team has pulled together a programme of some 80 films from 29 countries in just three-and-a-half months. They will screen across four key sections: the official competition; special screenings; the 11th Continent, which celebrates innovative works by global filmmakers; and Moroccan Panorama.
Urgency and energy
"Given the small amount of time, it's amazing that we achieved so much in terms of the films and personalities we have at the festival this year," says Toscan du Plantier. "Everyone was really excited to work with this new team. There was a sense of urgency and a great energy."
Terhechte says his arrival at the festival reconnects him with a part of the world that has fascinated him since his early days as a curator. "I've always been interested in Moroccan cinema and Arab cinema in general," he reveals. "One of the first things I did almost two decades ago at the Forum was to mount a small programme on Moroccan cinema. I've come full circle."
Terhechte emphasises that his remit is to programme an international line-up that also gives space to local and regional cinema, and that the selections were made collectively by the programmers. "We've covered different aspects of world cinema and also taken care to select Moroccan films as well as work from the Arab world and Africa," he says.
He notes the main competition, featuring first and second films, will screen one Moroccan title — Mohcine Besri's Urgent, about a couple trying to raise money to fund life-saving surgery for their son — and three other Arab films: Egyptian director Ahmed Magdy's The Giraffe; Tunisian filmmaker Nejib Belkadhi's Look At Me; and aKasha by Sudan's Hajooj Kuka.
"Four out of 14 titles is a good ratio," says Terhechte. "We had the luxury of being able to take films that had already screened at other festivals. It's a mix of titles from within the arthouse domain. All of the contenders are very original and define how arthouse cinema of today is not just repeating recipes but innovating."
There is one world premiere in the competition line-up in the shape of Sayaka Kai's Red Snow, starring Masatoshi Nagase as a man trying to solve a childhood disappearance many years later.
"It has a great cast and the visuals are way, way beyond what you can expect usually from Japanese first features," says Terhechte.
In addition to the competition, the special screenings selection is an eclectic mix of festival hits and mainstream fare including Egyptian road movie Yomeddine, family drama Wildlife, Alfonso Cuaron's ROMA, Kenya's Un Certain Regard hit Rafiki and Peter Farrelly's Green Book.
"I think it is one of the best US films of the year," says Terhechte of the latter. "Viggo Mortensen and Mahershala Ali are incredible."
He and his team have also devised two new sections: the 11th Continent and the Moroccan Panorama. "The 11th Continent is the place no one knows — the terra incognita where you make discoveries. The idea here is to screen more challenging films," explains Terhechte. "Aside from Lee Chang-dong's Burning, they are all films by unknown filmmakers. There are some first features, a lot of documentaries and a few hybrid films that you could have probably found in the Forum."
The screenings will run in an "adorable" 112-seat screening room in the newly opened Musée Yves Saint Laurent Marrakech, dedicated to the late iconic fashion designer who lived off-and-on in the city.
The new Moroccan Panorama is made up of a selection of recent features by local directors, ranging from Hind Bensari's documentary We Could Be Heroes to Narjiss Nejjar's drama Stateless. "The idea is to promote Moroccan cinema, not by showing whatever successful films had been released last year but by bringing a completely curated view on Moroccan cinema," says Terhechte. "It's a personal selection from the programmers and represents our favourite films, which are not the obligatory best or biggest films."
He notes that two big mainstream Moroccan films — Abdellah Toukouna's Korsa and Driss Mrini's Lahnech — are playing to some 20,000 spectators in the festival's open-air screenings on Marrakech's Jemaa el-Fnaa square.
"I think it's one of the biggest open-air screenings in the world," says Terhechte. "They're free and always hugely attended." Other titles playing in the square include Scorsese's Kundun and Brian De Palma's The Untouchables.
Marrakech relaunches into a very different Middle Eastern film festival environment from the one it left after the shock closure of Dubai International Film Festival. That festival is set to return in 2019 as a biannual event but, for now, all eyes are on Marrakech.
"Dubai not happening gives us an opportunity to attract those who would have gone there," says Terhechte. "But we don't want to copy Dubai. Marrakech has always attracted stars and films from all over the world."