The 60th edition of Thessaloniki International Film Festival will be bigger, better and bolder than ever, themed around The Overview Effect.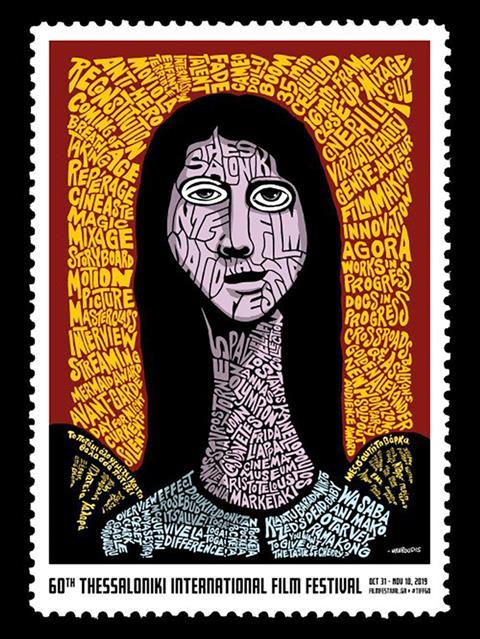 The 60th anniversary celebrations for Greece's Thessaloniki International Film Festival launched with a poster designed by renowned illustrator John Mavroudis. It features 'the viewer', an imagined regular attendee of the festival over the years. "She or he carries films, moments, people and words from the 60 years of the festival," Mavroudis explains.
This year's festival runs from October 31 to November 10 and promises to be its biggest iteration to date. The international competition section, showcasing bold new voices in global independent cinema, will feature 14 first and second films. Artistic director Orestis Andreadakis, head of programming Yorgos Krassakopoulos and his team are guided each year by a theme, and for 2019 it is the cognitive phenomenon 'The Overview Effect'.
"It is the way we look at the earth, life, ourselves, from far away," explains Andreadakis. "How we discover that everything that keeps us apart on earth vanishes when you look from afar. Astronauts can't see borders, cultures or religious disputes."
The full competition line-up will be announced on October 22, and rising Greek artists will create 14 original artworks — from paintings and sculpture to photography and video installations — inspired by the section's titles. They will underline the importance Thessaloniki places on the many connections between film and visual art.
Celebrating art
The festival is also hosting an exhibition of the little-seen artwork — sketches, letters, notes and personal effects — created by Nikos Koundouros, the patriarch of modern Greek cinema. Koundouros went to art school in the 1940s before becoming a filmmaker and directing seminal films including The Ogre Of Athens (1956) and Young Aphrodites (1963).
"It is not very well known that he was a painter before he was a filmmaker, so that's why we are calling it 'The Unknown Koundouros'," says Andreadakis. The exhibition will be staged in a converted warehouse on Thessaloniki's pier and Koundouros's The River (To Potami) will screen as part of the festival programme.
The Balkan Survey strand will host a retrospective of the work of Dusan Makavejev, Yugoslav cinema's great anarchist. A member of the 'novi film' cinematic movement that appeared in Yugoslavia during the 1960s, Makavejev's work combines the sexual with the political, considers sexual liberation a revolutionary act and criticises the class system, socialism and capitalism. "He was one of the main figures of the cinema in our region — Balkan and south-eastern Europe. We all grew up with his movies," says Andreadakis.
The festival is also honouring the innovative and experimental work of US-born Gregory Markopoulos, a leader in avant-garde cinema from the late 1950s until his death in 1992.
"It is very rare to have the opportunity to see Markopoulos's films," Andreadakis says. "He didn't want to screen his movies in a commercial way and had a very peculiar way of presenting his movies."
The work of Spanish filmmaker and artist Albert Serra will also be celebrated, with Serra delivering a masterclass. An audiovisual content artist, video director, playwright and filmmaker, Serra has won acclaim with films such as Story Of My Death. His feature Liberté premiered this year in Cannes' Un Certain Regard.
UK writer/director Joanna Hogg will present a series of her films probing middle-class British life, love and privilege, including her Sundance premiere The Souvenir. Andreadakis believes Hogg's films are more relevant than ever. "We know what's going on in Great Britain over the last few years with Brexit," he says. "Joanna's work is very modern."
A colourful sidebar called 'Growing Up In The 1980s' will eulogise the experience of living in the decade of bold fashions, impressive haircuts and synthesisers. Greek director and musician The Boy (aka Alexander Voulgaris) has dived into the decade to pick 10 films full of horror, tenderness, humour and music. His choices include Adrian Lyne's Foxes (1980), Tim Hunter's River's Edge (1986) and Vincent Ward's Vigil (1984).
"Half of us want to forget the decade ever existed and the other half want to relive it until their final days, like a Groundhog Decade," explains The Boy. "The films are unique and prove '80s films don't need to be ashamed."
Thessaloniki's 60th edition will also see the return of the VR competition section, while the well-established industry section Agora is designed to be a must-attend.
"We want Thessaloniki to be one of the top destinations for cinema lovers, global industry players and particularly those who like surprises," says Andreadakis.
For further information