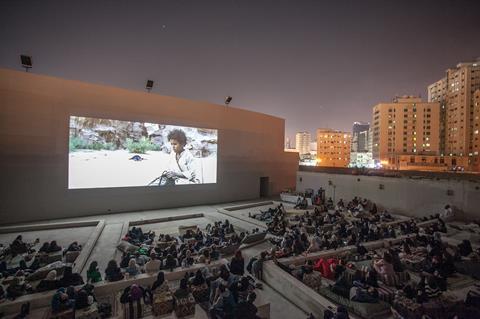 This weekend, Sharjah Film Platform - Sharjah Art Foundation's new, annual film festival - opens in Sharjah, United Arab Emirates.
Running from January 18-26, the first edition of this festival will feature screenings of over 140 short and feature films from more than 40 countries in over 30 languages, as well as talks and workshops.
There are 32 premieres (features and shorts) in total, including the two new works created by the Short Film Production Grant awardees.
An international jury of filmmakers and film industry professionals will select winners from the narrative, documentary and experimental categories.
Among the world premieres is US/Lebanon/Palestine project Spaces of Exception, directed by Matt Peterson and Malek Rasamny, which profiles a native American reservation alongside a Palestinian refugee camp.
Three films directed by Egyptian filmmaker Youssef Chahine - Cairo Station (1958), The Land (1969) and The Sixth Day (1986) – will also be shown to commemorate the tenth anniversary of his death.
Sharjah Film Platform builds on over a decade of Sharjah Art Foundation support for film through its regular initiatives including the Sharjah Biennial, year-round exhibitions, public programmes and film screenings, as well as direct support to artists for film commissions and productions.
In 2013, the foundation also established its open-air Mirage City Cinema - initially a Biennial project - to present its screenings.