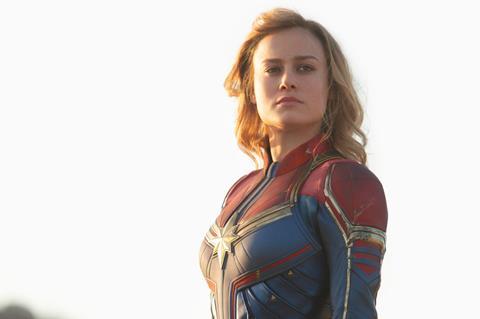 With a population of over 42 million people but just 530 cinema screens, Ukraine is undoubtedly suffering from a shortage of cinemas. By comparison, the UK has a population of 66 million and had 4,340 screens in 2018.
The military tensions with Russia slowed down the sector in 2014 as some cinemas were closed and others destroyed.
But Ukraine's growth potential is huge and more screens are gradually being built as the local film industry develops further.
As in almost every other global territory, Hollywood superhero and animated films aimed at a youth audience dominate at the box office. Kinomania/Warner Bros' Aquaman (with a gross of $4m) and B&H/Disney's Avengers: Infinity War ($3.7m) were the top performing films of 2018.
Avengers: Endgame has grossed $6m this year, a very strong result given the relative weakness of the Ukrainian currency, the hryvnia. It was followed by another Disney title, Captain Marvel, which grossed $3.1m.
Independent fare, even high-profile English-language titles as internationally garlanded as Three Billboards Outside Ebbing, Missouri, tends to struggle in the Ukrainian market. Three Billboards grossed only a feeble $8,814 at the box office. Anglo-Polish Cannes prizewinner Cold War grossed $19,420 and Clint Eastwood's Sully just $15,121.
Homegrown heroes
Local films have enjoyed success at home and on the festival circuit and a new generation of younger directors is emerging. Many of them are being showcased at the country's leading film event, the Odesa International Film Festival (OIFF), the 10th edition of which is now taking place. "The last few years have been breakthrough years for the Ukrainian film business. In 2014, we produced three feature films. Now, it is more than 30 feature films [a year]," said Volodymyr Yatsenko, head of the Film Industry Association of Ukraine.
The local market share in 2018 was an encouraging 8.24%. European releases, however, accounted for only 5%.
Substantiated data about the market is hard to come by. Box-office analyst Comscore (then Rentrak) was due to start box-office data collection in Ukraine in 2014 but put those plans on hold in the wake of the political crisis and revolution of that year. In its absence, Kiev-based media consultancy company Media Resources Management (MRM) provides insights into trends in the local market.
According to Artem Vakalyuk, head of analytics at MRM, 298 films were released during 2018 and box office revenues reached $89.4m (around 10% up on 2017). Forty of the releases were Ukrainian while six were Russian. Some 28 million tickets were sold, marginally down on the 28.7 million sold in 2017 but a very big hike on the 19.5 million sold in 2014.
Local comedies tend to work best in the market. Notable recent successes include Vlad Dykyi's Crazy Wedding, a farce about a young Ukrainian woman whose family plans to sabotage her engagement to a French heart surgeon when they learn he is of African origin. International sales are handled by Film.UA Distribution and a sequel, Crazy Wedding 2, is due for release in December.
Further notable local successes last year were Stolen Princess: Ruslan and Lyudmyla. Both titles were top 20 hits while raunchy romantic comedy, Just Sex, Nothing Personal, made it into the top 30 of 2018.
Local comedies Me, You, He, She and Swingers 2, the latter based on a Latvian success, have both done strong business in the first half of 2019.
On the arthouse side, Nariman Aliev's father and son road movie Homeward screened to acclaim in Un Certain Regard in Cannes in May (it is sold by Wild Bunch) and Dekel Berenson's Anna was also on the Croisette in the short film competition.
Meanwhile, Ukrainian director Antonio Lukich's tragicomic road movie My Thoughts Are Silent premiered in Karlovy Vary earlier this month, winning a special jury prize. UK-based Alief is handling international sales. And the prolific Sergei Loznitsa, winner of Un Certain Regard in Cannes in 2018, remains a perennial presence at all of Europe's major festivals.
The exhibition sector
The Multiplex cinema chain is Ukraine's leading exhibitor, with 24 cinemas and 131 screens. Vitaliy Pysarenko, CEO at Multiplex, claimed recently local movies screening in Multiplex cinemas had attracted 693,000 viewers during 2018. Other major exhibitors include Planet of Cinema and Cinema City. Both are investing in state of the art venues but the country still has some rickety old single-screen cinemas dating from the Soviet era which are yet to be modernised.
B&H Film Distribution, run by industry veteran Bogdan Batrukh, is Ukraine's leading local distributor and had a market share of 63.7% in the first half off 2019. It handles the releases of several of the US studios. The company is also acknowledged as one of the few reliable sources of box office analysis. Other distributors collect box office information from exhibitors and forward reports to B&H. The company also releases selected local and arthouse titles.
MMD UA, Ukrainian Film Distribution (which handles Fox releases), Kinomania (Warner Bros' partner in Ukraine) and Volga Ukraine are among the other leading players.
Earlier this year, Multiplex and Film.UA announced they are partnering on some of the most high-profile local releases of 2019 and early 2020, among them Agnieszka Holland's Berlinale competition entry Mr Jones, Crazy Wedding 2, fantasy adventure Polina, sports biopic Pulse and historical action adventure The Rising Hawk.