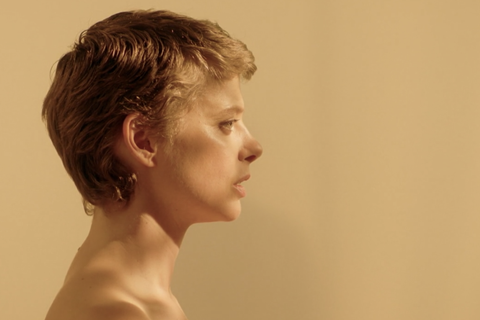 Leading Belgian filmmaker Jaco Van Dormael has revealed how he shot Bovary his new film, a take on Flaubert's classic novel, Madame Bovary, in just five days.
The film stars Maalke Neuville as the adulterous wife and is Van Dormael's first screen effort since The Brand New Testament in 2015. Van Dormael made it after being approached by Michael De Cock, the artistic head of The Royal Flemish Theatre (KVS) in Brussels. An adaptation of Bovary was originally meant for the stage in a production directed by De Cock and Carme Portaceli. However, when the play had to be cancelled because of the pandemic, De Cock turned to Van Dormael, one of Belgium's best-known movie directors.
"Michael De Cock called me and said 'could you do something that is not just filming the play?'" Van Dormael explains. "In five days, I tried to do something that is not a film and which is not theatre."
In Bovary, Van Dormael makes extensive use of rear projection and prolonged close-ups, some lasting up to 10 minutes. He also added various other cinematic tricks although he was shooting on stage at the KVS. Bovary is premiering on Belgian broadcaster Canvas today (April 30) and the director hopes it will now begin to travel the festival circuit.
"It's always mysterious and it's always a miracle when the audience comes to see a film," the director said of how his works generally get distributed. "When I make a film, it's like dropping a message in a bottle in the sea. I never know who will find it or if somebody will read the message. I don't know what will happen with this one," he added of the international prospects for Bovary. "It's a very strange film…I know it's not theatre but I don't know if it is a film."
Van Dormael won the Camera d'Or for Toto The Hero in 1991 and went on to make films including the big-budget sci-fi drama Mr Nobody, which starred Jared Leto and screened at Venice in 2009. He says he first read Flaubert's novel at school and "rediscovered" it when preparing his film.
"For me, it is an experiment. It was five days to make one hour and 20 minutes…Mr Nobody was six months of shooting," he marvels. "I had to take shortcuts all the time to make it possible. What was great was that the two actors [Neuville and Koen De Sutter] had already rehearsed for months. They arrived very prepared."
He praises their expertise in playing both to "an audience that was at 40 metres and to a camera that was at 40 centimetres."
"This is an experience that is typically from 2021," he said of the project, which came into being because of Covid. "We can't stand any more not doing anything. We can't stand any more not having an audience…let's find beauty somewhere in all the mess. We were trying to find beauty in transposing theatre into film."
The Belgian director is now developing a more conventional feature film, La Matiere Des Rêves. He expects to complete the screenplay later this year.