Jennifer Hudson was Aretha Franklin's personal choice to play her in biographical drama Respect. The Dreamgirls Oscar winner tells Screen about her long journey to bring the Queen of Soul to the screen.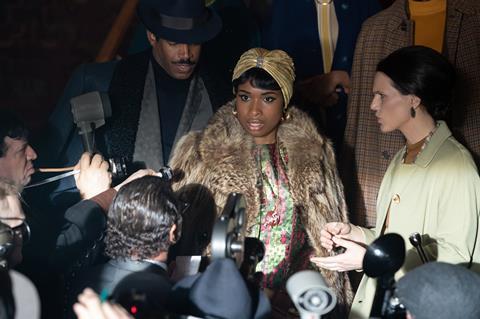 It has been 15 years since Jennifer Hudson enjoyed a remarkable run of awards success that saw her striking performance in Bill Condon's Dreamgirls pick up a Golden Globe, a Bafta and a Screen Actors Guild award en route to winning her the Academy Award for best supporting actress. Her role as 1960s backing singer Effie White marked her big-screen debut, making that 2007 victory parade all the more startling for a performer hitherto best known for a creditable but hardly earth-shattering seventh place on the 2004 season of American Idol.
"Coming right out of the gate and receiving such amazing recognition is the thing that's kept me going," says Hudson now. "It's a prestigious thing to receive those honours, so you want to try to live up to that."
It is fair to say, though, that Hudson has struggled since to find film roles as well-suited to her talents as the indomitable Effie, whose wall-shaking rendition of 'And I Am Telling You I'm Not Going' — a blistering torch song directed at her inconstant manager lover — has helped to fill the mantelpiece of more than one actress. (Jennifer Holliday won a Tony for the musical's initial Broadway production, while Amber Riley collected an Olivier when the show reached London.)
Hudson has hardly been idle in the interim, combining appearances in TV shows such as Smash, Empire and 2016's live presentation of Hairspray with a Grammy-winning recording career. She also became a spokes­person for Weight Watchers, documenting her lifestyle change in 2012 memoir I Got This.
In Aretha Franklin biopic Respect, though, she may finally have a vehicle capable of rivalling Dreamgirls' impact, and the 40-year-old Chicagoan is already nominated for another SAG award.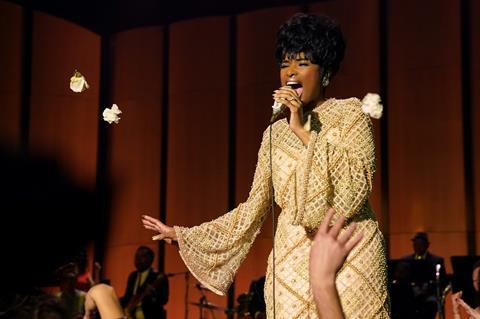 "It wouldn't be life-changing if it came around every day, right?" laughs Hudson. "I'm happy just to be the girl who got her start playing an iconic character like Effie, who was then able to come back around and play an icon like Aretha Franklin." The number of years separating the roles may be misleading, however, the actress having been linked to a nascent Franklin biopic as far back as 2004. That was the year when Hudson, newly ousted from American Idol, was asked to open for Franklin at a concert in Indiana.
It would be after Dreamgirls, however, that conversations began in earnest, with Hudson's appearances at various Franklin tribute events seeming to strengthen her hand. "I can't say I thought I was getting closer but I knew it was a good sign," she recalls. "Anytime I would do a tribute to her, in my mind, was an opportunity to audition."
Hudson earned the backing of Franklin for the role, and her casting was officially confirmed in 2018, shortly before the singer's death at the age of 76. Produced by MGM and Bron Creative, directed by Liesl Tommy (Tony-nominated in 2016 for directing stage play Eclipsed) and scripted by Tracey Scott Wilson (The Americans), Respect is distributed by United Artists in North America and Universal in international territories.
Daunting challenge
For Hudson and Tommy, the issue was always how best to do the Queen of Soul justice. "Portraying someone is completely different to just singing her songs," Hudson says. "It took a lot of depth and understanding, and the key to that was being conscious and real and present."
A case in point was the decision to have Hudson actually sing during scenes where Aretha is seen recording or performing. "Around 90% of the music was all live, right there on the set," the actress states proudly. During filming in Atlanta, however, Hudson found her familiarity with Franklin's back catalogue more a curse than a blessing. "With songs like 'Ain't No Way', for example, in the context of the film, she doesn't necessarily know the song," Hudson explains. "She's learning the song, so I had to unlearn the song and not jump ahead." 'Chain Of Fools', 'Think' and 'I Say A Little Prayer' are among other tracks included in the film, which sees its narrative climax with the recording of 1972 gospel album Amazing Grace, filmed for the documentary of the same name, belatedly released in 2018.
In Respect, a key relationship — and a central conflict — is with Aretha's father Clarence Franklin, a Baptist minister and civil-rights activist, played in the film by Forest Whitaker. There is some synchronicity there, given the actor has played father to Hudson twice before (in 2008's Winged Creatures and 2013's Black Nativity) and won his Oscar (for The Last King Of Scotland) on the same night she won hers. "This is his third time playing my dad but each time is so different," says the actress. "He's the tip of the top of actors for me, so doing anything with him on set is like a masterclass for all of us; it's like we're students just following his lead."
Aretha saw tragedy as well as triumph during her life, losing her mother when she was just shy of her 10th birthday and her father in 1984 — Clarence Franklin was shot in 1979 and spent his final years in a coma. The same can sadly be said of Hudson herself, whose mother, brother and nephew were shot and killed by her sister's estranged husband in 2008.
"I think Aretha saw so much more in me, in relation to her life, than I ever saw in myself," muses Hudson, who now runs a foundation in her nephew Julian's name. "I feel she wanted a woman of faith to portray her who could truly understand the depths of those trials and tragedies."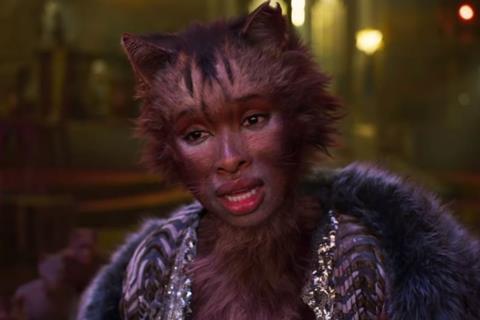 Such tragedies inevitably put the ups and downs of Hudson's career into their proper perspective. Tom Hooper's 2019 film version of Andrew Lloyd Webber's Cats — in which she played faded feline Grizabella — was critically maligned, although global box office of $74m, while loss-making, was not quite the commercial wipeout of legend.
"I appreciate every opportunity I get, and I got to be Grizabella the Glamour Cat!" reflects Hudson on that experience, adding that she now has cats named Grizabella and Macavity. "You know, during this whole run of Respect I've had quite a few people come up to me saying, 'Oh my god, I actually love Cats, it's my favourite movie.' It's art, it lives and some things people gravitate to later."
However Respect fares in this year's awards season, Hudson is keen to make films that test and challenge her — and she will next be seen in the portmanteau Tell It Like A Woman, as a character with multiple personalities.
Having served as an executive producer on Respect, meanwhile, the future might find her behind the camera as well as before it.
"One day I want to direct, so maybe our next conversation will be about that," she concludes. "I love what I do and I'm grateful to be here after almost 20 years in the industry."