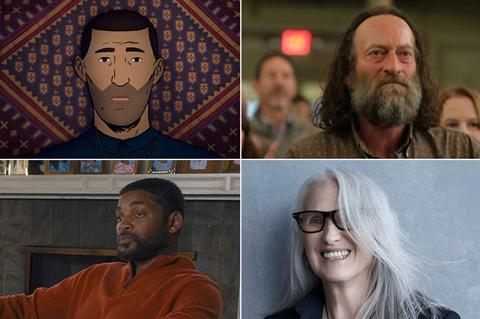 International titles make inroads
This nominations list is curiously like watching a dam crumble. Over the last decade films not in the English language have made inroads on multiple categories but it tends to be one film at a time – Pedro Almodovar's Talk To Her in 2003 for example (which earned the Spanish auteur best directing and original screenplay nods, with a win for screenplay), and certainly Bong Joon Ho's 2020 best picture, directing, international film and original screenplay winner Parasite.
The headliners here are Drive My Car with four nominations for best picture, directing, international feature and adapted screenplay – the most nominations in a single year for a Japanese film – and Flee's historic nomination in the international, animation and documentary categories. But the trend is spilling out all over this year's awards. Writing With Fire in best documentary. The Worst Person In The World in screenplay, and the never-better Penelope Cruz in acting. The Spanish star becomes the fifth lead actress to be recognised for two non-English-language performances, her first being for Volver. The other four are Sophia Loren, Liv Ullmann (who received an honorary Oscar last month), Isabelle Adjani and Marion Cotillard.
These films and the talent behind them have spilled out of the international category and may never be contained in there again. Part of this is, of course, due to the global nature of the screening services helping to whet appetites for foreign-language fare. But another part is almost certainly the increase in campaigning on the part of international contenders and their US distributors, getting the films in front of the voters in effective ways. The result being that the playing field is much more level than ever before.
Is it Netflix's year?
Fifteen Oscars in the trophy cabinet and now another 27 nominations for Netflix including 12 for The Power Of The Dog. The question is, will this be the year the streamer finally wins the best picture prize? Jane Campion's revisionist western is its most likely contender (with respect to fellow nominee Don't Look Up).
That all depends on how the Academy views Netflix. In recent years awards watchers detected a resistance to it but the new world order has seeped into the fabric of, well everything, and Netflix, Apple and other streamers have picked up numerous honours along the way. Many in the film world have been grateful for the opportunities and relatively free rein streamers give them to tell their stories, and that love could be reflected in the vote.
Another agent of change is the Academy itself: in the last few years there has been a large influx of younger and more international voting members, many of whom will be familiar with streaming and may well have benefited from the streamers' ambitious global production spend. The Power Of The Dog is the favourite to win the big one among awards prognosticators. 20th Century Studios/Disney's West Side Story and Focus Features' Toronto People's Choice Award winner Belfast are in the mix, although the latter lacks a crucial best editing nod. Campion is also in the lead for the prestigious directing prize.
There are many of a theatrical mindset who fear a best picture win for Netflix or another streamer would seriously impact their ecosystem, sucking up more talent and making it harder to get films made. The indie space is worried about this too, and with good reason. That is a vast subject of its own and it's worth noting there are five pure streaming or hybrid plays in the best picture category today. There are also five pure theatrical plays. Quality will rise to the top no matter where it comes from. One thing is for sure: best picture win or no best picture win come March 27 Netflix, not to mention Apple, Hulu, HBO Max and other platforms, are in the awards game for the long haul.
Oscar and Bafta pull further apart
For the second year running, the sets of nominations at Oscar and Bafta are showing marked differences – and never more so than in the categories that are now juried at Bafta. In director, where the Bafta names are selected by a jury, three names match up – Jane Campion for The Power Of The Dog, Paul Thomas Anderson for Licorice Pizza and Ryusuke Hamaguchi for Drive My Car – the same as a year ago.
In performance, it's an extraordinarily mixed bag, with four names overlapping at Oscar and Bafta in supporting actor – Jesse Plemons and Kodi Smit-McPhee for The Power Of The Dog, Troy Kotsur for Coda and Ciaran Hinds for Belfast – but none at all for lead actress.
For best actress a mixture of jury and member votes led to Bafta nominations for Lady Gaga (House Of Gucci), Alana Haim (Licorice Pizza), Emilia Jones (Coda), Renate Reinsve (The Worst Person In The World), Joanna Scanlan (After Love) and Tessa Thompson (Passing). In the same category at Oscar, those nominees are Jessica Chastain (The Eyes Of Tammy Faye), Olivia Colman (The Last Daughter), Penelope Cruz (Parallel Mothers), Nicole Kidman (Being The Ricardos) and Kristen Stewart (Spencer).
In lead actor, two names match – Benedict Cumberbatch for The Power Of The Dog and Will Smith for King Richard – and in supporting actress it's three, Jessie Buckley for The Lost Daughter, Ariane DeBose for West Side Story and Aunjanue Ellis for King Richard.
That is now two years in a row where Colman was passed over by the film academy in her home country and subsequently nominated by the US academy – following the same pattern with The Father last year. Colman joins Andrew Garfield (Tick, Tick… Boom!) and Judi Dench (Belfast) as UK actors overlooked this year by Bafta and then rewarded with Oscar nominations.
In contrast, several categories nominated at Bafta by chapter vote show big overlap with today's Oscar nominations. All four of the Bafta nominees for animated feature – Encanto, Flee, Luca and The Mitchells Vs The Machines – received Oscar nominations (where the fifth nominee is Raya And The Last Dragon).
In screenplay, where in both cases screenwriting chapter members nominate, nine out of 10 titles match including all five in adapted screenplay: Coda, Drive My Car, Dune, The Lost Daughter and The Power Of The Dog. In original screenplay both academies nominated Belfast, Don't Look Up, King Richard and Licorice Pizza, with Bafta opting for Being The Ricardos and Oscar for The Worst Person In The World.
The big overlap in chapter categories and the notable disparities with Bafta's juried categories will inevitably provoke yet more debate about the latter – with defenders pointing to the value of the two academies standing apart, and critics questioning whether juried outcomes truly reflect the views of Bafta's voting members.
Meanwhile, Bafta can point to a more diverse set of acting nominations, with four non-white actors nominated this year who were passed over (or ineligible) at Oscar: Thompson and Ruth Negga for Passing, Adeel Akhtar for Ali & Ava, and Mahershala Ali for Swan Song. However, the US Academy nominated The Tragedy Of Macbeth's Denzel Washington, who was omitted in the Bafta nominations.
Surprises and omissions
This awards season has seen Kristen Stewart (Spencer) and Lady Gaga (House Of Gucci), two modern icons with large, committed fanbases, in competition. As with the SAG nominations, only one has made it to the nominations stage in the Oscar race and this time it is Stewart who gets the nod for her turn as a troubled Princess Diana. Gaga's absence is indicative of Scott's film not playing well with Oscar voters across the board; it secured only one nomination for make-up and hairstyling.
With 10 best picture slots confirmed in advance, it was possible to make an educated guess at the selection prior to nominations. Eyebrows will perhaps be raised at Nightmare Alley making the cut, having been largely overlooked by other awards bodies and stumbling at the box office. Ryûsuke Hamaguchi devotees will be delighted that Drive My Car has made good on its best picture wins among other prestigious voting groups. Hamaguchi's directing nod comes at the expense of Dune's Denis Villeneuve, who earned a DGA nod along with today's four other Oscar nominees.
A strong campaign for Daniel Craig's final Bond outing No Time To Die has borne relatively little fruit: the now-traditional best song nomination for Billie Eilish and Finneas O'Connell, but fewer technical nods than expected, and nothing in the major categories. Despite being the sixth highest-grossing film of all time worldwide Spider-Man: No Way Home received just one Oscar nomination for visual effects.
Joe Wright's Cyrano has been almost entirely overlooked with just a costume design nod and no space in best actor for Peter Dinklage. Also missing from this category is Bafta-nominated Leonardo DiCaprio for Adam McKay's Don't Look Up, although the film itself scored four nods including best picture.
Also absent from the performance sections are Alana Haim and Cooper Hoffman for Paul Thomas Anderson's Licorice Pizza. Five of Anderson's eight previous features have earned acting nods: Boogie Nights, Magnolia, There Will Be Blood, The Master and Phantom Thread. There was also no recognition for any of the cast from Mass featuring Ann Dowd, Jason Isaacs, Martha Plimpton and Reed Birney.
The international feature award includes four heavyweights in Flee, The Worst Person In The World, Drive My Car and The Hand Of God. Bhutan's Lunana: A Yak In The Classroom – only the country's second accepted Oscar entry – is the wildcard, and many awards aficionados will now be scrambling to find their nearest screening.
Some progress, but plenty of pitfalls for diversity
Last year, the Oscars boasted the most racially diverse set of performance nominations in the history of the awards, with actors of colour earning nine out of the 20 possible nominations. This year, however, sees just four non-white actors acknowledged – Will Smith for King Richard and Denzel Washington for The Tragedy Of Macbeth in the best actor category, plus supporting actresses Aunjanue Ellis for King Richard and Ariana DeBose for West Side Story. This leaves lead actress and supporting actor without any nominations for people of colour. Mahershala Ali for Swan Song failed to get a mention, as did Jennifer Hudson in Respect, while Passing was completely overlooked.
On a more positive note, Troy Kotsur has made history as the first male deaf actor to receive an Oscar nomination for his supporting role in Coda. His co-star, Marlee Martin is to-date the only deaf performer to have won an Oscar, for Children Of A Lesser God in 1987.
When it comes to small gains for gender equality, Jane Campion has also made history, as the first woman to ever be nominated twice in the best director category with today's recognition for The Power Of The Dog. Her first nomination was for The Piano in 1994. Gender diversity still has some way to go in this category – Campion is the only woman nominated this year, down from last year's two (Chloe Zhao for Nomadland and Emerald Fennell for Promising Young Woman). The Baftas is ahead in this respect – three out of the six nominees for best director this year are female: Campion, Audrey Diwan for Happening, and Julia Ducournau for Titane.
Ari Wegner (The Power Of the Dog) is only the second woman to be nominated for a cinematography Oscar after Rachel Morrison for Mudbound in 2018.
Where did the best picture nominees launch?
Perhaps reflecting the patchy nature of in-person events in 2021, four of this year's fixed 10 best picture nominees – Licorice Pizza, Nightmare Alley, West Side Story and Don't Look Up – didn't launch at a festival, compared with two in 2021 and 2020.
Telluride (Belfast and King Richard) and Venice (Dune and The Power Of The Dog) were the most successful festivals for launching best film nominees this year with two apiece, while Drive My Car premiered at Cannes and Coda launched at Sundance. The latter was one of the few festivals to go ahead in-person in 2020 and launched four best picture nominees last year.
For the first time since 2018 no titles that premiered at Toronto – which took place as a slimmed-down hybrid event in 2021 – made the best picture shortlist.