The Brooklyn-based filmmaker talks about how his revenge thriller, released in the UK this weekend, came close to being his swansong.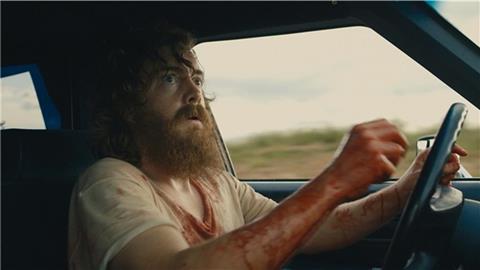 Blue Ruin could well have been the ruin of Jeremy Saulnier.
The Brooklyn-based filmmaker had gained attention with his award-winning Slamdance short Crabwalk and proved a promising new voice with his 2007 horror comedy Murder Party.
But the story came close to ending there. "I couldn't live the fantasy any longer," Saulnier tells Screen.
"I was having to accept that my career wasn't going to be as a director. [Blue Ruin] was my last attempt to gain entry into the filmmaking system - or at least put my stamp on it as a retirement note."
What happened next was like "winning the lottery". But let's go back.
Promising filmmaker
The Virginia native began his career in film after earning an honors degree from NYU's Tisch School of the Arts and the chance to study under Oscar winning cinematographer John Toll (Braveheart).
In 2004, Saulnier directed short film Crabwalk, starring his childhood friend Macon Blair, and it played Clermont Ferrand and SXSW, winning awards at the Slamdance, Newport International and USA film festivals.
Saulnier returned in 2007 with horror comedy Murder Party, which was picked up for distribution by Magnolia Pictures after winning the audience award at Slamdance.
But the party soon ended. "I had pigeon-holed myself with this goofy movie," he recalls. "While I'm proud of Murder Party, it came to define me as a filmmaker despite not representing what I wanted to do."
As a self-funded filmmaker, Saulnier had to "go back to the day job" and honed his skills as a cinematographer on Matthew Portfield's Hamilton (2006), Putty Hill (2008) and I Used to be Darker (2013) as well as Michael Tully's Septien, which premiered at Sundance in 2011.
Saulnier was also working at an ad agency, shooting and directing spots for the likes of Kraft Foods, IBM, Viacom and the NHL.
All the while, a character had been brewing in his mind for years. A beach bum.
Blue Ruin
By 2011, the horror genre had become laden with "loud, brutal, sloppy films", according to Saulnier, that "were all texture with nothing underneath, overly dependent on shock and a throbbing soundtrack".
"Where were the character-driven pieces that I had loved? I wanted to fill that void."
Saulnier decided to take his beach bum character and place him in a revenge thriller. It would centre on a homeless man, haunted by his past, who returns to his home town to exact a bloody revenge. But revenge, while best served cold, turns out to be a harder dish to prepare than first expected.
"I wrote the first draft in four weeks and had a list of resources that I baked into the script," he explains. These 'resources' included filming in his parents' Virginia home for a home invasion sequence and borrowing their battered Pontiac Bonneville - itself a key character in the film.
He also cast his old friend and star of his 2004 short, Macon Blair. But despite positive feedback to the script, financiers were scared away by this unknown actor and the young director of a gonzo comedy.
"On paper, I wouldn't hire us to make Blue Ruin either," admits Saulnier, who realised he would have to greenlight the film himself.
"It cost us a lot," he reveals. "My wife and I went broke and we had to borrow from our parents – but it gave us total creative control."
After pooling as much cash as possible, it took $160,000 to greenlight the movie. After maxing out credit cards and refinancing homes, Saulnier turned to Kickstarter to raise a further $38,000 for expenses. (The final budget came to just over $420,000).
Filmscience, producers of Meek's Cutoff and Wendy and Lucy, came on board and actors followed including Eve Plumb, best known for her childhood role as Jan in The Brady Bunch, and another former child star Devin Ratray, who played Buzz in the Home Alone movies and was more recently seen in Oscar-nominated Nebraska. Also cast was Amy Hargreaves, who played Claire Danes' sister on two seasons of Homeland.
Blue Ruin filmed for 30 days in four states, largely employing locations that Saulnier had free access to through family connections, including his childhood home in Alexandria, Virginia, where his mother still resides.
Having started writing the script on January 1, 2012, the production wrapped on October 15 less than a year later. Saulnier says: "After the first word hit the page, it was a whirlwind."
But while those 10 months may have been a whirlwind, the storm was far from over.
Rejection/Acceptance
The filmmaker pinned all his hopes on getting into the Sundance Film Festival. But Blue Ruin's submission was left to just a week before the 2013 line-up was announced and the film was rejected. "The momentum totally disappeared," Saulnier recalls.
The edit stopped and they just had a rought cut assembly. Then came the breakthrough.
"We submitted the film to Cannes just for shits and giggles – and we got in," says Saulnier, still surprised nearly a year on. "It sounds like false modesty but we really had no expectations of getting into Cannes."
The festival selected it for Director's Fortnight, which caters for genre features. But Salnier had less than six weeks to finish whipping the film into shape. The final VFX shot was uploaded just four days before the premiere and the first time the director saw the film married with the finished sound was at its Cannes screening.
"I was elated that it was an actual movie," he recalls. "Watching it for the first time with 800 people was the most amazing filmmaking experience of my life."
Feeding frenzy
The film generated immediate interest and the film was sold two hours after its premiere. "It was a fairytale," says Saulnier. "I was in shock as we toasted with champagne with Memento Films."
RADiUS-TWC concluded an on-site buy of the film, securing North American rights, and that caused "a feeding frenzy". "I went on a journey from losing all hope to being that shit head who went to Cannes and sold a movie," he laughs.
At the time, Screen's review said: "Jeremy Saulnier takes some familiar ingredients and elevates them into something more accomplished and appealing… Blue Ruin is distinguished by the way it allies solid storytelling to fine craftsmanship."
After winning the FIPRESCI Prize at Cannes, the film went on a worldwide festival tour winning prizes from Gijon to Hawaii and from Marrakech to Virginia. It also screened at this year's Sundance as well as spin-off Sundance London last weekend. Saulnier was unable to make it to London as it coincided with the film's release in the US.
Picturehouse Entertainment will release Blue Ruin in the UK this weekend (May 2).
Future plans
Despite the success of his film, Saulnier is "also paranoid about letting this window close on me".
"During this whirlwind, I've been trying to write a new screenplay before people find out I'm a fraud," he says.
"For the first time, filmmaking is a viable career. The thought of making more than one movie in my career is realistic.
"But I'm not ready for big studio movie yet. I don't want to go straight into the politics and committees that have to make those films happen.
"My next film is another crime movie that is a safer bet for financiers. It will be an exercise in tension building, which I think is the hardest thing to do in filmmaking, besides comedy.
"I'm 37 now and I want to have made four films before I'm 40. So I need to pick up the pace."