After her stunning breakthrough in Leave No Trace, Thomasin McKenzie landed roles in four major films including awards contender Jojo Rabbit. Screen talks to the fast-rising star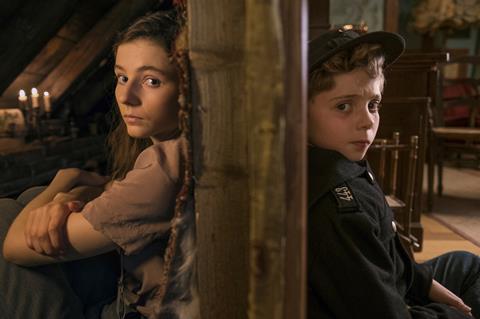 There is many a film fan who believes Thomasin McKenzie deserved more attention from awards bodies for her breakthrough performance as a US teen living off-the-grid with her PTSD-suffering veteran father (Ben Foster) in Debra Granik's Leave No Trace. As it was, the now 19-year-old New Zealander — whose father is a director, her mother an acting coach, and her 92-year-old grandmother, with whom she lives, is Kiwi acting legend Kate Harcourt — was not nominated for an Oscar or Bafta.
Nevertheless, McKenzie found herself dubbed the "next Jennifer Lawrence" and much sought after in Holly­wood and beyond. "It became a whirlwind after Leave No Trace, getting an agent at UTA, working all over the world," she says. "I got a lot of opportunities from that film, which I'm really grateful for."
Hope not hate
One such opportunity was Taika Waititi's "anti-hate satire" Jojo Rabbit, which won the audience award at Toronto International Film Festival and is being tipped as an awards frontrunner for backers Fox Searchlight. McKenzie plays Elsa, a Jewish teen in Nazi Germany forced to live, Anne Frank-style, in the walls of a house, harboured by resistance member Rosie (Scarlett Johansson). There, she forms a touching friendship with Rosie's young son Jojo (Roman Griffin Davis), whose imaginary friend is a buffoonish Adolf Hitler played by writer/director Waititi.
"She is a young Jewish girl hiding for her life, but Taika and I didn't want her to just be a victim," says McKenzie. "She is a victim, of course, going through this terrible, disgusting time. She's scared and she's lonely and she has no idea what's going on. But she's also witty and funny and had a life before the Holocaust. She isn't just Jewish, she is a person, like the rest of us."
While McKenzie famously won her part in Leave No Trace by sending Granik a tape she recorded at home, Jojo Rabbit required auditioning in Los Angeles. "I was really scared because I had never done an audition, properly, in a studio, with a casting director, physically, in front of me," she admits. "I'd always done it by tape, so I was kind of terrified. I Skyped with Taika afterwards, and then finally met him in Prague, which is weird because we're both from New Zealand and New Zealand is a small country, with a small population, and we're in the same industry. You would have thought we'd have met before, but no."
Even before she arrived in Prague to shoot, McKenzie had thrown herself into research. "I knew I had to approach this role with a lot of care. I went to Terezin concentration camp outside Prague. I went to the Jewish quarter in Prague. I visited synagogues and read books. Going into the project, I felt a bit more confident having that knowledge. And so the first time I met Taika in person, we sat down to have dinner and I told him the preparation I'd done, and he went, 'Nope, scrap that, watch Mean Girls and Heathers.'"
McKenzie wasn't fazed. "I think where he was coming from was that Elsa had a life before this. She could have been popular at school, she could have been anything, so he wanted to show that side of her."
Almost all McKenzie's scenes are opposite 11-year-old Roman Griffin Davis, who had never acted before (his father is Captain Marvel cinematographer Ben Davis). "He was on set every day, working his arse off, and never once threw a tantrum or complained. It was so beautiful working with him, playing around with the scenes." And every so often that meant being directed by Waititi dressed as Hitler. "To be honest, I didn't really think much about it at the time, because we were focused on other things," she reveals. "But now I think about it, it was kind of crazy. Often, he would have taken his jacket off and was wearing his fat suit underneath."
History in the making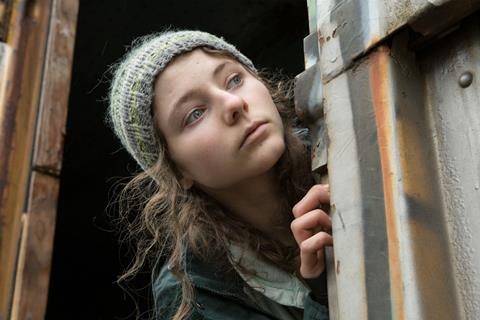 In addition to Jojo Rabbit — which the now-Disney-owned Fox Searchlight released in the US on November 8 — McKenzie can also be seen, briefly, in David Michôd's The King. She has much more sizeable roles in Justin Kurzel's True History Of The Kelly Gang and Edgar Wright's Last Night In Soho.
In the former, she plays Irish immigrant Mary Hearn who falls in love with Aussie outlaw Ned Kelly (George Mac­Kay). "Justin Kurzel did such a beautiful job, and Ari [Wegner], the cinematographer. When I watched it for the first time, I didn't expect it to be so visually compelling and mesmerising." As for Wright's forthcoming psychological thriller, in which she co-stars with Matt Smith and Anya Taylor-Joy, McKenzie remains resolutely shtum about both film and part. "I'm not really allowed to say much about it," she demurs. "If I told you, I'd have to kill you."
Of Jojo Rabbit's importance in 2019, McKenzie is a lot less circumspect. "I won't name names but there are a lot of very hateful people in the world at the moment, who are aggravating and inflaming a lot of anger and hatred in their followers. It is so important that people watch this film, or watch films like this, and be reminded that our population can't live in harmony if we aren't able to accept that people have different religions and ways of life and beliefs and are from different countries and ethnicities. We have to accept that because we all have to live together. This film is a great reminder of that. And a reminder we have let hate rule in the past and we are letting hate rule now, and we have to rise up against that."