Dir: Andrzej Wajda. Poland 2008. 122 mins.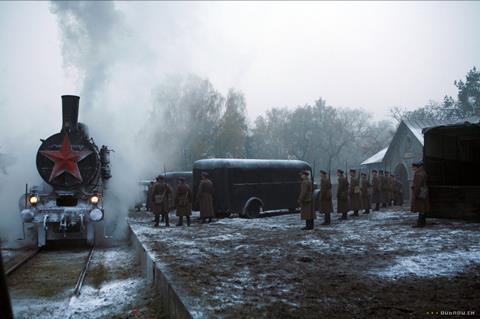 The shameful Katyn massacre of 1940 - when 15,000 captured army officers and other members of the Polish elite were slaughtered by Stalin's secret police in a forest near Smolensk and buried in mass graves - finally gets the cinematic tribute it deserves in Andrzej Wajda's powerful, elegiac multi-strand film, which is one of five Best Foreign Film nominees at this year's Academy Awards.
With its institutional backers, a score adapted from works by another Polish national treasure, composer Krzystof Penderecki, its razor-sharp classical photography by Oscar-nominated DoP Pawel Edelman and its endorsement by Polish President Lech Kaczynski, Katyn is not so much a film as a collective national ritual - at once defiant J'accuse, proud statement of identity, and trauma-healing funeral ceremony.
But the result - which dominated the box office at home in Poland last autumn - is a sober, undogmatic, well-crafted epic tragedy, with a commercial sheen that will help it to find friends beyond Poland's borders (surely a US deal cannot be far off). Only in Russia is theatrical distribution doubtful; a planned preview in March was cancelled due to fears that the occasion would be used an excuse for nationalist protests by those who still maintain, despite overwhelming evidence to the contrary, that the massacre was perpetrated by the Nazis in 1941 after they had advanced into Soviet territory.
Wajda, whose own father was killed in the Katyn massacre when he was 14, and his co-scriptwriters have resisted the easy temptations of patriotic shock therapy, and delivered instead a film dominated not by the massacre itself but by the traumas experienced by those left behind. The film weaves together the stories of four women whose loved ones never returned from Soviet deportation. Opening in the confusion of September 1939, when Soviets and Germans bound by the Molotov-Ribbentrop pact invaded Poland from West and East, Katyn focuses first on Anna (Ostaszewska), the wife of army captain Andrzej (Zmijewski), who refuses to leave his fellow officers when his regiment is rounded up and taken to a POW camp inside Russia.
Andrzej's father, a university professor, is also missing, deported this time by the Nazis, and his mother waits, like Anna, for news. There is also the wife of a murdered army general, who refuses to sign a statement supporting the official Soviet line that Katyn was a Nazi atrocity. And finally there's Agnieska (Cielecka), whose defiant attempt to add a plaque commemorating her officer brother with the words 'Katyn, 1940' to her family's tomb is one of several plot strands that stress the web of denial, coercion and 'life goes on' fatalism that led many Poles themselves to sandbag the truth about the massacre for so many decades.
Anna's refusal to give up hope, even after details of the massacre begin to emerge in 1943, acts as the story's emotional baseline, around which the other three women's tales - minor both in terms of screen time and dramatic impact - are embroidered. The shattering of Anna's illusions when she receives her husband's prison diary segues neatly into the cathartic depiction of the massacre itself in a soberly shot, magnificently edited final ten-minute sequence.
Some characters, we feel, exist simply to illustrate facets of the Katyn question - like Tadeusz, an anti-Soviet nephew of Anna's who is gone before we've really got to know him. But mostly the stories are neatly intertwined, and the choral structure of the plot stresses the fact that this was a collective tragedy. The cast are great advertisements for Poland's strong dramatic tradition, and the reconstruction of the period is difficult to fault. Pawel Edelman's crisp 35mm photography, enhanced by 4K digital processing, paints with an epic historical brush, but isn't afraid to get handheld and intimate when the drama requires it. The colour pallete is sombre - especially in the climactic scene, where a ghostly green pallor is cast over the grisly production line of the NKVD killing machine.
Production companies
Akson Studio
TelewizjaPolska
Telekomunikacja
International sales
TVP
+4822 547 6139
Executive producer
Katarzyna Fukacz-Cebula
Producer
Michal Kwiecinski
Screenplay
Andrzej Wajda
Wladyslaw Pasikowski
Przemyslaw Nowakowski
based on the novel 'Post Mortem' by Andrzej Mularczyk
Cinematography
Pawel Edelman
Production design
Kamil Przelecki
Editors
Milena Fiedler
Rafal Listopad
Music
Krzystof Penderecki
Main cast
Maja Ostaszewska
Artur Zmiejewski
Andrzej Chyra
Jan Englert
Danuta Stenka
Pawel Malaszynski
Magdalena Cielecka