Having screened at festivals worldwide including Tribeca, Keren Ben Rafael is bringing 'Virgins' home to Israel.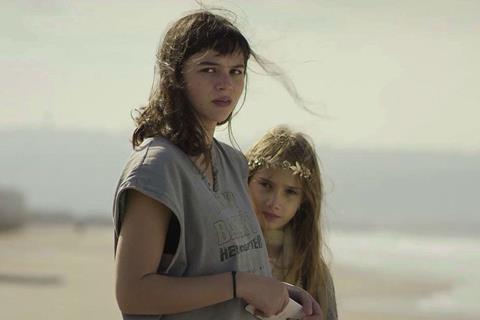 Filmmaker Keren Ben Rafael is an anomaly. A native of Israel who studied at the prestigious La Femis film school in Paris, she doesn't heed to expectations regarding the geography of her career. After directing several short films in France, she set her debut feature in the small, shabby seaside town of Kiryat Yam in northern Israel. The result is Virgins, a vibrant coming of age story that ties together family relations, sexual and emotional awakening and an enigmatic tale about a mermaid spotted on the town's shore. The film, which will have its Israeli premiere at JFF on July 30, has already screened at multiple festivals around the world, including its world premiere in Tribeca, where its star, rising Israeli actress Joy Rieger, won the best actress award.
The film, which took part in the Sam Spiegel International Film Lab in 2015, is an Israel-France-Belgium co-production. Lead producer is Carole Bonmarchand of France's Avenue B Productions, while co-producers are Leon and Moshe Edery of United King Films, Dafna Prenner and Shai Eines of Artza, and Cassandre Warnauts and Jean-Yves Roubin of Belgium's Frakas. Backing came from CNC, Eurimages, the Belgian tax shelter and Pyramide International, which also has international sales and French distribution rights to the feature. United King has Israel rights.
How did Virgins come together as an Israel-France-Belgium co-production?
I studied at La Fémis in Paris so it was quite natural for me to start working in France. We started working with a French co-producer [Bonmarchand], and later found our Israeli and Belgian partners. I wrote the script with a friend I met at school, Elise Benroubi, and my DOP is also French - Damien Dufresne - who is also my husband.


How did that affect the writing process?
When we worked on the script, we kept moving from English to Hebrew to French, which can be a bit tiring, but it also really enriches the film. You think about things differently in another language, and I think constantly translating the script from one language to another kept offering us new ways of thinking about it.
Many elements of the film, like in your 2015 short film La Plage, are based on real-life events. Is that an important part of your process?
I am very influenced from things that happen in real life. For me, starting from a real story gives me this kind of anchor, that later enables me to be free to take it to a more poetic place. Some of the real-life events that made their way into the film were so crazy, for example, the part about the mayor trying to sell the city's beach on eBay. I could never make that up.
It's interesting that Evgenia Dodina plays two roles: the mother of the film's main protagonist Lana and the famous actress/filmmaker who shows up in the town. Was this your original plan?
Actually, no. When we were writing, I had this idea for this small but important role [of the celebrity], which we wrote for Ronit Elkabetz. She was an Israeli diva, an actress-writer-director that a lot of us looked up to. I was looking for this larger-than-life woman, and she felt perfect. We were in talks with her agent, and one day I found out she passed away. I didn't even know she was sick. After that, it was very hard to think about anyone else for the role. The idea to have Dodina play both characters came up, and it felt right for the film, which itself has a fantastic side. The moment in the film where we meet this character is the moment when the film lets itself go to a more fantastic place. Having her looking at herself like that's what she could have been made a lot of sense for the story.
What are your upcoming projects?
I'm developing one project in Israel called The Coach and one in France titled The End Of Love at the moment, but neither is ready to shoot. The Israeli project is also with Evgenia Dodina and it's also based on a true story, about a famous Israeli-Russian artistic gymnastics coach. It was written by Dita Guery for Dodina and I came on board later, and I'm very excited to be a part of this all-women team. I'm also developing a very different film in France. It's about a couple with a child that find themselves in different countries - Israel and France. They communicate only via Skype, and the film is almost entirely constructed from their Skype talks.