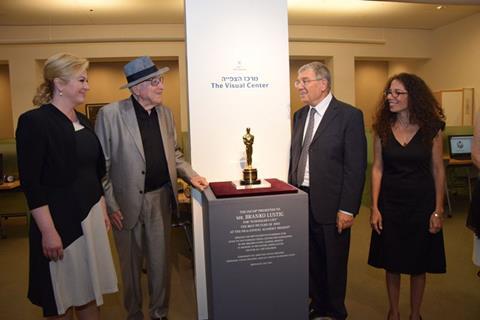 The growing Visual Center of Yad Vashem, The World Holocaust Remembrance Center, hopes to one day offer a platform for films in its extensive library of 12,000 videos and films to be viewed online globally. The matter of rights issues is the hold-up for now. Liat Benhabib, director of the Visual Center, tells Screen International at the Jerusalem Film Festival (JFF), "I really believe in creating a platform to watch films online. We are still debating internally about how, when and where we will get the budget. We don't have immediate plans but I believe in it."
The Center adds about 600 to 800 films per year to its library, most of which can be viewed free at the Visual Center on site at Yad Vashem's impressive museum complex in Jerusalem. For now, Yad Vashem's film database, the most comprehensive database of Holocaust-related cinema in the world, offers information – but not film streaming – online here. There are some visual works on the museum's YouTube channel but they are mostly survivor testimonies not complete films. "Sometimes we can acquire rights and can put online in our website in context of an online exhibition," says Benhabib.
The collection ranges from big Hollywood films to European films from across the decades, documentaries, video art, student films, newsreels, personal testimonies of Holocaust survivors. The center has access to tens of thousands of survivor testimonies recorded by Yad Vashem or the USC Shoah Foundation Institute established by Steven Spielberg (the Oscar-winning filmmaker is also a supporter of Yad Vashem).
Yad Vashem also invests in creating Hebrew-subtitled versions of significant films for the local audience; one example of that was Ferenc Török's Hungarian film 1945, which won the Chairman's award at JFF 2017 but wasn't being traditionally distributed in Israel.
Yad Veshem is involved in JFF as a supporter of the Jewish Experience competition and The Avner Shalev-Yad Vashem chairman's award for artistic achievement in a Holocaust-related film.
Yad Vashem is working with seven cinematheques in Israel – including the Jerusalem Cinematheque – to preserve the films of the late Claude Lanzmann. Along with the US Holocaust Memorial Museum, Yad Vashem has access to the entire set of rushes for Lanzmann's epic Shoah. In addition, the Visual Center is working with the Jerusalem Cinematheque and Tel Aviv Cinematheque to create a Hebrew-subtitled DCP of Lanzmann's nine-hour masterwork Shoah.
The organisation is also involved in film restoration, having in recent years restored two films by David Perlov, Memories Of The Eichmann Trial (1979) and In Search Of Ladino (1981).