Kerry Condon has been more or less hiding in plain sight for two decades, but the Oscar and Bafta nominee is now commanding attention with her grounded performance in The Banshees Of Inisherin. Screen talks to the Irish actress.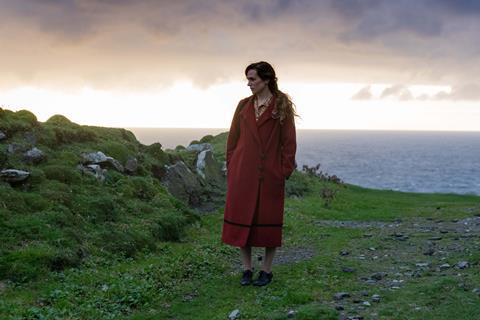 In his acceptance speech at this year's Golden Globes, Colin Farrell thanked his co-stars from Martin McDonagh's The Banshees Of Inisherin, calling Kerry Condon, who plays his sister, an overnight sensation after 20 years. "It was very sweet of him," says Condon, who is Bafta-nominated for her performance. "It's nice to get the recognition on this scale after 24 years to be exact, but that's not why I was doing it. If it was for acclaim and awards, I would have stopped 15 years ago, because it wasn't happening. I always loved being an actor."
Born in County Tipperary in 1983, Condon made her on-screen debut in Alan Parker's 1999 drama Angela's Ashes, scoring an agent in the process. At 17 she appeared in TV's Ballykissangel with Farrell, but the pair did not share any scenes — that would have to wait until 2003's Intermission. But it was Condon's first theatre role, aged 18, that set her on the path to Inisherin. "It was a play of Martin's called The Lonesome West in Liverpool. I go [to act], having never met Martin or knowing anything about him, and he came to watch."
McDonagh clearly liked what he saw, and a few months later sent her the script for his latest play The Lieutenant Of Inishmore, which was being produced by the Royal Shakespeare Company. Working with McDonagh for 18 months was, Condon says, akin to drama school. "I learned how to be an actress in many ways because that rehearsal period was intense," she reveals. The professional relationship with McDonagh quickly became a friendship and in December 2008 she starred in an off-Broadway production of his 1996 play The Cripple Of Inishmaan. "The words are very easy for me," Condon says of his work. "But I never think I'm going to get another job offer. When I did Cripple, I thought that was it."
While filming 2017's Three Billboards Outside Ebbing, Missouri, in which Condon has a small part, McDonagh said he was writing a role especially for her — that of Siobhan in Banshees. On reading the script, Condon was, of course, "thrilled". But also, "because Mairead in Lieutenant and Helen in Cripple, they're such firecrackers and able to stand up for themselves, I was like, she doesn't have any of these feisty lines the other girls had. I kept that to myself, of course. I didn't say that to Martin. Jesus."
Then, the more she thought about Siobhan, "I started to go, 'Oh, I see now what you're looking for.' It was harder than those [previous] parts because she's quite private, and there's such a mixture. She's defeated and tired of everybody, but she has to be hopeful. I just wanted to be truthful to the part."
Heart of the story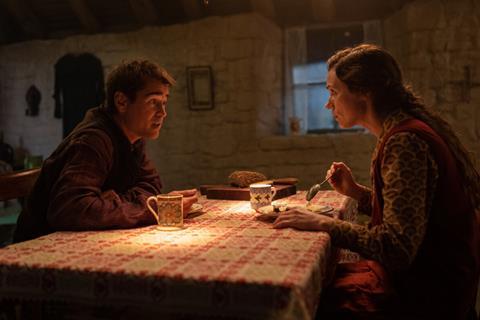 Being truthful involved going to the house on the island — which the design team had already fully dressed — two weeks ahead of the shoot, with McDonagh and Farrell. "I'd done a job a few years ago where I arrived on set on the day, and what I had imagined for my character was not what the production designer had imagined," explains Condon. "It was a learning lesson for me of going, 'Oh gosh, when do you say it? Like, is it too late?' Then it's, where does your job end as an actor and where does another person's job begin?"
Condon had shared that experience with McDonagh. "That's why we went a little bit early. 'Are you happy with everything in the house? Does this all make sense for your characters? Are you guys all okay with this?' There was a lot of stuff like that, that helped us bond."
Condon's screen career began to take off after The Lieutenant Of Inishmore. She played the sister of Heath Ledger in 2003's Ned Kelly, from a script by McDonagh's brother John, and appeared in Jet Li actioner Unleashed, but her big break was 2005 HBO series Rome. Then she went to the US for a JJ Abrams pilot, but it was not picked up "and things stopped for a bit. It was hard for about a year. Then I got [Michael Hoffman's 2009 film] The Last Station. Thankfully."
Condon relocated to New York following The Cripple Of Inishmaan's off-Broadway run — "partly because the last job I got in London was three lines on a TV show as a nurse, and I'd got big jobs from America". She booked a role as a jockey in David Milch's short-lived 2011 HBO show Luck, adopting one of the horses after it was cancelled. Rather than move the horse to the east coast, she resettled in Los Angeles.
"If I was to pick a job that changed my life," she says, "it was Luck, because while it didn't elevate my career in terms of everybody seeing it, it gave me a whole other life because I had my horses. I honestly don't think I would've stayed here as long as I have if I didn't have my horses, because I'm single and all my family live in Ireland, so there were quite lonely times, but I stayed because I had their company."
Next, Condon auditioned for a role in comedy series Videosynchrazy. "This job comes up, a TV show for HBO, and David Fincher's going to direct it. OMfuckingG," she howls. "The whole thing was so hard and so amazing, and I loved every moment of it. We filmed four episodes, then stopped. I was held on a retainer for a year and a half." Ultimately, HBO chose not to go forward, and the episodes never aired. "I got to work with David Fincher. I ticked that box. I didn't let it bring me down."
Since then, she has appeared in The Walking Dead and Ray Donovan, and provided the voice of artificial intelligence F.R.I.D.A.Y. in Marvel movies, beginning with Avengers: Age Of Ultron. "I thought it was one movie," she says. "I didn't know I was going to be in five." Likewise, her recurring role in Better Call Saul was initially one episode. "Every year they'd ask, would I like to do another episode in another season? It was the gift that kept on giving. Saul got me through Covid with my residuals. That job saved me."
When Banshees premiered in Venice, Condon's understated performance earned rave notices and awards chatter. Post-Venice, the offers started to arrive. "They haven't flooded in," she admits. "At the same time, that doesn't make me anxious. That's the good thing about getting older. And I still would like to do small parts. I've always wanted to be a character actor." She returned to Ireland for In The Land Of Saints And Sinners with Liam Neeson and Ciaran Hinds and has since shot another TV show, the details of which she is unable to divulge. In March, she films Night Swim, a supernatural thriller also starring Wyatt Russell.
For now, though, life is a merry-go-round of award shows and interviews, although fame has never been high on her agenda. "I didn't know what a publicist was until 10 years ago," laughs Condon, who is Oscar and Bafta nominated in the supporting actress categories. "I'm a bit of a recluse too, to be honest. It was nice flying under the radar. I was making lots of money and my life was lovely. I guess I felt hard done by when I would be down to the last two or three but not get parts. I was like, 'What the fuck is it going to take for me to be the one who gets it?' Hopefully Banshees is what it's going to take."