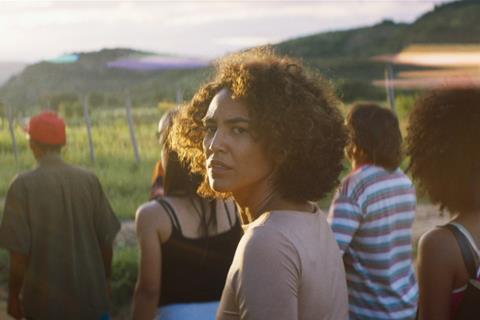 Brazilian filmmaker Kleber Mendonça Filho and his muse, actress Sonia Braga, return to the Croisette in Competition with Bacurau, after their 2016 appearance with Aquarius.
"[Bacurau] is not Aquarius 2," says Mendonça Filho, who is defying expectations with his new film, and not seeking to emulate the success of Aquarius which sold to more than 60 territories.
"If in Aquarius, Sonia was a movie star in a classic heroine role, in Bacurau she is an actress doing her craft as part of an ensemble, making an affective appearance,'' says the director, adding that this is the first time the Brazilian icon will show off her natural white hair for the cameras. "For me, that is already an iconic image."
Co-directed with Juliano Dornelles, his production designer on Aquarius and 2012's Neighboring Sounds, Bacurau was shot in Sertão do Seridó, on the border of Rio Grande do Norte and Paraíba, in Brazil's northeastern backlands. As well as the name of the small village in which the film is set, the title is the name of a local bird with nocturnal habits and also means the last bus of the night in local slang.
After the burial of Dona Carmelita, a beloved 94-year-old resident, the titular village unexpectedly disappears from the map, triggering a series of fantastic events. The narrative is structured around a collective story told by several inhabitants, including the community doctor played by Sonia Braga. Barbara Colen, Karine Teles and Udo Kier are also in the cast.
Bacurau – which SBS International is selling – is a mixture of western, adventure and science fiction, with Mendonça Filho deploying the genre elements to heighten the atmosphere of strangeness. "For me, it is the best feeling in the movie theater, when you are like, 'What the fuck?!' during a scene," he says.
This is the 20th Cannes film festival for Mendonça Filho, who initially covered the event as a film critic and also presented his short Vinil Verde (2004) in Director's Fortnight. "One of my favorite memories as a journalist is a press conference with Gregory Peck, an actor my mother was in love with," he says. Obviously the director will never forget the warm welcome Aquarius receieved at Grand Théâtre Lumière. "The celebration with my friends and collaborators went on until dawn."