It is set to be a banner year for Korean entertainment powerhouse CJ ENM, with two films in Competition at this year's Cannes Film Festival.
Both titles hail from film­makers with a strong pedigree at the fest­ival, and signal how CJ ENM is successfully leading multicultural projects. Hirokazu Kore-eda, who won the Palme d'Or with Shop­lifters in 2018, returns to the Croisette with Broker, the Japanese director's first Korean-language film. Starring Song Kang-ho, Gang Dong-won, Bae Doona, Lee Ji-eun and Lee Ju-young, it follows two men who have taken a child from a 'baby box', where parents leave infants they cannot raise, as well as a regretful mother and two police detectives.
The second is Park Chan-wook's crime thriller Decision To Leave, starring Park Hae-il and globally renowned Chinese actress Tang Wei, which marks the fourth Competition entry at Cannes from the acclaimed Korean director after The Handmaiden, Thirst and Old Boy.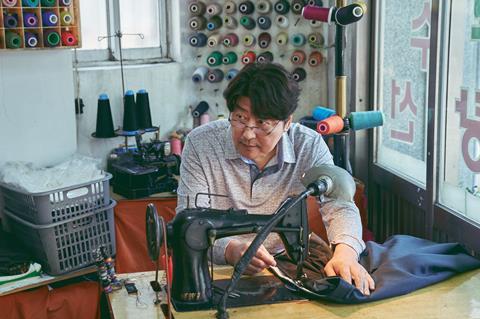 They are indicative of a momentum that continues to gather pace for CJ ENM, which has had 12 films in the festival's official selection since 2005. These titles notably include Bong Joon-ho's Parasite, which won Cannes' prestigious Palme d'Or in 2019 — a first for Korea — and went on to become the first non-­English-language feature to win best film at the Oscars in 2020. The black comedy thriller was sold to more than 200 territories and grossed $263m at the global box office, of which $192m was generated outside of Korea.
"Parasite is just one of our many titles that won international acclaim," says Jerry Ko, head of international film business at CJ ENM. "We have always looked to the global stage based on our core philosophy of making daring projects with talented creators who have exciting new stories to tell."
Even before Parasite, the Korean company worked closely with director Bong on projects including Memories Of Murder, Mother and the English-­language Snowpiercer. CJ ENM also previously collaborated with director Park on The Handmaiden and Thirst, of which the latter won the jury prize at Cannes in 2009.
Global ventures
CJ ENM is not resting on its laurels despite the phenomenal success of Parasite. The last two years have seen the company actively grow its footprint around the world, positioning itself as a major global studio. In January, the firm completed the acquisition of an 80% stake in the scripted business of US-based content studio Endeavor Content, valued at $785m. The move provides access to a large portfolio of creators and talent as well as a global distribution network.
The company has established a content partnership with Japan's Toei Animation and broadcasting company TBS to produce films, series and animated projects, and launched CJ ENM STUDIOS in Seoul to produce a wide range of Korean content across films and series for OTT platforms. Both ventures are targeted at a global audience.
Studio Dragon, CJ ENM's Kosdaq-­listed drama production house with numerous international hits under its belt such as romance drama Crash Landing On You, apocalyptic horror Sweet Home and fantasy romance Hotel Del Luna, will continue to focus on scripted content and tentpole franchises. It is jointly developing and investing in TV series with US-based Skydance Media. On the first slate is comedy series The Big Door Prize, which is set to premiere on Apple TV+, and the English-­language remakes of four titles from Studio Dragon including Hotel Del Luna. It recently partnered with internet giant Naver to launch Studio Dragon Japan.
Meanwhile, CJ ENM's streaming platform TVING is collaborating with Paramount Global in a comprehensive global deal that covers co‑productions for original series and films, content licensing and distribution. Their first co-financed project, Lee Joon-ik's sci-fi drama Yonder, is set to be jointly released by TVING and Paramount+ later this year in numerous territories including Australia, Canada, France, Germany and the UK.
It all points to CJ ENM's commitment to building a dynamic multi-studio structure to meet the ever-growing demand for K-content around the world. It is also a continuation of CJ ENM's long history of forging strategic alliances with international partners. Its first overseas investments can be traced back to 1995 when it invested $300m to become a founding investor and the second-largest shareholder of DreamWorks. It was a time when the Korean entertainment industry was still in its infancy.
Over the years, CJ ENM has distributed over 600 films in more than 200 territories, including major box-office hits such as Roaring Currents, Extreme Job and Ode To My Father. Not content with riding on its success as a leading Korean producer and distributor, the company has also worked hard to elevate the influence of its successful intellectual property (IP).
Its previous strategy was to produce a localised version of Korean IP such as comedy-dramas Sunny and Miss Granny. "Both are great examples of our one source, multi-­territory approach," says Ko. The original Miss Granny is a 2014 time-travel romance hit, directed by Squid Game creator Hwang Dong-hyuk. It became the first Korean film to be remade in eight different languages for China, India, Indonesia, Japan, the Philippines, Thailand and Vietnam while further adaptations in English and Spanish are in the works.
After being remade locally for Indonesia, Japan and Vietnam, 2011's Sunny is getting the Hollywood treatment through Universal Studios, which is also in the process of remaking action comedy Extreme Job. These are among more than 10 titles that CJ ENM is co-­producing with major Hollywood production companies, which also include TV adaptations of Snowpiercer with TNT and Parasite with HBO.
"In addition to working with international directors and actors to create truly global IP, we also aim to introduce Asian creators to the global marketplace, giving them the opportunities to really tell their own stories," Ko adds. As such, "having two films — Broker and Decision To Leave, brought to life by Asian creators and invited to Cannes' Competition — hold immense significance for us." CJ ENM acquired Decision To Leave producer Moho Film, established by director Park, in 2021.
Also upcoming is boy-band feature K-Pop: Lost In America, which is produced by Interstellar co-­producer Lynda Obst. Korean filmmaker JK Youn, whose credits include box‑office hits Haeundae and Ode To My Father, is directing.
The global reach of CJ ENM's entertainment content is greatly facilitated by major events it organises to heighten the best overall K-culture experiences to fans worldwide. CJ ENM hosts the MAMA (Mnet Asian Music Awards), which is the world's leading K-pop music awards ceremony and the first to be hosted outside of Korea, as well as KCON, the world's largest K-culture convention and festival that celebrates all things Korean including pop music, make-up, food and culture. KCON has amassed 1.1 million fans across nine cities and regions and has now evolved into a hybrid model, catering to fans both in‑person and virtually.
CJ ENM employs approximately 3,700 people (including TVING and Studio Dragon) in 12 regional offices in Asia, Europe and the US.

CJ ENM is a South Korean entertainment and mass media company created by CJ Group in 2011