Dir. Shane Meadows. UK. 2009. 71 mins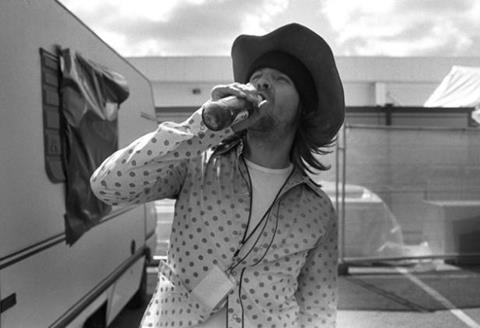 An amusing divertissement between more substantial projects, Le Donk And Scor-Zay-Zee returns writer/director Shane Meadows to his early roots as the maker of comical, handcrafted home movies like his breakthrough Small Time (1996). A slight, no-budget experiment shot in five days, it has the inevitable feel of a lark among friends. It also has just enough of Meadows's trademark humour and heart to be of interest to his loyal followers, although probably not as a theatrical release; ancillary potential is much richer.
The faux documentary has become a tired conceit but Meadows uses the notion to his advantage in creating a relaxed, free-flowing feature which captures the life of mercurial roadie and rock promoter Le Donk (Considine). Heading to Old Trafford for backstage duties at an Arctic Monkeys concert, Le Donk is also promoting young Nottingham rapper Scor-Zay-Zee (Palinczuk) and awaiting the birth of his first child.
Even with its limitations, Le Donk still outshone many of the more substantial British efforts at this year's Edinburgh International Film Festival.
Sharing a screenwriting credit with Meadows, Paddy Considine is front and centre for almost every scene, playing a character that would not seem out of place in Steve Coogan's repertoire (Alan Patridge, etc). Le Donk, real name Nicholas, is a blustering chancer, seesawing between delusion and self-justification as he pursues a career that is more on the margins of the music industry than he would care to admit. Considine invests him with the gift of the gab and the slightly gormless manner of someone who constantly underestimates his ability to shoot himself in the foot.
Meadows and his crew are woven into the fabric of the documentary, with Meadows' producer Mark Herbert and members of the Arctic Monkeys also given screen time. The largely improvised nature of the material gives the film a tendency to ramble and it can be very hit-and-miss, but there are some genuine laughs in Le Donk's meetings with his pregnant former partner (Colman) and her new boyfriend (Thomas) and in the way Meadows is able to offer advice to the lovelorn.
The weekend leading to the big concert and the birth of Le Donk's son helps to give some structure to the material. Le Donk's reactions to both professional and personal landmarks reveal a more sympathetic side to the character and allow the film to end on a high point.
By the very nature of the project Le Donk And Scor-Zay-Zee is self-indulgent and slight but it also reveals what can be achieved with a minimal sum of money and a set amount of time. Even with its limitations, it still outshone many of the more substantial British efforts at this year's Edinburgh International Film Festival.
Production companies
Warp X
Big Arty Productions
International sales
Warp X
+ 44 (0) 114 221 0537
Producer
Mark Herbert
Screenwriters
Shane Meadows
Paddy Considine
Cinematography
Dean Rogers
Shane Meadows
Editor
Richard Graham
Main cast
Paddy Considine
Scor-zay-zee (Dean Palinczuk)
Olivia Colman
Richard Graham
Seamus O'Neil