The films are seeking international co-production as part of the Open Doors Hub programme.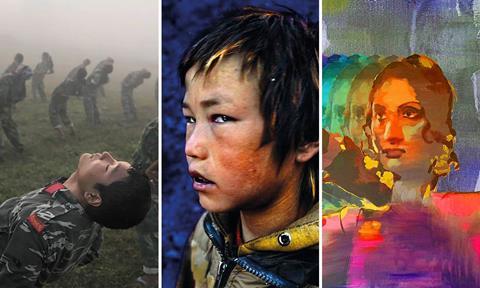 As the platform celebrates its 15th anniversary, Locarno's Open Doors (August 2-8) enters the second of a three-year exploration of the independent film landscapes in eight South Asian countries: Afghanistan, Bangladesh, Bhutan, Maldives, Myanmar, Nepal, Pakistan and Sri Lanka.
The initiative's co-production platform, Open Doors Hub, will present eight projects in development from Afghanistan, Bangladesh, Myanmar, Nepal, Pakistan and Sri Lanka seeking potential international co-operation. Screen profiles the participants.
Read more:
Locarno Festival 2017: 10 films to look out for
Across The Rainbow Bridge - Nepal
Dir/scr: Niranjan Raj Bhetwal
Production company: Icefall Productions
Niranjan Raj Bhetwal describes his debut feature as a "realistic poem", an ode to the fading rituals and customs of his forefathers. Across The Rainbow Bridge (Indreni Pari) is the tale of a childless couple worried about who will perform their funeral rites and take over their mill when they die.
"I want people to feel the meditative environment of rural life in Nepal, the depth of humanity and their spiritual beliefs," says Bhetwal, who plans to cast non-professional actors who live and work in the village where the film will be set. "The expressive face of an actor and their texture is my primary concern, so they can express their past and the hardship of their life."
Across The Rainbow Bridge is being produced by Nepal's Ram Krishna Pokharel of Icefall Productions, who was impressed by Bhetwal's 2014 short film Kafal Pakyo, also a meditation on rural life in Nepal, which played at more than 60 international festivals.
Contact: Icefall Productions - rkpnepal75@gmail.com
Badeszenen - Afghanistan
Dir/scr: Dawood Hilmandi
Production company: Bamiyan Film Production
Afghanistan-born visual artist and filmmaker Dawood Hilmandi is a graduate of the UK's London Film Academy, with several short films to his credit. Taking its title from a German painting depicting a group of beautiful feminine creatures beside a pool of water, his debut feature is about a young boy who escapes into his imagination to flee the reality of life growing up in the impoverished region of Bamiyan in Afghanistan.
"I would like the audience to take a moment [from this film] where they recognise something as a human, and also recognise the beauty of cinema," says Hilmandi, who is also producing the film through Bamiyan Film Production. He hopes to find a European co-producer at Open Doors.
Contact: Bamiyan Film Production - info@dawoodhilmandi.com
Barzakh: Between Heaven And Hell - Pakistan
Dirs: Meenu Gaur, Farjad Nabi
Production company: Matteela Films
Run For Your Life (Zinda Bhaag), the debut feature from Meenu Gaur and Farjad Nabi, was Pakistan's entry to the foreign-language Oscar category in 2013, and their short satire, Jeewan Hathi, was released last year. Now they are developing Barzakh: Between Heaven And Hell, a noir thriller set in Lahore's Lollywood, about an actress trapped in an abusive relationship with a married policeman. A scandal arouses the interest of the press, who claim the actress is a transgender woman, and a media frenzy ensues.
"It is quite arthouse and yet gritty and fast-paced," Gaur explains. "It's part issue film and part thriller, part documentary and part noir. I think it would do very well with European audiences, so we are here to seek a European co-producer."
Contact:Mazhar Zaidi, Matteela Films - mazharszaidi@gmail.com
Dhanu - Sri Lanka
Dir: Suranga Deshapriya Katugampala
Production company: Okta Film
Dhanu (working title) is the story of a country emerging from 26 years of crippling civil war into a rapidly globalising world. The film is told through the eyes of 17-year-old Dhanu, whose mother was forced to leave the family to work in Italy. His father is loving but largely absent.
As a Sri Lankan émigré to Italy, director Suranga Deshapriya Katugampala says he is fascinated by the crossroads at which his generation now finds itself. "As my previous film For A Son was about the difficulties of a community that tries to integrate in a foreign country, Dhanu would like to narrate those who remain and intend to remain in Sri Lanka," says the director.
Dhanu is produced by Paolo Benzi of Trieste-based Okta Film, whose credits include Alessandro Comodin's Happy Times Will Come Soon, which played in Critics' Week at Cannes in 2016. "Katugampala commits himself to a kind of filmmaking that tends not to consume words and images, but to transform them into patient and small acts of change," says Benzi.
Contact: Paolo Benzi, Okta Film - zero@oktafilm.it
Discount Workers - Pakistan
Dirs: Ammar Aziz, Christopher Patz
Production company: Kloos & Co. Medien
This feature documentary follows Saeeda Khatoon, whose son was killed in a fire at a Karachi textile factory in 2012. Since then, Khatoon has become a powerful voice in Pakistan's male-dominated workers' rights movement. She helps to organise and support families and survivors who live in Baldia Town, the massive industrial district that is home to hundreds of workers for international brands, in their fight against political and corporate corruption.
"We are two directors, from Germany and Pakistan, whose shared passion for cinema and workers' justice has led to this personal-
professional collaboration," explain co-directors Ammar Aziz and Christopher Patz. "We want to reveal to the viewer the reality of work on the textile supply chain through impressive cinematographic language, as well as the personal depth of the characters behind the push for a new transformation."
Discount Workers is produced by Veronika Janatkova of Germany's Kloos & Co. Medien.
Contact: Kloos & Co. Medien - veronica@kloosundco.de
Made In Bangladesh - Bangladesh
Dir: Rubaiyat Hossain
Production company: Khona Talkies
Rubaiyat Hossain's third feature is about the resilience of women. Inspired by real-life disasters at garment factories in Dhaka, including fire and a building collapse, which have resulted in the deaths of more than a thousand workers, Made In Bangladesh is about a woman spurred to action following the death of her pregnant friend in one such tragedy. In the face of her husband's objections, the woman finds her voice with the help of a human-rights activist, despite their class differences. But when she turns to her friend for help, she realises her new acquaintance has her own battles to fight.
"Made In Bangladesh is about how an individual young woman navigates and creates her own synthesis out of the forces of capitalism, leftist politics and Islamisation," says Hossain, an alumna of Open Doors Lab 2016 who is producing the film through her outfit Khona Talkies.
Contact: Khona Talkies - info@khonatalkies.com
One Summer Day - Myanmar
Dir: Wera Aung
Production company: Green Age Film
Director Wera Aung was born in 1985, in an army camp during the military dictatorship in what was then called Burma. His father was a soldier. "At the time, I saw the army as the only and best choice to lead the country," he recalls.
Aung's debut feature is about a pregnant doctor in a rural village who takes care of her 16-year-old brother. When he disappears, apparently the latest victim of a military recruitment drive, the doctor embarks on an arduous journey to retrieve him from a far-flung training camp, travelling through a landscape that paints a vivid picture of Myanmar's economic and political situation.
"One Summer Day is a story of contemporary Myanmar that illustrates the Burmese youth who believe, like I once did, that only the military can lead the country," Aung explains. "The narrative reflects that no true freedom has been achieved under the pretence of democracy."
Aung has previously attended Busan's Asian Film Academy, and Berlinale's Talents Tokyo. He also participated in Locarno's Open Doors Lab 2016 and La Fabrique les Cinémas du Monde 2017 in Cannes. His own Green Age Film is producing One Summer Day.
Contact: Aiess Alonso, Green Age Film - aiessalonso@gmail.com
The Whole-Timers - Nepal
Dirs: Bibhusan Basnet, Pooja Gurung
Production company: Les Films du Tambour
The debut feature from directors Bibhusan Basnet and Pooja Gurung is a coming-of-age story set during the latter years of Nepal's decade-long civil war, which ended in 2006. It is told from the perspective of a 13-year-old boy who joins the Maoist revolution in the hope that a gun will help him find his missing father. But he discovers something much more powerful in the cameras carried by members of his platoon who are documenting the war.
"Equipped with small handy-cams, such combatants filmed their training sessions, assaults and speeches to make propaganda documentaries for their party," explain the directors, whose short films have travelled to Venice, Toronto and Sundance. "We were drawn to these documentarian guerrillas who saw the ravages of war first-hand. How would it feel to witness naïve and highly impressionable men, women and children morph into ideologically driven killing machines?"
The filmmakers were selected in 2016 to develop The Whole-Timers at Cannes' Cinefondation l'Atelier and Jerusalem's Sam Spiegel International Film Lab. At script stage, it is being produced by Marie Legrand and Rani Massalha of Paris-based Les Films du Tambour.
Contact: Les Films du Tambour - marie@filmsdutambour.com
For more information visit the Open Doors Hub site.