Dir: Uberto Pasolini. UK-Italy-Germany-Sri Lanka. 2008. 114mins.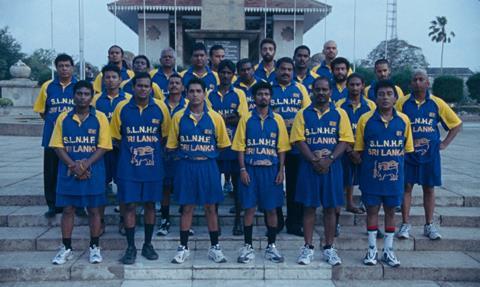 High-concept but low-octane, this old-fashioned, feelgood Sri Lankan immigration comedy-drama represents an unexpected first directorial outing for Full Monty producer Uberto Pasolini. It's easy to see why Pasolini's eyes lit up when he read a news story about a self-styled 'Sri Lankan National Handball Team' which disappeared while playing a tournament in Germany, especially in light of the revelation that handball is entirely unknown on the South Asian island.
Sri Lankan audiences should respond well to Machan's mix of social critique, national pride and appeals for ethnic unity
It would have been too easy to give this creative immigration scam the Full Monty treatment. Instead, the director commissioned local playwright Ruwanthie de Chickera to give the story an authentically Sri Lankan flavour, and the result is an odd hybrid of Sinhalese commericial socio-drama, humour-tinged neo-realist throwback and motivational, Western-oriented underdog fable. If these sometimes row in opposite directions, it's still a pleasant enough meander, and for those with
the patience to follow the picaresque scene- and character-setting of its long build-up, Machan eventually supplies the promised sentimental pay-off.
But though Sri Lankan audiences - large enough to justify budgets of up to $0.5m for domestic productions - should respond well to Machan's mix of social critique, national pride and appeals for ethnic unity, this is going to be more of a challenge to market abroad, despite its novel light-hearted take on topical immigration themes. In handball-obssessed Germany, the film already has a major distributor in Twentieth Century Fox. Elsewhere, patient targetting and media coverage will be needed to overcome Machan's commercial dilemma: that it's a slow-moving family-oriented film set mostly in an unfamiliar country - and with subtitles.
De Chickera and Pasolini's screenplay spends over an hour introducing us to hotel barman Manoj (played amiably by the screenwriter's brother, Gihan de Chickera),
his loser friend, permanently broke fruit seller Stanley (Dias) and a tapestry of other characters (many played by non-professionals) who scrape a living in the same Colombo slum. After their German visa applications are rejected, Manoj and Stanley discover a crumpled invitation to a Bavarian handball tournament, and
the scam begins to take shape.

Stefano Falivene's camerawork alternates some almost Bollywood-lit set pieces with more spontaneous handheld work and placing shots that catch the full-on sensory assault of life in downtown Colombo. And the score, by Oscar-winning composer Stephen Warbeck and Sri Lankan colleague Lakshman Joseph de Saram, is a delight mixing piano with Sri Lankan trumpet.

But the first act is rambling. Though there are some awkward tonal shifts between solemn and slapstick, the film does make some telling points about the new
global disparities that allow rich Westerners to lord it in Sri Lankan hotels where locals lose their jobs to automated hand-dryers, and mothers are forced to leave their kids behind to work in bonded slavery abroad. That's all good but Machan seems to keep forgetting that it's also an underdog sports movie, and it's only in the last half hour that the feelgood factor really gels.
Production companies
Redwave Films
RAI Cinema
Studio Urania
Babelsberg Film
Shakthi Films
International sales
Beta Cinema
(49) 89 673469-80
Producers
Prasanna Vithanage
Conchita Airoldi
Uberto Pasolini
Co-producer
Henning Molfenter
Screenplay
Ruwanthie De Chickera
Uberto Pasolini
Cinematography
Stefano Falivene
Production design
Errol Kelly
Editor
Masahiro Hirakubo
Music
Stephen Warbeck
Lakshman Joseph De Saram
Main cast
Dharmapriya Dias
Gihan De Chickera
Namal Jayasinghe
Dharshan Dharmaraj
Sujeewa Priyalal
Mahendra Perera
Dayadewa Edirisinghe