Dirs/scr. Alvaro Pastor and Antonio Naharro. Spain, 2009, 103 minutes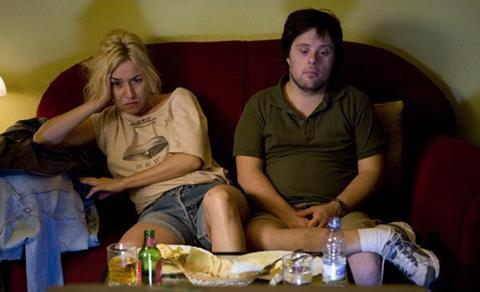 Me Too (Yo, tambien) is a perky, affectionate film about a 34-year-old man with Down's Syndrome who falls for a woman who has never really been loved. It asks some serious questions – about how we infantilise and desexualise people with disability, about the burden of being normal – and often gives some funny answers. And if it relies perhaps too often on narrative and visual clichés, these shortcuts are to be in part excused, allowing the directors and their two astonishing leads (Pablo Pineda and Lola Duenas) time to deal sensitively and intelligently with the main issues at hand.
Pablo Pineda, with his disarming sense of humour, gives an accomplished, many-layered turn
A thought-provoking, sardonic social drama from first-timers Pastor and Naharro, this should be exceedingly well-received in Spain, where it has already won the top acting prizes for both Pineda and Duenas at San Sebastian. Even prior to that, though, there was huge media interest in Pablo Pineda - the first person with Down's Syndrome in Europe to have been awarded a university degree. It's not hard to imagine Me Too garnering a clutch of Goyas next year and becoming a strong seller for the Match Factory.
Daniel (Pineda) is a sharp university graduate with Down's who lands a job at a social services administrative office in Seville. Daniel has been brought up in a bookish, middle-class family where he has been lavished him with attention and education. But sexuality was not on the syllabus and he finds himself ill-equipped to deal with one of the most basic human needs.
On his first day at work he meets Nuria (Lola Dueñas, Goya winner for The Sea Inside), brassy and feisty on the outside, but shattered and vulnerable within. They're both outsiders – Daniel has been able to overcome his disability through education, so finds himself unable to relate to other people with Down's Syndrome. He craves somebody on his intellectual level, but, as his brother says, "No woman with 46 chromosomes is ever going to fall in love with you."
Nuria, meanwhile, is estranged from her family in Madrid and looking for drink-fuelled fun and sex in all the wrong places. Slowly the two are drawn to each other. A subplot, involving a Down's Syndrome day-care centre, casts light on how Daniel's life might have turned out had he not been blessed with an enlightened family and cursed with unattainable ambitions.
On the whole, the directors, working with DoP Alfonso Postigo, have done a fine job at rendering the confusing new world into which Daniel has been thrust. There's realistic, brisk, shaky hand-held tracking past office desks, documentary-style fly-on-the-wall vignettes and jerky jump cuts. His awakening interest in Nuria is translated into point-of-view close-ups of her ample bosom, or her silky, sunlit blond hair.
But the writer-directors perhaps underestimate the audience's willingness to accept that Daniel is a lucid, bright young man, and his mental agility is rammed home with all the subtlety of a sledge hammer: he knows more about art than his grey office colleagues, he can rustle up a decent meal while Nuria eats mediocre ready-made fodder, he can play the piano and speak English. Daniel's mother's pride in her son is set up in scenes of her polishing his framed diploma before she sits down to watch the video of his graduation.
But the performances are fresh and insightful. Pablo Pineda, with his disarming sense of humour, gives an accomplished, many-layered turn: he's dreamy eyed and vulnerable as he grapples with longing, self-pity and loneliness. An understated sideways glance is enough to hint at a whirling hormonal maelstrom. Dueñas, for her part, with a fleeting uneasy smile is able to signal her rising discomfort that Daniel might be attracted to her. They're joined by some solid players, including the director and screenwriter Antonio Naharro as Daniel's brother and Isabel Garcia Lorca as his mother.
To sign up for Screen's weekly Reviews Newsletter with all the week's new releases, international openings and full festival reviews delivered free to your mailbox every Friday, please click HERE
Production Companies
Alicia Produce
Promico Imagen
International Sales
The Match Factory
+ 49 221 539 709-0
Producers
Manuel Gomez Cardeña
Julio Medem
Koldo Zuaza
Cinematography
Alfonso Postigo
Editor
Nino Martinez Sosa
Production Designer
Ines Aparicio
Main cast
Pablo Pineda
Lola Dueñas
Antonio Naharro
Isabel Garcia Lorca
Pedro Alvarez Ossorio
Maria Bravo
LourdesNaharro