Mel Gibson tells Jeremy Kay why he chose to make a return to directing with Hacksaw Ridge - a Second World War drama about faith, love and redemption - after an infamous decade in the headlines for all the wrong reasons.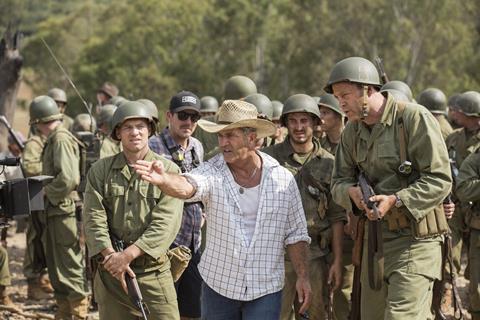 Mel Gibson is in fine fettle, firing off replies and talking nineteen-to-the-dozen about his return to directing with Hacksaw Ridge, when the subject of the last 10 years rears its head and for the first time in 20 minutes he sighs.
"It was difficult," he says as his hand fidgets with his beard; you wonder if he would dive headlong into the whiskers if he could.
But Gibson has never run away. He has lain low, which is what the last decade is about in part, but never fled.
An antisemitic and misogynistic rant at police officers following an arrest for drunk-driving and speeding in Malibu in summer 2006 resulted in his public disavowal by power agent Ari Emanuel, who later cut him loose.
At the end of that year audiences largely shunned Apocalypto, Gibson's directing follow-up to the sensational $611m global smash of Easter 2004, The Passion Of The Christ.
Public opprobrium deepened four years later, when an ugly tirade targeted at former girlfriend Oksana Grigorieva leaked to the media.
Gibson had taken steps to atone for his actions and address his alcoholism, but the star of The Patriot and the Mad Max and Lethal Weapon series, and the winner of best picture and best directing Oscars for Braveheart in 1996, was well and truly in Hollywood purgatory.
The US-born Gibson maintained a low profile, taking unremarkable roles in films such as Edge Of Darkness, The Beaver and Get The Gringo (aka How I Spent My Summer Vacation), and tinkering with possible directing projects. Nothing took hold.
"I tried to get things up and running a few times," he says, "but generally speaking the last few things I have got up and running I had to reach into my own pocket to do, so people weren't exactly lining up to say, 'Hey, that sounds like a good idea, let's make a film in Aramaic or Mayan.'
"I don't blame them - it sounds like a bad idea. So I had other things that I wanted to do but I wasn't willing to put my financing ass on the chopping block to achieve it, as I'd done before. This project [Hacksaw Ridge] just ticked all the boxes as far as I was concerned, although I did not generate it. And it was in English.
"But yes, I did miss being in the driver's seat there for a while, but that's OK. When you come back to it, you're hungry and attack it with some gusto, a little fire."
The fire ignited after an approach from former head of 20th Century Fox Bill Mechanic. He and fellow producer David Permut were lining up a drama about Second World War US Army medic Desmond Doss, who saved 75 men during the Battle of Okinawa in the South Pacific and became the first conscientious objector to win the Medal of Honor.
Mechanic acquired the life rights to Doss - who died in 2006 - from the medic's associates at the Seventh Day Adventist Church. The same year, Mechanic and Permut hired Pulitzer Prize winner Robert Schenkkan to write the script and in the years to come would send it to Gibson three times. He finally agreed to direct it in 2014.
"The first couple of times they slipped it to me, I read it and thought, 'That's OK,' and let it go," recalls Gibson. "It was like Caesar with the crown. The third time Mechanic brought it in, it got me. It went to my heart. Generally I like to work on something that generates from where I'm at - or I have at least the last few times. This one managed to hit all the places for me."
Gibson devoured books on the Battle of Okinawa, studied Doss and watched Terry Benedict's 2004 documentary The Conscientious Objector. In early 2015, he flew to Australia for three months of pre-production.
Return to Oz
Mechanic's Pandemonium Films produced along with Permut's Permut Presentations and Brian Oliver's Cross Creek Pictures, with IM Global handling international sales.
Production took place entirely in Australia. It was based at Fox Studios Australia, and the regional Sydney suburbs of New South Wales stand in for both the Blue Ridge Mountains of Virginia in the first half of the film and the Japanese Pacific island of Okinawa for much of the second half.
The film could be shot for $40m thanks to Australia's inward investment incentives and the relatively weak Australian dollar.
Principal photography lasted 45 days.
"It was a killer," says Gibson, who reckons production was 25% below the budget of Braveheart and lasted half as long. Still, he says with a grin, "It looks like $100m to me."
Hacksaw Ridge bears the hallmarks of a film by Gibson, one of Hollywood's most conservative Catholics. Its protagonist is possessed of formidable faith and operates in a setting that becomes hideously violent.
A fairly goofy first half in Virginia becomes darker in boot camp, where Doss's pacifist stance alarms his training officer and leads to mistreatment. Then comes the war.
"I'm interested in this whole idea that there are things worth dying for," says Gibson. "This character was intriguing to me in many ways. I completely understand it and it's inspiring, but in some ways I don't understand it at all. People might look at this film and say it's a war film, but it's not a war film - it's a love story. Firstly it's about a guy who cannot bear the thought of harming another human being and will put his life on the line [for others] and that's the greatest love anyone can have. So it's a love story, but as somebody said, it's a love story with napalm.
"In order to highlight what that man overcame to do what he did, you have to show the underbelly of war and the hell of war, where most men are reduced to the level of animals. Here's some guy in amongst them who maintains his equilibrium and his higher self to rise above the whole thing - he didn't care if he was rescuing his guys or Japanese guys."
The team recreated the Maeda Escarpment, known as Hacksaw Ridge. During the Battle of Okinawa, the plateau was heavily defended by Japanese troops and after a ferocious firefight, Doss winched 75 fallen comrades to safety, 400ft below.
People on the film marvel at how Gibson led by example in the battle sequences. "Mel might be in the tent, but if something wasn't working, he would run out, throw himself on the ground and demonstrate what he wanted," says effects supervisor Chris Godfrey, who Gibson encouraged to devise practical 'in camera' effects for explosions and gunfire.
The eyes have it
The cast is led by US-UK actor Andrew Garfield and the US's Vince Vaughn, with Australians Hugo Weaving, Teresa Palmer, Rachel Griffiths, Sam Worthington and Luke Bracey.
"Physically and what he gives off to the camera - the camera digs this guy," says Gibson of Garfield, who plays Doss. "He's able to convey so much with great economy, which is essential to great film acting. You can see a thought in his eyes."
Hacksaw Ridge earned a standing ovation after its world premiere at Venice, and is gearing up for awards season. It has crossed $50m at the North American box office through Lionsgate after four weekends.
"It's not about religion so much as about faith and conviction and standing by it, and pure love," says Gibson when asked how Doss inspired his own faith. "As far as I go, I'm imperfect. I'll sort my stuff out, maybe in private."
Next Gibson will star opposite Sean Penn in The Professor And The Madman, and he is still developing a long-gestating Viking project with Braveheart writer Randall Wallace. The pair are also circling a sequel to The Passion Of The Christ. "It's vast," he says. "I don't even know if you could contain it in two hours. You might need eight."