Screen's selection of MIPTV titles to look out for from both broadcasters and streaming players.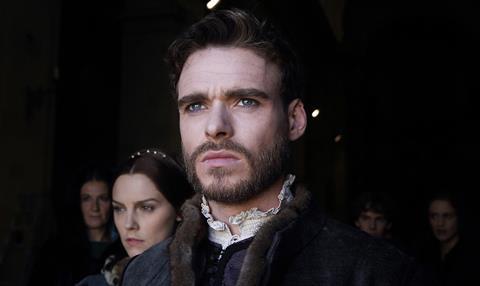 From the broadcasters…
Babylon Berlin
German director Tom Tykwer is directing the $44.4m (€40m) German-language series based on contemporary writer Volker Kutscher's novels about police inspector Gereon Rath. It is set against the backdrop of 1920s Berlin, when the city was a hotbed of drugs and politics, murder and art, emancipation and extremism. The project — consisting of two eight-part series — is a co-production between X-Filme, ARD Degeto, Sky Deutschland and Beta Film. Tykwer has been developing the series for the last three years with writer-and-director team Achim von Borries (Alone In Berlin) and Hendrik Handloegten (Good Bye, Lenin!).
Contact Beta Film: beta@betafilm.com
Medici: Masters Of Florence
Celebrated writer and producer Frank Spotnitz's first foray into historical drama, Medici: Masters Of Florence (pictured top, ©Fabio Lovino) captures the rise of the Medici family against the backdrop of the Italian Renaissance. Dustin Hoffman plays family patriarch Giovanni di Medici opposite Richard Madden (Game Of Thrones) as his son. Spotnitz co-created the series in collaboration with Nicholas Meyer and is also producing through his Big Light Productions, with Italy's Lux Vide and the backing of Italian broadcaster Rai. The series was shot on location in Florence in many of the locations where the real events took place.
Contact Wild Bunch TV, Aurelia Porret aporret@wildbunch.eu
Bordertown
Riding the Nordic noir crime wave, Finnish procedural drama Bordertown is about a police investigator who moves with his wife and teenage daughter to a small town on the Russian border in search of a quiet life. These ambitions are short-lived when he gets caught up in a dangerous case involving a serial killer. Backed by Finnish broadcaster YLE, Helsinki-based Fisher King Production is producing with Pascal Breton's Paris-based Federation Entertainment on board as co-producer. Fisher King co-founder Miikko Oikkonen created the series. He also directs alongside Jyri Kähönen and Juuso Syrjä. Producers are Matti Halonen and Leila Lyytikäinen.
Contact Federation Entertainment: info@fedent.com
Mathilde
Russian director Alexey Uchitel makes a foray into TV with this historical drama about the affair between the legendary ballerina Mathilde Kschessinskaya and last Russian tsar, Nicholas II. The $25m drama features an international cast led by Lars Eidinger as the tsar as well as Thomas Ostermeier, Michalina Olszanska, Louise Wolfram, Ingeborga Dapkunaite and Danila Kozlovsky. The four-part series will be broadcast in 2017. Prior to that a feature-length version is also due to be released. Rock Films Studio is producing with the support of Russian broadcaster Channel One.
Contact Rock Films Studio, Anna Shalashina: shalashinanna@gmail.com
The Son
Based on the sprawling novel by US writer Philipp Meyer (American Rust), The Son charts the bloody rise and fall of a Texas oil family across six generations. Sam Neill (Jurassic Park, Peaky Blinders) has signed to play the lead character of Eli, a ruthless businessman who was
kidnapped as a child and raised by Native Americans, and is now the patriarch of the McCullough family at the heart of the tale. Further cast members include UK actor Henry Garrett and Mexican actress Paola Nunez. Sonar Entertainment and AMC studios are producing the 10-part series. It is due to start shooting in Austin this June to air on cable network AMC in 2017. Meyer has adapted his novel with Lee Shipman and Brian McGreevy. Kevin Murphy (Defiance) is executive producer and showrunner on the series.
Contact Entertainment One: tvinfo@entonegroup.com
Top Of The Lake: China Girl (season 2)
Elisabeth Moss reprises her role from the first series, this time investigating the death of an unidentified Asian girl whose body is washed up on Sydney's Bondi Beach. Rising UK actress Gwendoline Christie (Game Of Thrones) will also have a significant role. The show is a See-Saw Films production for BBC Two in co-production with BBC First, Sundance TV and Hulu in association with Arte and BBC Worldwide. Shooting begins in Sydney this month.
Contact BBC Worldwide
The Same Sky
Set against the backdrop of a divided 1970s Berlin, Oliver Hirschbiegel's Cold War drama The Same Sky is about the relationship between an East German agent and a woman in the West whom he has been ordered to seduce. Hirschbiegel directs from a script by award-winning UK writer Paula Milne. The cast of the German- and English-language drama is headed by The Bridge's Sofia Helin with German actor Tom Schilling. Hirschbiegel has directed episodes of Borgia and TURN: Washington's Spies. The Same Sky is a co-production between UFA Fiction, which was involved in recent TV hit Deutschland 83, and Beta Film for German broadcaster ZDF and Czech TV.
Contact Beta Film: beta@betafilm.com
The A Word
Peter Cattaneo's UK drama The A Word follows a family coming to terms with the youngest son's autism diagnosis. Christopher Eccleston plays the boy's grandfather alongside Morven Christie and Lee Ingleby as his parents. The series is a co-production between boutique drama label Fifty Fathoms, which is a subsidiary of Tiger Aspect and Endemol, and Keshet UK for BBC One.
Contact Keshet International, Nelly Feld, sales director: +44 203 771 0050
The Neapolitan Novels
Italy's Wildside and Fandango Productions are co-developing and co-producing a four-series adaptation of Elena Ferrante's best-selling quartet of novels known as The Neapolitan Novels. They follow two girls growing up in Naples in the 1940s and 1950s until the present day. Wildside, now majority-owned by FremantleMedia, is currently producing Paulo Sorrentino's eight-part drama The Young Pope, a joint production with Sky, HBO, Canal+ and Haut et Court TV.
Contact Wildside Films info@wildside.it
From the streaming players…
Chance
Hulu US
Oscar-nominated Lenny Abrahamson (Room) will direct several episodes of Hulu's upcoming psychological thriller Chance, starring Hugh Laurie (The Night Manager) as a San Francisco-based psychiatrist who gets on the wrong side of a patient's abusive husband, a homicide detective. It is based on a novel by Kem Nunn, which Nunn has co-adapted with showrunner Alexandra Cunningham (Prime Suspect, Bates Motel). Michael London and Fox 21 TV Studios are producing. Hulu has upped its production of original series over the past year. It debuted an adaptation of Stephen King novel 11.22.63, starring James Franco as a teacher who travels back in time in a bid to stop the assassination of President John F Kennedy, in February and has just launched The Path about a family caught up in a cult.
Dark
Netflix Germany
Billed as a family saga with a supernatural twist, Dark is Netflix's first German original series. Baran bo Odar, the director of the German box-office hit Who Am I — No System Is Safe, is set to direct. He developed the screenplay with Who Am I writer Jantje Friese, and producers Quirin Berg and Max Wiedemann whose credits also include the Oscar-winning The Lives Of Others. The contemporary 10-part series revolves around the disappearance of two children from a small German town in 1986, and the double lives and fractured relationships that are subsequently revealed. It is due to shoot in 2016 for a 2017 launch.
The Collection
Amazon, BBC Worldwide, UK-France
A joint commission with BBC Worldwide, The Collection is Amazon's first UK project. The eight-part series, set against the backdrop of a Paris fashion world in the aftermath of the Second World War, was created by Desperate Housewives and Ugly Betty showrunner Oliver Goldstick. London-based Lookout Point, the company behind the BBC's recent big-budget War And Peace adaptation, is producing. Richard Coyle (Grabbers) and Tom Riley (Da Vinci's Demons) play two brothers — both with skeletons in their closet — attempting to build a fashion empire in postwar France. Mamie Gummer also features in the cast as one of the brothers' wives alongside Frances de la Tour as their scheming mother. France's Federation Entertainment and MFP are also on board as co-producers, with the participation of France Télévision.
The Crown
Netflix UK
Budgeted at an estimated $140m (£100m), The Crown is Netflix's most expensive drama series to date. An adaptation of Peter Morgan's play The Audience by the Oscar-nominated writer best known for Frost/Nixon and The Queen, the series is inspired by the weekly meetings Queen Elizabeth II had with successive prime ministers from 1952 to the present day. UK director Stephen Daldry (Billy Elliot, The Hours) is executive producing alongside Left Bank Pictures CEO Andy Harries, Robert Fox, Matthew Byam-Shaw and Tanya Seghatchian. Claire Foy (Wolf Hall) plays Queen Elizabeth II opposite Matt Smith (Dr Who) as Prince Phillip and Greg Wise (Effie Gray) as Lord Louis Mountbatten.
Marseilles
Netflix France
Expectations are high for Netflix's first French original series ahead of its launch in France on May 5. The eight-part series co-stars Gérard Depardieu as a corrupt city mayor who is challenged by a young political upstart played by Benoit Magimel (The Connection). French TV writer Dan Franck, whose credits include La Séparation and the Second World War series Resistance, wrote the script, with Florent-Emilio Siri and Thomas Gilou directing. It is produced by Paris-based Federation Entertainment.
Wolf Creek
Stan Australia
Wolf Creek is the first original series commissioned by burgeoning Australian streaming platform Stan, which recently nabbed rights to Twin Peaks, through an output deal with Showtime. It is a spin-off from Greg McLean's outback serial killer horror films. John Jarratt reprises his role as Mick Taylor, a psychotic killer who preys on backpackers and hikers in the Australian wilderness. Zodiak Rights is launching sales at MIPTV.
3%
Netflix Brazil
Netflix's first Latin American original series began shooting in Sao Paulo in mid-March. Written by Pedro Aguilera and produced by Boutique Filmes, it is a post-apocalyptic thriller where a select few are allowed to join a privileged society after undergoing an intense and competitive process. Oscar-nominated City Of God cinematographer César Charlone is directing a cast that includes local stars Bianca Comparato and Joao Miguel.
Our Time Is Now
ViaPlay Sweden
A co-production between Swedish streaming service ViaPlay and state broadcaster SVT, the post-Second World War drama is billed as SVT's most ambitious to date. The inter-generational tale — set to unfold over 20 episodes —revolves around a family-owned restaurant in Stockholm's nightlife district struggling to survive in a changing world. The series will be launched in 2017. A subsidiary of Swedish media group MTG, ViaPlay has made a push into original series in recent months. Other productions include crime series Black Widows and the Los Angeles-set comedy drama Swedish Dicks.
Suburra
Netflix Italy
Netflix is producing Suburra — its first original Italian series — with Riccardo Tozzi's production company Cattleya in collaboration with Italian broadcaster Rai. Based on a novel by Giancarlo De Cataldo and Carlo Bonini, the series delves into long-standing ties between the Vatican and the Mafia. Stefano Sollima — who has already made a feature film based on the material — directs the series. It is due to start shooting in the second part of 2016 for a global premiere on Netflix in 2017.