Filmmaker Brett Morgen — last in Cannes 20 years ago with The Kid Stays In The Picture — tells Jeremy Kay about the five-year journey to bring Moonage Daydream to the screen.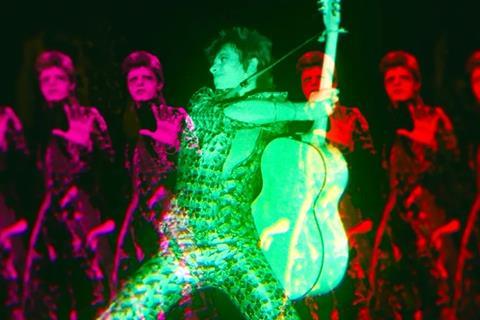 Brett Morgen's David Bowie documentary Moonage Daydream premieres tonight (May 23) in Midnight Screenings and takes a fever-dream waltz through the late artist's life. The journey is guided by his words and music, set against the backdrop of performance footage and stunning imagery.
Longtime Bowie producer Tony Visconti and Bohemian Rhapsody sound mixer Paul Massey remixed the original stems to the dozens of Bowie songs in the film. Neon will distribute Moonage Daydream in the US later this year and Universal Pictures Content Group releases internationally. HBO Documentary Films holds North American streaming and cable rights. Imax will distribute in select markets.
Morgen (Jane, Montage Of Heck) last attended Cannes 20 years ago with The Kid Stays In The Picture.
Bowie's estate gave you access to archives and master recordings containing 5 million media assets. Where did you begin?
I start each film by reading every book on the subject, so I can create context for experiencing the media. Then I collect all the media in existence, and once we believe we have that I start screening the material chronologically. I knew the film was going to be an Imax experience, non-biographical. The throughline was chaos and transience.
Did the estate have any conditions?
They told me to make the film I wanted to make. David wasn't here to authorise my work so it's not David Bowie on David Bowie, it's Brett Morgan on David Bowie.
You had an inauspicious start to your research
I had a massive heart attack on January 5, 2017. I flatlined for three minutes and was in a coma for a week. I had a heart attack because my life was out of balance. David came to me when I was 11 or 12 to tell me that it was okay to be me. He's been doing that for 50 years and he's doing that for kids today. To come to him at 47 with the fragility of my own health, it was a totally different Bowie I met at that point. He was also guiding me on how to approach the material from a creative and aesthetic vantage point and to embrace my mistakes.
How was your health as the project progressed?

That was tough. It took two years to go through the material and then a year to write it… Sitting down with the blank page I couldn't even remember what the early stuff was. I mean, it's two years. Because of the heart attack my brain, my memory was impacted. I had two CT scans while I was making the film to check my memory because I couldn't remember at the end of the day what I'd seen at the beginning of the day and that really fucked me. I was terrified because I didn't have another editor to work with who was seeing the material. So if I didn't remember it, no-one was going to remind me. At some point I embraced that too. Then it just became this stream of images and what I remembered that I wanted to pull in.
How did you want to portray Bowie?
I wasn't making a film about David Jones [the star's given name]; I wasn't making a film about David Bowie. I was making fun about Bowie in quotations. I embraced his sources of inspiration, introducing a new generation to Brecht, Metropolis, Kandinsky, all the German expressionists. It was a way of passing it on to the next generation.
Do you any creative regrets?
If I have a creative regret there was a part of me that wanted to open the film with 'Nature Boy', the Bowie song from Moulin Rouge. [In the song] He's going to learn the secret of life, which is love, and I was going to use that and then frame the whole film as leading up to that. It really is that simple. He really did become David Jones when he met Iman. My guess is there was a certain serenity that came into his life at that point. [Bowie and Iman were married for 24 years until his death on January 10, 2016].
What might the younger generation take from the film?
It was very empowering to make a film that kids could see where they can be inspired about getting older. One of the lessons for me about Bowie is that he just got better as he got older, and he got more grounded. He was more comfortable with himself, he figured out you don't have to do it all at once.
You locked yourself away in editing rooms in Hawaii and Los Angeles. How did you keep perspective?
During the pandemic, because of security we couldn't send links out to people and I couldn't do test screenings. Six months into the edit I brought my wife Debra [Eisenstadt], who's my executive producer, to the edit room because I started to get a little freaked out. Fortunately she told me I was on the right path.
What did you learn about Bowie during all this?
I did appreciate how profound and wise and David's philosophies were and how much his philosophies on life and living would impact me as both a filmmaker and a husband and father and man… I wasn't raised in a religious house, but I try to instil a sense of tradition and religion with my children. Bowie spoke to me in a way that Judaism never has. I've not encountered a doctrine or philosophy that is as appealing to me as Bowie's – it's a guide for better living. He's telling us how to do it. He's no longer here but he provided the roadmap for how we can get through this time… Thank God we walked on earth at the same time as this man.
Who saw the completed film first?
The audience was Sean Penn, Bono, Eddie Vedder and The Edge. I left the theatre thinking, "It's gonna work." It was November 2021 and Sean was very helpful and introduced the film to Thierry [Frémaux] on our behalf.
How do you feel now you're about to release Moonage Daydream into the world?
I have very mixed feelings about premiering the film because [starts to weep] I wish I had the opportunity to work on it for the rest of my life and never put it out. That would be amazing and there's part of me that's a little heartbroken about having to share with the world. It's time to give it [to the world]. It was a very special endeavour.
Cannes recognised the 50th anniversary of The Godfather with a Cinema de la Plage screening. You made a film about the crime epic's producer Robert Evans in The Kid Stays In The Picture, which played out of competition in Cannes in 2002. How do you remember Evans?

Last time I was here I got to walk up the steps to the theme of The Godfather. I had never been to Cannes and knew nothing about it. Bob was a great mentor to me who would have come to this if he was with us today. He was so supportive all the way to the end. When we were on our awards campaign on Jane we would leave every ceremony and go to Bob's house to celebrate. And this was the year before he passed, and he would be more excited than I would. I loved Evans and miss him terribly.
What's next?
I'm going to do a cinema verité film. The most terrifying thing for me is to be around people, leave my isolated edit chamber and do direct cinema. My first film [1999 boxing documentary] On The Ropes was a verité. The [new] film is about an actor [who has] been controlling his image his whole life. I'm basically moving in with him and following him 24/7 for three months.