Brett Morgen soon realised the scale of his task, distilling David Bowie's vast archive for an immersive dive into the chameleonic musician's life. He tells Screen how he finally found his way to make global hit Moonage Daydream.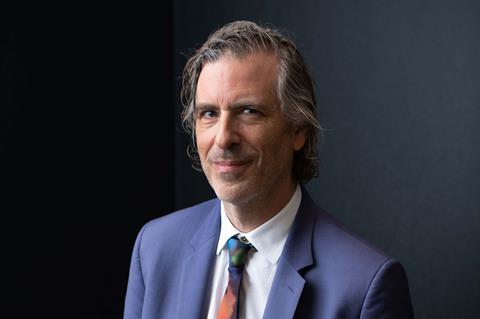 One of the themes running through Brett Morgen's David Bowie documentary Moonage Daydream is the musician subject's belief that artists should get out of their comfort zones and skate on the thinnest possible ice. Morgen did all of that while he was making the film — but that wasn't how he planned it.
"The whole structure around me was chaotic," he says with a rueful smile. "Everything was messed up, everything was broken. A fellow filmmaker mentioned to me recently that she was going off to a refugee camp. She said, 'I don't get the privilege of spending years on David Bowie.' I was like, 'You have no idea!' It was not a luxury. It was kind of like walking across hot coals."
Initially, Morgen had another project in mind, a series of short Imax films for science museums. Each film in The Imax Music Experience would be an "immersive sound and light show" that would bathe viewers in the music and imagery of a different rock star. In 2015, Hartwig Masuch, CEO of BMG Rights Management, agreed to finance 15 of these 40-minute films. But when Morgen approached Bowie's estate, they offered him unrestricted use of the singer's personal archive of interview and concert footage — and "the idea of doing 40 minutes just went out of the window". The Imax Music Experience was forgotten; a feature-length Bowie film was underway.
Morgen was still more or less in his comfort zone. He had made several award-winning documentaries, including 2002's The Kid Stays In The Picture, and two in the last decade had been about rock icons: Crossfire Hurricane (about The Rolling Stones) in 2012 and Cobain: Montage Of Heck (about Nirvana's Kurt Cobain) in 2015. He knew what he needed to do. Once he had read and watched everything he could find on Bowie, he would spend four months screening the estate's archive material, and one week writing a screenplay. The snag was, there was far too much material to screen in four months. "That not only extended the amount of time I needed, it meant we had to spend an enormous amount of money on assistant editors and extra employees and extra Avids to log and digitise all that material. It was insane."
It was two years before Morgen had finished screening everything in the Bowie vault. Now he had to start work on his script. He had always avoided the conventions of biographical documentaries: "There are no dates or chyrons [captions] in any of my films. I don't think knowing the name of an album or the year it was released brings you any closer to a truth." But this time he was determined to go further, honouring his original "sound and light show" concept by blasting off on a psychedelic journey through Bowie's artistic and spiritual development. This proved to be easier said than done.
"I realised very quickly that I wasn't the right person for the job," he says, "and they probably should have found someone with more experience in non-linear abstract art. I didn't know how to write an 'experience' without a biographical thread to pursue. But at the point I realised that, I had blown through the budget, I was four years into the project, and none of my financiers had seen one frame."
That budget came in at $5.4m, with HBO joining BMG in 2017 to help with financing, and then Live Nation Entertainment boarding as an equity partner in 2018.
Every morning, Morgen would drive to his office in Los Angeles and write "long, indulgent essays about themes that David explored — mortality, chaos, fragmentation, Einstein, Joyce, Nietzsche and the reconstruction of our belief system". But none of this writing resulted in a single page of usable screenplay. Eventually, after eight fruitless months, he recalled some "Bowie-isms" about the value of movement and changing your environment.
He drove to Los Angeles International Airport, flew to Albuquerque, New Mexico and caught a train back to Los Angeles, promising himself that he would not disembark without a script in his hands. "By the time I got back to LA the next morning," he says, "the structure was in place." And how long was the train journey? "It was 19 hours. Eight months and 19 hours."
Then came the editing. The problem was that, having poured most of the budget into preparing the archive material, Morgen could not afford to hire the help of an editor or a producer. There are 12 executive producers listed in the credits of Moonage Daydream, among them four from the Bowie estate, three from BMG and three from Live Nation. But none of them were involved in the day-to-day production, so Morgen had to do everything single-handedly, on his own equipment in his own office.
"Try taking a holiday when you know you're already two or three years behind schedule," he says, "and every minute you're not working on the film, you're adding another minute to that." The pandemic deepened his sense of isolation. "I felt like a hostage. That was where it was batshit crazy."
The craziest part was that back in 2017, just before his "deep dive" into the Bowie archive, Morgen had a heart attack that left him in a coma for a week. "A lot of the reporting has made it seem like I was working so hard on this film that I had a heart attack," he says. "That was not what happened at all. I had been working on everything else, had a heart attack — and then I had to start this! I did not start this project like, 'I've been working out, I'm in great shape for this marathon.' I was already fucking fragile."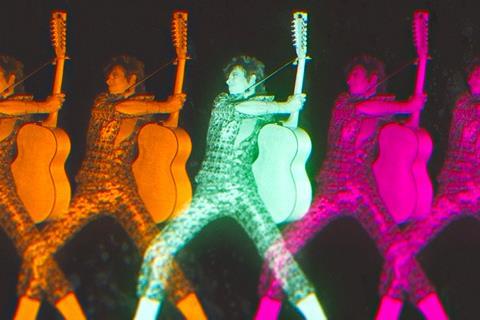 Risk and reward
Nonetheless, Morgen counts the making of Moonage Daydream as "the most rewarding creative experience of my career". And after everything he went through, "The fact that there was something legible at the end of it that someone could watch for two hours and 15 minutes felt like a massive victory unto itself."
Moonage Daydream turned out to be more than "legible". It was sold to Universal for international territories and Neon for North America in November 2021, premiering at Cannes this May to glowing reviews. Morgen was "wildly surprised" by the reaction, but not as cheered as he was when the film went on general release four months later.
"One of the challenges was to prepare audiences for something which doesn't present information in a manner we are accustomed to when we hear 'music documentary'," he says. "I think Universal and Neon did a tremendous job with the marketing and the positioning of the film — especially Universal, who did it in 40 different territories with 40 different cultures. The most gratifying aspect of the seven years was seeing the response on social media on opening weekend. People were not saying, 'What the fuck is this?' It seemed like everyone got it and everyone was reading it in the way it was designed to be read."
Moonage Daydream has since grossed $11.8m at cinemas worldwide — so maybe the chaos was worth it. "From the moment I said I wanted to do documentaries in 1989," agrees Morgen, "my entire career pursuit has been to create theatrical non-­fiction experiences that would entertain audiences in cinemas. To have my biggest commercial success on this film has been beyond my dreams."