Former US ambassador turned Motion Picture Association of America chairman and CEO Charles Rivkin will need all his powers of diligent diplomacy to help the studios navigate current challenges.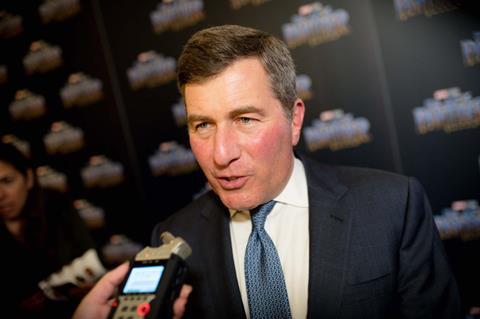 Charles Rivkin heads into his first CinemaCon (April 23-26) as chairman and CEO of the Motion Picture Association of America (MPAA) after he officially took over from Chris Dodd in September. The former US ambassador to France and assistant secretary of state for economic and business affairs talks to Screen International about the opportunities and hurdles in today's dynamic entertainment landscape, China, engaging with younger consumers and piracy.
Screen: At this relatively early stage in your tenure, what do you see as the single most pressing item on the MPAA's agenda as the studios' chief lobbyist?
Charles Rivkin: My immediate priorities include promoting a strong creative economy, protecting creators through effective copyright laws, reducing piracy, expanding access to global markets and incentivising film and television production to spur further job creation and growth.
I also believe the MPAA can be a better link between Hollywood and Washington. Our industry extends far beyond sound stages in Los Angeles and New York. It supports 2.1 million jobs across all 50 states. These are high-paying, largely union jobs. That's a story I tell every day.
An industry analyst recently told the Banff Connect LA conference that the number of major US studios would dwindle to three by 2023. How would that alter the MPAA's mandate?
Thanks to innovations in storytelling and advances in technology, creative companies are pursuing new strategies to develop and deliver the best content. This is leading to box office and commercial success, with groundbreaking films and a record number of scripted television shows. Potential industry deals or mergers are proof that content creation and distribution is an attractive investment. They show a strong market at work.
The MPAA's advocacy is critical to the industry's continued strength. Our mandate — supporting our member studios and the entire creative community on policy issues and reducing piracy — remains constant and could not be more important.
Netflix, Amazon, Hulu et al have presented entertainment consumers with a compelling alternative to theatre-going, while the allure of television makes it hard for filmmakers to attract stars to their projects. How does the MPAA navigate fundamental challenges such as these facing the landscape today?
Today's incredible growth of all forms of creative content is good for audiences and good for the industry. The US box office is up nearly 13% in 2018. Audiences are enjoying great stories in amazing theatres that feature the latest technology and effects. Think about Black Panther and A Wrinkle In Time. Audiences are flocking to theatres to see these imaginative films with all-star casts that celebrate diversity and inclusion.
This is happening simultaneously with the growth of additional content platforms and billions of dollars invested in creative programming. More than 480 scripted television programmes were produced in 2017. The industry is giving consumers more choices than ever before. We're navigating this dynamic environment by helping the entire creative economy thrive through effective advocacy on behalf of creators everywhere.
How can the MPAA engage with the #MeToo debate and the ongoing call to champion racial and ethnic diversity in Hollywood in a way that effects meaningful change both within the organisation and at the studios?
There is absolutely no place in our industry — or any other industry — for harassment or other such illegal conduct. This is a societal problem, and we all bear a responsibility to create work environments where everyone is respected and safe.
In our sector, there are a number of important initiatives, including Time's Up and Kathleen Kennedy's Commission on Sexual Harassment and Advancing Equality in the Workplace. While we have much work to do, I think we are having important and productive discussions.
More broadly, the MPAA is committed to increasing diversity across our industry. Through our Inclusion and Outreach programme — which has been in place since 2012 — we work with and support more than 20 national civil rights organisations and multicultural groups.
You specialised in youth outreach as US ambassador to France and Monaco. What is the opportunity with millennials and Generation Z, and how does the industry engage with them?
Younger audiences are avid moviegoers and the future of this industry. In 2017, 12-17 and 18-24-year-olds went to the movies more, on average, than any other age demographic. We have a great opportunity to connect with these audiences for decades.
We do that in two ways. First, we must tell stories that resonate across all communities, reflect all backgrounds and ethnicities, and capture our imaginations. You can see examples in the work of Oscar winner Jordan Peele and gifted storytellers such as Ava DuVernay.
Second, we have to continue meeting demand by making content available when, how and where audiences want it. There are more than 140 lawful online platforms in the United States and more than 460 around the world. This is critical to generations that think differently about watching movies and shows.
As a corollary, given the conventional wisdom that younger generations find the notion of intellectual property harder to grasp than older entertainment consumers, how does Hollywood appeal to younger crowds while reassuring content creators that their work is safe?
I mentioned the important growth of legal sources for watching content, and 78% of US consumers subscribe to at least one OTT service. I truly believe younger audiences and especially young creators understand the significance of creative content. One of my favourite early experiences at the MPAA was a dinner with four young Chinese filmmakers in Los Angeles as part of the Paramount Pictures-China Filmmaker Exchange Program. They were so passionate about their films, and they understood the economics of distributing their work around the world. As we invest in more young filmmakers and engage with younger audiences, we will continue building appreciation for the value of creativity and the need to protect it.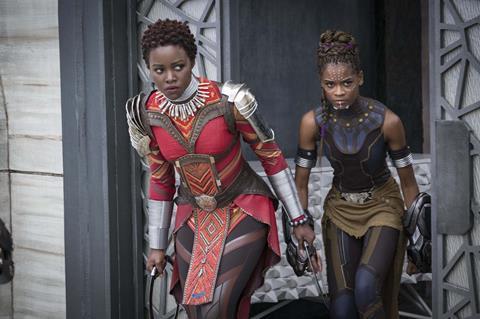 At the US-China Film Summit late last year, you spoke of a 'shared future' between the two countries' industries. Can you elaborate on that?
The film industries in both China and the US have bright futures that are taking shape in real time. China's box office surged 39% in the first two months of 2018. In the US, Black Panther has raced past $600m at the box office, leading a strong first quarter for films across the board.
Both industries' futures will be secured for years to come when we work together and grow stronger together. Last year, our industries collaborated on a historic high of 10 co-productions. We support emerging creators and filmmakers, championing exchange programmes and workshops. These efforts improve dialogue and understanding between our two industries.
Is a shared future — and the shared philosophy that entails — even possible when China continues to place competitive barriers to US products and services, such as the summer blackout and block on Netflix, and imposes restrictions on the flight of capital beyond its borders?
The 2012 MOU [memorandum of understanding] agreement took US-Chinese creative industry relationships to new places. We saw a new high of 40 US films shown in China last year. Continued success will require further opening of the Chinese market and engagement between our industries. We are confident the current MOU renegotiations will build on this foundation.
What are the economic hurdles that still need to be overcome? When China overtakes the US as the world's biggest market, will that affect bargaining power in trade talks?
China is a vital market for our studios, with last year's box office passing $8.6bn. There is great demand for original content in the Chinese market. As our industry produces stories that appeal around the world, there will be opportunities to further our position. We are focused on securing fairer and greater access for American films and television shows. The US and Chinese governments are diligently working on the MOU renegotiations, and we look forward to the culmination of their work.
Where else in the world do you see opportunities to strike meaningful partnerships that can provide a platform for Hollywood product and companies to shine?
The good news is that movies and television shows are one of America's greatest and most sought-after products, generating $16.5bn in exports to more than 140 countries. In 2016, total cinema screens increased 8% worldwide to reach nearly 164,000. There are opportunities in all parts of the world, because audiences everywhere crave imaginative stories and powerful performances.
Film and television shows are also a source of cultural diplomacy that carry American values around the globe. I saw this firsthand while serving as ambassador to France, in over 60 countries as assistant secretary of state, and in my recent MPAA trips to Hong Kong and Berlin. There are opportunities to support creativity in every country, and I'm looking forward to continuing the MPAA's engagement on the world stage.
How do you combat piracy? What are the chief forms of piracy today, where are the most problematic markets, and can you provide an updated number on potential annual lost earnings to US companies in the film business?
The MPAA has a comprehensive global approach to reducing piracy. We co-operate with governments and law enforcement agencies to disrupt the criminal operations behind large-scale piracy websites. We partner in voluntary initiatives with responsible parties in the internet economy. And we support the rapid growth of legally available content across hundreds of platforms and services.
We are also working with other content creators on direct actions. Last year, 30 leading global content and entertainment companies launched the Alliance for Creativity and Entertainment [ACE]. The MPAA plays an integral role, providing ACE with its content protection expertise, research and counsel.
This unprecedented collaboration has already produced results against piracy devices and apps, a growing form of online piracy. ACE members launched legal actions against Tickbox and Dragon Box — distributors of such devices. A federal court recently required Tickbox to stop facilitating access to unauthorised movies and television shows. The Dragon Box case remains in process.
It is difficult to quantify the exact cost of piracy, but we know the unauthorised distribution of stolen content undermines the entire creative economy. It threatens millions of jobs and makes it harder to recoup the investments required to produce new movies and TV shows.