When the Mudbound screenplay fell into the lap of Cassian Elwes, he saw huge potential if he could connect it to the right filmmaker. Screen talks to the producer and the director he selected for the task, Dee Rees.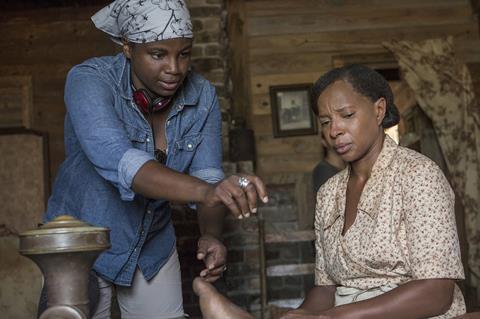 It was the hellish height of summer 2016 in the Deep South, one hour's drive outside New Orleans, and the elements were doing their best to drench, scorch and blow Mudbound out of existence."That was a brutal shoot," producer and former head of William Morris Independent Cassian Elwes recalls with furrowed brow. "Mosquitoes everywhere. We had to keep going. We knew every moment we were making this movie that we were making something important."
For the most part, the story of family and racism in 1940s Mississippi shot on a working sugar cane farm on St Joseph Plantation. "You could see the crumbling buildings of the old slave quarters," Elwes says. "So every day reminded us of the gravity of the occasion and why we were there."
It had only been 18 months since Elwes read Virgil Williams's adapted screenplay of Hillary Jordan's novel. Kyle Tekiela and Carl Effenson, with whom he had produced Joe Dante's Burying The Ex, handed him the script and said it was an Oscar movie. "I said 'Oh yeah?' because everybody says that," chuckles Elwes, whose credits include The Butler and Elvis & Nixon. "Halfway through, I could feel the tears welling up and by the end I was sobbing. I knew I had to make this one. It's very rare that something like this comes along."
At the time, MMC Joule Films (run by Effenson's mother Sally Jo) held the rights and wanted to make the feature for $5-6m. Elwes partnered with her and said the budget needed to be bigger. Later in 2015, he approached his friend Teddy Schwarzman of Black Bear Pictures to arrange a debt loan, and Good Universe agreed to handle international sales.
Chris Lemole and Tim Zajaros of Armory Films and MACRO's Charles King, whom Elwes had known while both men were agents at William Morris, came on as equity financiers and producers. "Financing was a little easier than usual because we all wanted this movie to happen," Elwes says. "We willed it into existence. After #oscarsowhite, this film needed to be made."
With an $11-12m budget in place, the next step was hiring a director. "I thought I would get an African-American director to tell this story because this material required it," Elwes says. "I knew it had to be a woman and I was going to put everything I had into this to make it happen."
Game changer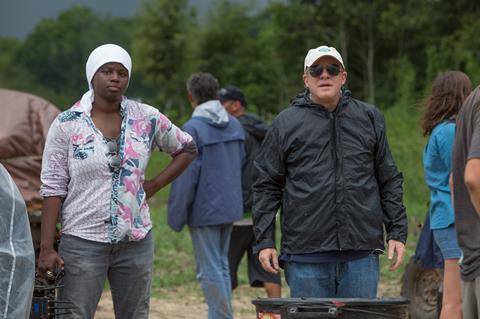 Elwes had seen Dee Rees' 2012 feature directorial debut Pariah at Sundance and contacted her agent Craig Kestel, who had been Elwes' assistant at WMA. Rees had just completed Bessie for HBO and signed on quickly. "That was a game-changer," King says. "I was one of Dee's agents and knew how brilliant she was as a filmmaker."
After Pariah, Rees had been looking for a strong feature project but was being choosy. "I was blessed after Pariah that I never stopped working," she says. "I was writing tonnes of stuff and it just wasn't getting produced, and then I was saying no to studio fare [because] it's better to work on stuff I love versus doing something just to do something."
In her first meeting with Elwes at the Viceroy hotel in Santa Monica, Rees outlined how she wanted to broaden the story about Second World War veterans Jamie McAllan (Garrett Hedlund) and Ronsel Jackson (Jason Mitchell) who return to their Deep South homestead and fight another war against prejudice and privation. "As I rewrote the script, my focus was making this a story about two families — the Jacksons and the McAllans — and this dark symbiosis so it wasn't one-sided with the Jacksons in service to the McAllans," Rees says. "This became a film about how family can drag you drown. This became a film about how it's impossible to go back home."
"Dee started telling me how she wanted to do it and I told her, 'Dee, you don't have to pitch me,'" says Elwes, who had set up the Horizon Award with Christine Vachon and Lynette Howell to support emerging female voices, and was eager to champion Rees.
"Cassian Elwes, Charles King — all the guys at MACRO — really backed me up," Rees says. "When it came to stuff like getting the exact town location I wanted, even though it was more expensive than a general store front that was nearer to where we were shooting everything, they would say 'Here's the $50,000 to get this town' and it paid off in production value."
Mudbound shot for 29 days, including two days in Budapest, Hungary, for a tank sequence involving Mitchell, and one day at a Long Island air museum to film Hedlund as a war pilot. "Dee's very proud of the fact that she shot an entire tank sequence by lunch," Elwes says.
The Louisiana portion of the shoot was not so accommodating. The filmmakers relied on water machines to turn the fields into muddy mayhem. "Then the sun would come out and bake the mud into concrete," Elwes says. "Our amazing crew laid tracks to get the equipment out into this field and every piece of equipment had to be cleaned every night, only to get muddy again the next day."
One day a tornado blew into the region. Health and safety regulations meant the production had to shut down while lightning was in the vicinity and they lost one-and-a-half days. "We wanted these 360-degree views in plantation country and the logistics were complicated because in order to get the sight lines right, we had to be far away [from evidence of modern existence]," Rees notes. "Even on regular shots we had to pivot through the mud."
Emotional response
They persevered and six months later filmmakers and cast, which included Carey Mulligan, Jason Clarke and a revelatory Mary J Blige as Mitchell's mother Florence, were sitting in the Eccles Center in Park City for the Sundance Film Festival world premiere.
Armory Films' Lemole says when the house lights went up, he and business partner Zajaros cried. In the days that followed, Elwes felt like doing the same for a different reason. "The movie got a massive standing ovation and at the after-party I thought, 'Somebody's going to buy this movie'," he says. "Then days went by and we weren't getting any offers and all these other movies were selling. It was nerve-wracking."
By Thursday of the second week, King suggested to Elwes over breakfast they personally invite Ted Sarandos to view the film. Netflix's chief content officer watched it and the following day asked to meet Rees. That weekend, the streaming platform closed the biggest deal of Sundance, paying $12.5m for the US and multiple territories.
Many regard Mudbound as a strong candidate for a best picture Oscar nod. The drama opened AFI Fest and the ensemble cast has already picked up the Independent Spirits' Robert Altman Award and earned a special jury award for ensemble performance from the Gothams.
Netflix opened the film in around 17 US theatres day-and-date with the November 17 streaming launch to qualify the film for Oscar consideration; Curzon Artificial Eye also released the film in selected UK cinemas as part of its Netflix deal. Despite the smaller theatrical footprint, Mudbound's creators feel happy.
"As an artist you want your film to be seen and on Netflix it's going to be seen, and it's going to be seen in many countries at once," Rees says. "For me one of the reasons Pariah stayed alive was because of Netflix. If it had just been a theatrical release, a lot of people wouldn't have found it, but people come up to me all the time and say they've seen Pariah on Netflix."
"Unlike going through a traditional distributor and having thousands of people see this, millions will see it," Elwes says. "The message of this movie will get to them and that's why we made it."