The New York-based producer and partner at Killer Films on her morning routine, rotating the posters in her office and with whom she would most like to take a meeting.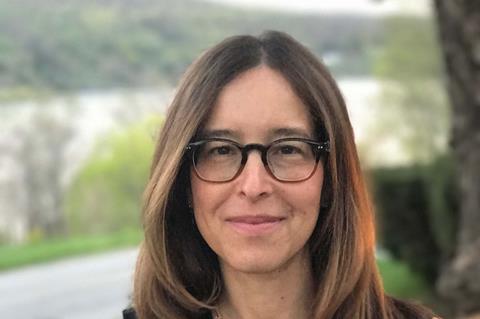 Pamela Koffler and Christine Vachon's Killer Films has had a busy Berlin, with the opening night world premiere of Rebecca Miller's romantic comedy She Came To Me (starring Peter Dinklage and Anne Hathaway) and the international premiere of Celine Song's buzzy Sundance title Past Lives in Competition.
Since Killer launched in 1995 with Larry Clark's Kids, the pair have built a renowned stable of arthouse gems, including Boys Don't Cry, Happiness, Hedwig And The Angry Inch, and films with longtime collaborator Todd Haynes such as Carol, Far From Heaven, Safe, The Velvet Underground and the upcoming May December (with Natalie Portman and Julianne Moore).
What is your office like?
It is just a very light, simple, square room — open plan. We have five employees including me and Christine. We have posters of every single film we have done, and we rotate them so that it's not always Julianne Moore and Still Alice behind Christine when she's on a Zoom.
What is the first thing you do when you arrive each day?
It is a cup of coffee and then my calendar and to-do list. I read an interview with some very effective executive who said he made a list every day of who needs what from him and what does he need from other people.
What was your first job in the industry?
It was on a TV show called Monsters — Ted Hope was the first AD and I was the production secretary. I met Ted and the crew of New York indie film folk who were working on the show that summer and got my start that way. I worked my way through a lot of jobs on the crew before I met Christine, which is when I really solidified my understanding that I wanted to be a producer.
What do you like best about your job?
I have a deep love of narrative, I'm a real book reader and I love a good story. Making a film is so communal and I love directors. I am happiest having creative conversations with the collaborators.
What is the most impressive answer you have been given in a job interview?
Someone asked me what was my definition of success. That was a great way to start a discussion around the expectations of the job.
What is the biggest professional mistake you have made?
It involves extras, golden time [triple extra overtime] and a very bad plan for how to get people home from Fyre Island after a long day of shooting. Suffice it to say the day ended in tears and was quite expensive. I never made that mistake again.
What is your favourite festival?
I am so grateful the international film festivals are as robust as they are, where we can all go and experience watching international films in this wonderful environment. I love getting the press and industry pass for the New York Film Festival and going at 10am to see whatever is playing. I do it every year.
With whom would you most like to take a meeting?
Meryl Streep. She's definitely a hero. I admire how she has navigated the business.
What excites you about the future of the business?
There is so much production and so many places to watch stories. There's a huge opportunity right now.
What is the biggest challenge facing the business?
Much is made around how are our dramas going to be produced, distributed and seen. I think it will get sorted somehow. People want them and we the producers will keep making them, and how they get distributed will find its footing.
What was your favourite film growing up?
The Bad News Bears. It is, without question, one of the best times I have ever had in a movie when I was a kid. And then going to see The Sound Of Music at Radio City Music Hall with my mom when I was six or seven years old. I was walking on air on my way home.
What book are you reading?
[Tolstoy's] Anna Karenina — because I tackle one classic a year. But I actually do a lot of fun literary fiction; I'm not always that pretentious.
Where do you go to unwind?
Any opportunity to go to the water is where and how I unwind — ideally with a good book. That's my happy place.
Who would play you in the biopic of your life and who would direct?
In my fantasy, Diane Lane. As to who would direct — that depends on whether it's a comedy or a melo­drama!