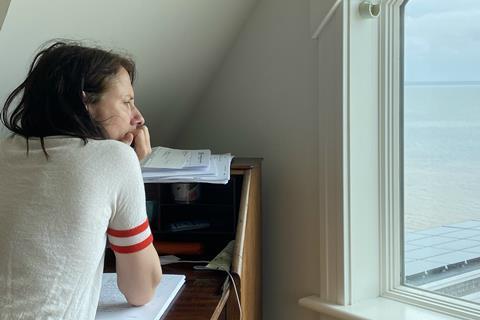 UK actress and filmmaker Dolly Wells has co-written and directed the pilot episode of whodunnit Little Room during lockdown with her family in Provincetown, Massachusetts.
With an ensemble cast led by Brian Cox, Claes Bang (with whom Wells co-starred in the mini-series Dracula), Antonia Campbell-Hughes and Grace Van Patten, Little Room was filmed entirely remotely by all cast and crew, including Wells' co-writers and directors Suzi Ewing and Heidi Greensmith, and producer and creator of the project Maggie Monteith.
Little Room follows a renowned expert psychiatrist who disappears without explanation, and her distraught patients who form an alliance to find her.
It was created to raise funds for freelancers who have been financially impacted by the coronavirus lockdown; it launched on May 27 on the website of Monteith's Pinpoint Films, on a pay-what-you-can basis.
The money raised will be split between the Motion Picture and Television Fund (MPTF) in the US and the Film and TV Charity in the UK.
Last year Wells wrote and directed her debut feature Good Posture, starring Van Patten and produced by Monteith, which is now streaming on Amazon Prime. Her credits as an actor include Can You Ever Forgive Me?, the first and third Bridget Jones films, and 45 Years.
How did Little Room come about?
Maggie Monteith, who produced my feature Good Posture came to me and said she had an idea about six agoraphobics and she'd love me and two other writer-directors Heidi Greensmith and Suzi Ewing to write and direct together and I was in! Everything else was feeling so uncertain and frightening it felt exciting to have a plan and to know that the proceeds to go to such great charities – MPTF and the Film & TV Charity.
What were the major challenges of directing your cast and crew from your home?
Obviously that you were miles and miles away from your actors and your DP and all the other departments. You couldn't walk over and talk any problem through together. Making TV or films is wildly collaborative, you need each other to make something good, to all be won the same page. It meant that the actors were responsible for so much more than their performances. they had to worry about the light, the sound, their costumes, hair. They were all wonderful sports. And then after each take, I would call my two actors Claes Bang and Antonia Campbell-Hughes and give them notes before we started again.
What is happening with the projects you were working on pre-lockdown?
Hopefully my acting projects will start up again soon, who knows! And my writing projects are keeping me busy and vaguely sane.
Are you able to commit to new ones at this stage, both as an actor or director? Or are you waiting to see what the post-lockdown world is like?
I am being sent things to read as a director and I suppose it's the same as during anytime – I see what I respond to or feel I could do a good job at, knowing that there is no certainty yet about when things will start up again.
How are you keeping your skills as an actor sharp?
When you audition on tape for things you are keeping it all going and then I suppose it is just watching people, listening, thinking. I hope/think it all goes in all the time and then you pull it out when you need it.
How do you feel about being on set under social distancing measures?
I can't really imagine it yet. It feels a little odd and sad to have to be worrying about it in an environment where you want to just be thinking about how to make what you are doing its best and this relies on making close friendships with those around you so you don't feel too foolish pretending whatever it is you are pretending. However, it is crucial that we are responsible and do whatever is necessary to get rid of this virus.
Do you manage to have a daily routine as you work from home?
I have big plans with exercise and meditation every morning and that rarely happens sadly. I walk as we have a dog and occasionally do a little half-hearted running or exercises with some contraption I've been overcharged for online. But I like the routine so do try and keep some. I make breakfast, water the tomato plants, do some kind of walk and then eventually sit down to my computer.
What have you been watching/reading/listening to during lockdown?
I have watched Unorthodox, Normal People, I Know This Much Is True… Wow Mark Ruffalo, two seriously impressive performances. He never disappoints. Very depressing but think it is a great show, beautifully directed too. Also, Don't Fuck With Cats, Dave, a hilarious show on Hulu about the rapper Little Dickie, and Ordinary Love.
How are you managing to keep your children educated/entertained while you work?
My daughter who has just graduated keeps herself entertained with reading and watching lots of films, playing the guitar and occasionally I pay her to read a script for me and make notes. I really value her opinion. My son is homeschooling, playing guitar, and his PS4 – a way to connect with his friends, I keep telling myself! – and then he ordered a ping-pong net which we've put up on the kitchen table and whoever loses has to clear away dinner.
What is the first thing you intend to do when lockdown is over?
Hug my family and friends and eat some sushi. And try and be a little less impatient and grateful!