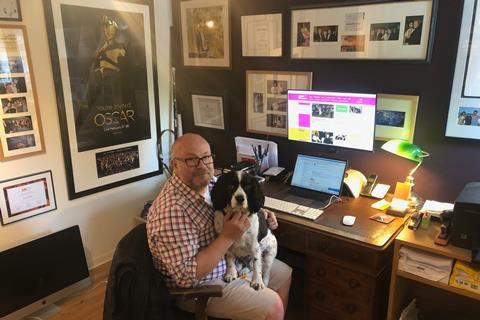 Gareth Ellis-Unwin is the head of film and animation for ScreenSkills, the UK's industry-led skills body for the UK's screen industries.
He sets the strategic direction for the Film Skills Fund, investing contributions from productions in skills and training in behind-the-camera roles, and leads on delivery of the BFI's Future Film Skills strategy where ScreenSkills is the principal partner.
As an independent producer, Ellis-Unwin's credits include the Oscar and Bafta-winning The King's Speech. As the co-founder of Bedlam Film Productions, his producing credits include Steel Country, Kajaki: The True Story, Zaytoun and Exam.
Is it business as usual for you and your team as you all work remotely from home?
It's business as unusual. Our office is centrally located at Euston in London with some members of the staff based in Yorkshire, the Midlands and so on. There are 18 in the direct film team including people working on Trainee Finder, bursaries, mentoring and CPD (continuing professional development – training). The Friday before lockdown, the office did a trial working from home to test the systems and haven't been back since it was announced.
How are you maintaining an office routine?
We have been keen to maintain a sense of routine but trying to avoid it being too Groundhog Day. Typically, we are all starting at around the same time and logging off – from about 9.30am to 5.30pm, though many of my days are longer as the Covid-19 crisis has added to the workload, at least right now.
We have a daily check-in for the film team which is about making sure the gang are doing OK. And a daily close-of-play continuity planning meeting for the senior management team.
Which systems are you using to keep in touch?
We've adopted Zoom for meetings with external parties and Microsoft Teams for most internal communications using video calls, the chat function, sharing documents. Video is mostly on, sometimes with amusing visual backgrounds, and we are all getting better at using the mute button – although we miss the close personal contact.
We had quite an interesting tech scenario with Trainee Finder, our paid-placement new entrant programme. The first induction took place in person in Leeds, but I couldn't get there so did a remote welcome and it felt very odd – just me trying to talk to a room full of people from a laptop. The second induction was done after lockdown with 104 trainees all on a Zoom call together and I could see their faces and they could post in the chat bar and it felt really intimate.
How are you and your team keeping up morale?
We are paying care and attention to how people are talking, trying to pick up on how everyone is really coping. But there's also the fun stuff. We have a virtual drinks trolley every Friday night hosted by our CEO, Seetha Kumar, with highlights of what people are doing, perhaps an office game like charades and randomly generated break-out rooms. I have a much better understanding of everyone's interior design and pets than I ever did before.
What advice would you give to people in the business who are worried about the future?
We were in a production boom when this happened. I have no doubt we will return to being busy, because the world will remain a hungry consumer of content. Whether with a staggered start or quick out of the blocks, we need to think what we need to be doing now to meet that demand when recovery happens.
What contingency plans are you making for the rest of this year?
We have moved really quickly towards more online learning and remote delivery of training where it can be done effectively with tech that perhaps we haven't used before. There is some training that works incredibly well remotely. We have done deals with big software licence companies, for example, so that we can do training where very expensive software is available for free for the duration of a course so people can practice what they are learning. It's clear it doesn't work for everything. If you're doing a health and safety course on emptying a tea urn or using a fire extinguisher, then you have to do those things for real so we are having to delay those face-to-face interactions.
We're having to do some cautious budgetary re-forecasting with the National Lottery money we receive from the BFI and voluntary contributions from productions to the skills funds. Given the way industry is turning to us now to make sure the workforce can upskill and stay connected during the production hiatus, we are incredibly grateful to the productions that pay in because it's given us cash flow.
If you have children, how are you managing keeping them entertained and educated while you work?
I have no children but a spaniel who's very enthusiastic about having me at home.
What advice do you have for home working?
I think it's about having a routine, being mindful of others in your domestic space and trying to not make work bleed into every aspect of your home life. As leaders in this tricky time, you have to realise that people aren't getting to do the things they enjoy doing to relax. I know Tariq likes long walks or Rebecca the gym or Nicole going to the cinema – the activity that keeps them fresh for their working life is curtailed. It's important as a leader to role-model good behaviour.
To what are you listening to and watching and reading through this time?
Outside ScreenSkills work, I'm helping on a few mates' scripts. I saw a lovely quote on Facebook: "Imagine isolation without culture." So I've been using this time to remind myself of what brilliant art is out there. I hang my head in shame, but my wife and I hadn't been to the theatre in ages until we watched the National Theatre At Home's stream of One Man, Two Guvnors. I'm keeping the creative mind working. The world will need its stories when we're on the other side of this.