Naomie Harris reveals why the role of a crack-addicted parent in Barry Jenkins' Moonlight offered her a welcome opportunity to challenge a stereotype.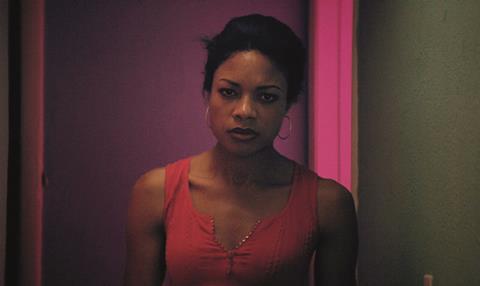 While on the press tour for Spectre in 2015, Naomie Harris would forget all about portraying James Bond's calm associate Moneypenny, walk into her hotel room and just scream.
"People must have though I was crazy as I was trying to find Paula, jumping around the room and shouting," says the UK actress, whose performance in Barry Jenkins' celebrated Moonlight as the aforementioned crack-addict mother in 1980s Miami - released in the US in October by A24 - has thrust her into the awards conversation.
Harris signed on to the project in September 2015, after producer Jeremy Kleiner of Plan B Entertainment, which produced alongside A24, sent her the script. It was a key role, she was on a 12-week world tour promoting a 007 film and Jenkins was due to start shooting in October. A quick decision was needed.
"I had real reservations about playing a crack addict because I've always fought against playing any kind of stereotypical roles," Harris says. "I'm very careful about the reputation of women, and as a black woman in particular I want to represent progressive roles for women and black people in general. Then I spoke to Barry and he said, 'I don't want you to play a stereotype. What I'm asking you to play is basically my mum.' Because this is his story and the story of the writer Tarell [McCraney], and what happened to their mothers - it's a very similar journey - deeply connected with me."
The clock, however, was ticking. Whenever she could, Harris would retreat to whichever hotel she was staying in and get to work on Paula, the mother of the film's troubled young protagonist Chiron, whose development is charted in three parts. She held frequent late-night Skype sessions with Tim Monich, the renowned accent coach about whom she cannot say enough good things, and spent hours watching YouTube documentaries about crack addiction in the 1980s.
She also managed, of sorts, to interview an addict. "I would sit in the hotel room imagining I was being interviewed by someone. So I imagined the person was asking me, 'What was your dad like? What was your mum like? Where did you grow up?' and all these questions. Then I created a whole narrative around that and that helped me define the character's voice."
If preparation was tough, the shoot was no walk in the park either. The Spectre tour was still going strong and the studio needed her back. "I shot the movie in three days in Miami," says Harris, sounding as if she cannot quite believe it herself. "We jumped around. I went from older Paula in rehab to Paula deep into addiction in the middle section to Paula hiding her addiction and seemingly holding it all together in one day. And then back again. To say it was challenging is a real understatement."
Acting in the moment
There was no chance to get to know the cast before the cameras rolled. "I remember the rehab scene when 'Black' - older Chiron [Trevante Rhodes] - comes to see me and finally I say, 'I'm sorry.' I had literally met Trevante that moment and it was, 'Hi, nice to meet you.' Because I had to go from younger Paula to ageing up, there was no opportunity in between that."
She describes Rhodes and the two actors who portray Chiron in childhood and adolescence, Alex Hibbert and Ashton Sanders, as uniformly excellent. It is safe to say she also appreciated working with Jenkins. "He's so humble," she says. "He makes you feel so safe on set and he's so experimental. You'll be shooting a scene and then he would ask me to do it all on camera as if a monologue. It makes you feel free to play and that's what art should all be about, ultimately."
Paula is a manipulative wretch but not a familiar cardboard cut-out. True to Jenkins' vision, Harris has crafted a layered person who comes across as both feral and vulnerable. "It took everything out of me but it was also a very enjoyable experience," she says. "There's something very liberating about playing Paula, because what I found when I was doing my research was for a lot of these people, having the addiction removes the social filter that we normally have.
"You have to free yourself of your own social inhibitions and that's a really fun thing to do. But to really inhabit Paula you have to come out of all those boxes; you have to smash through them, and although it was exhausting it was also really fun."