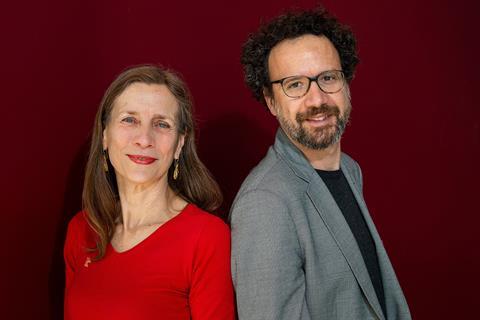 All eyes are on the first edition of the Berlinale put together by artistic director Carlo Chatrian, who joined from Locarno Film Festival, and executive director Mariette Rissenbeek, previously managing director of promotional organisation German Films.
They discuss the changes they have made, the backlash against jury chief Jeremy Irons and the films and filmmakers to look out for.
How did you pitch your vision of the Berlinale to the international industry?
Carlo Chatrian: We pitched our take on cinema. We said we wanted to keep the history and tradition of the Berlinale, and that we have made some changes. We wanted to give even more room to what is happening in cinema right now and that's the main reason we created [new competition] Encounters, which champions new and daring voices. I also talked about my personal take on film, which is more related to the language of cinema rather than to a film's topic. But the two things go together when the film is good.
How did you persuade a filmmaker such as Philippe Garrel, who normally premieres his films in Venice and Cannes, to come to the Berlinale for the first time?
CC: We had discussions with Vincent Maraval [head of Wild Bunch, which is handling Garrel's The Salt Of Tears], not only about this film but about other films. I admire Vincent's work and his taste in cinema. The Berlinale is an important place for Wild Bunch. We have two films from them [in Competition], The Salt Of Tears and Delete History by Benoit Delépine and Gustave Kervern, and both will be released in France after the Berlinale. It's important Wild Bunch has a festival that can support the release in France and in other countries.
Is it a coincidence or is it new festival policy that there are no films in Competition from either Netflix or Amazon?
CC: We had discussions with both Netflix and Amazon. There were discussions around single projects, about projects that won't be ready this year but maybe will for next year.
Mariette Rissenbeek: For Competition titles we have a policy that a film has to have a planned theatrical release.
In its home country or in Germany? For the whole length of the German theatrical window?
MR: That's not stipulated.
CC: We prefer to discuss film by film. We have this rule that we both believe is a good rule as it allows us a degree of freedom and says the theatrical experience is important. A position of black and white is not good as it doesn't help the films.
Six of the 18 films (33%) directed or co-directed by a woman is down from seven of 16 (44%) last year, although it is up on the rolling five-year average of 26%. How many features by women directors were submitted this year?
MR: It was 31.1% across the Berlinale. And across the curated section of the Berlinale, 38% of the films are by women directors.
What did you take from the backlash against the appointment of Jeremy Irons as jury president?
MR: We are aware since the MeToo debate there is more sensitivity in this direction. At the same time we felt very comfortable inviting him to be president of the jury as Jeremy had already revised his statements one or two years after he made them. It was not something we thought, when asking him, would be in the way.
What do you look for in a jury president?
CC: What Jeremy said is that he was looking forward to meeting and discussing films with his fellow jurors. Which for me is the best thing to say as president of the jury. It's a very important role and he will be the person who opens the discussion and gives room to anyone to enter with his own background, taste and emotions.
Will the president have the deciding vote?
CC: Usually it's the president of the jury who sets the rules. In the end they will all sit together and decide about the films to be awarded. This is the best scenario as they don't have to vote, it's an organic discussion. We have films we are aware need a little bit of time to fully understand what they imply and this is something I will point out to the jury before starting their work.
Of the films themselves, what can we expect from one of the most anticipated, DAU. Natasha? It's a film taken from the long-gestating and controversial series of feature films and visual art projects and live installations DAU.
CC: DAU. Natasha is a film that challenges the notion of a film. I was fascinated by the project as it is something that happens very rarely in the history of cinema, that such a huge project is done in an art context.
Strong narratives on the concept of power can sometimes be very hard to take but it's also an interesting reflection on the concept of control, which is something that goes beyond the narrative of the film. The film can be watched as a single film by a viewer who doesn't know anything about the whole DAU project.
Which German directors have caught your eye during the selection process?
CC: We have Christian Petzold and Burhan Qurbani in Competition. Petzold is one of the most prominent filmmakers in German contemporary cinema and Qurbani's Berlin Alexanderplatz is one of the most anticipated projects. In Encounters we have a first feature from a young director called Melanie Waelde called Naked Animals. For me this was one of the surprises of the selection process. The film is about a group of young people who seem to live without any connection to their parents.
Sometimes, however, a fresh look comes from not very young filmmakers. Also in Encounters we have Orphea, which is directed by [87-year-old] Alexander Kluge with Khavn [De La Cruz], a Filipino director, who are telling the story of Orpheus and Eurydice from a female point of view. Age is not always the most important thing.