Producers, execs, presenters and directors of some of the most influential British docs of the 21st century reveal the inside story of their masterpieces and their key moments during production.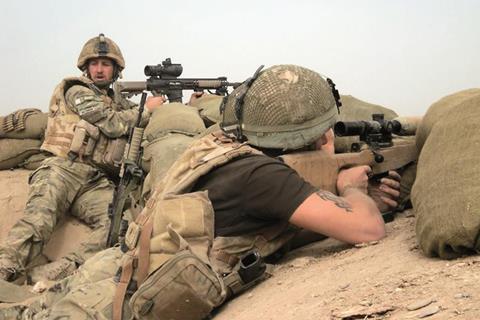 With the factual industry descending on the annual Sheffield Doc/Fest this week, the time feels right to shine a spotlight on some of the most influential documentaries of the 21st century.
The shows selected highlight the strength of the terrestrial broadcast sector, with projects hailing from the BBC, ITV and Channel 4.
We feature recollections of the people behind nine of the most extraordinary and groundbreaking UK documentary projects from the past 18 years.
Each programme has played a specific role in UK factual: leaving an indelible mark on British culture, establishing a new genre of documentary television or revealing hidden truths that remain significant to society today.
While by no means a comprehensive list, the following pages provide a snapshot of modern British television documentary at its finest.
OUR WAR (2011)
BBC STUDIOS
BBC3
COLIN BARR, EXECUTIVE PRODUCER
Our War was BBC3's first ever history commission. It's hard to believe, given what the programme became, but originally it was supposed to be a 'tour' through 10 years of conflict in Afghanistan – more a history lesson than a series of narrative-driven films.
From day one, I was insecure about delivering the 'past' to a young audience, fussing about the wrong stuff: "Let's do 'info-bombs' for context", "score it with drum 'n' bass", "use a Greek chorus".
We went down some very deep rabbit holes and were doing everything apart from the one thing we needed to do: trust the soldiers to tell their own stories with their own footage.
That changed when director Bruce Goodison showed me a sequence of a young platoon's desperate struggles to evacuate a fallen comrade in 2007. It had been filmed on a helmet camera by the platoon's sergeant.
The footage was chaotic and often incomprehensible, but his POV left me feeling like I was seeing combat for the first time: he looked left, I looked left; he ran into gunfire, I could almost feel the 'birdsong' of bullets whizz past my ear.
After watching this, I was shattered and confused. What did it mean? Why didn't I feel anything? The answer lay in character and old-fashioned documentary producing.
It needed the solid framework of the soldiers themselves; their unmediated voices. That's what I remember about Our War – not the footage but the interviews.
Like Brigadier Mike Griffiths, Colonel of the Duke of Lancaster regiment, trying to make sense of the death of his son, who died fighting for the unit.
"The most difficult thing is coming to terms with whether it was in a good cause," he says. "To not believe that would be to say to all those who've given their lives that it was not the right thing to do. But as long as there are young men and women brave enough to step forward, then we're a nation to be proud of."
And in that moment, he breaks down: a soldier and a father, torn apart by the brutal reality of war.
THE FAMILY (2008)
FIREFLY (DRAGONFLY)
Channel 4
NICK CURWIN, EXECUTIVE PRODUCER
It was the first so-called 'rig show': 21 cameras fixed to the walls of the Hughes family home in Canterbury for 100 days, producing nine peak-time Channel 4 docs.
The Family's origins were in a show from 2006, Going Cold Turkey, also made by Firefly (now Dragonfly) for C4, in which three addicts tried to free themselves from the ravages of heroin. We weren't allowed into the hospital we'd built for them, so we hired the Big Brother cameras and filmed remotely.
The footage was unmediated, moving and intimate – and would have been impossible to get with camera operators and producers in the room. Magnus Temple, my Firefly co-founder, and I were mesmerised.
We decided this remotely operated fixed rig of cameras and microphones was a powerful documentary tool, and the rig show was born.
Burning with excitement, we showed C4 commissioner Simon Dickson our idea and told him we wanted to make a proper documentary series using this technique. Simon suggested we film a family, and a commission quickly followed.
Finding the right cast proved much more problematic. Eighteen months later, we'd rigged a home, but the family pulled out the day we were due to start filming.
We'd spent £1m without a frame to show for it. The big cheeses in Horseferry Road were not amused, but they stuck with it and six weeks later, we found the Hughes family.
Production lurched between bliss and disaster throughout, but the overnights were 3 million and two more series followed, along with multiple series of One Born Every Minute, 24 Hours In A&E and a plethora of other rig shows, controversially hoovering up doc slots and creating a debate about whether this peculiarly tender voyeurism counts as true documentary-making.
Love it or loathe it, though, the rig has ended up being a sort of replacement for – and perhaps a fitting tribute to – the granddaddy of rig shows: Big Brother.
SRI LANKA'S KILLING FIELDS (2011)
ITN PRODUCTIONS
Channel 4
JON SNOW, PRESENTER AND NARRATOR
Sri Lanka boasts an eerie beauty that belies the inter-communal killings and violence that devastated the northern part of the island for so long.
For many months, we had tried desperately to extract permission to visit the epicentre of the fi ghting on the Jaffna Peninsula. We were endlessly rejected. But that did not prevent our teams from filming the war elsewhere in the country; civilian populations of Tamils cut down before their very eyes.
Rape, torture and killing was an endemic part of Sri Lanka's way of life, and had been for decades. Then one day, the British Commonwealth determined to hold its conference in the capital, Colombo.
And so it was that Prime Minister David Cameron persuaded the authorities to allow him to go north to Jaffna to see things for himself. Crucially, we were allowed to accompany him.
As we neared Jaffna itself, we could see the shell craters, the abandoned clothing and the remnants of war every where. Waves of people surged up to us as we arrived, thrusting pleading letters into our hands. They had suffered very gravely.
Our film was a painful and difficult one to make, but I do believe that it represented a real contribution to bringing about peace.
MY SON THE JIHADI (2015)
TRUE VISION PRODUCTIONS
Channel 4
PETER BEARD, DIRECTOR
It was about 9.30pm on a Sunday when Richard Kerbaj, the producer I'd been working with on the film for eight months, called to say Sally Evans had been on the phone in hysterics. She believed her son Thomas was dead. He had left the UK four years earlier to join the Islamist terror group Al-Shabaab.
Sally had received a phone call from a journalist asking if she had a comment to make on the photos of a white, dead Al-Shabaab fighter circulating on Twitter. This was the call she had been dreading for years, but now it had come, she didn't know what to do.
By this point, Richard and I were more than just film-makers to Sally, and she was more than a just a contributor. We had formed a genuine friendship with her and her other son, Micheal, so when I got the call, I felt a mixture of adrenaline and sickness.
It was nearly midnight by the time we arrived at their house in High Wycombe. We found Micheal sitting on the pavement, crying quietly, and Sally in tears at the door. I'd brought my camera.
I'd always known the film we were making was heading to this point but, in the midst of this sorrow, it felt wrong to press record – both for Sally and Micheal and for the film. Instead, we sat talking and just being with them.
When we left at 2am, I asked Sally if I could come back in the morning, which was now just a few hours away – this time to film everything that unfolded. Sally agreed.
The film we'd all set out to make was one that showed the reality of what they were going through and filming this most intimate moment might do that best, even if it felt really difficult for both of us.
The next day was probably the most extraordinary filming day of my life and I will always feel deeply privileged that Sally welcomed us into that moment.
EXPOSURE: THE OTHER SIDE OF JIMMY SAVILE (2012)
SHIVER
ITV
MARK WILLIAMS-THOMAS, PRESENTER AND REPORTER
It's now seven years since I started to investigate Jimmy Savile and it's fair to say that what has become known as 'the Savile effect' has changed attitudes and policies in the police and the Crown Prosecution Service, and led to many other offenders being convicted, including the likes of Rolf Harris, Max Clifford and Stuart Hall.
But it could have been so different – it was the hardest programme I have ever made and there were many times it seemed it wouldn't make it to air. We were taking on a national treasure, who only months previously had received high accolades at his funeral.
We had the starting information that Newsnight had, but we knew we had to go much further to find new evidence that Savile had abused children, not just at a care home but in other parts of his celebrity life.
As we started to find victims, one question I asked the lawyers was: how many victims would be enough to get it across the line? Nobody knew – we just had to have enough to make a compelling case to viewers.
On several occasions before TX, I had conversations with producer Lesley Gardiner in which we said we had to let the truth be known and if the channel felt we did not have enough to broadcast, we would continue anyway and ensure we released it on some platform.
Thankfully, it never came to that, although the channel, even up to broadcast, was very nervous. Luckily, we had the full support of then-ITV director of television Peter Fincham and Alex Gardiner from ITV Studios' Shiver.
I never believed that a television programme could have such an impact, but I know now its broadcast has changed people's lives – and for that, I and the small team involved are incredible proud to have made it.
THE LIE OF THE LAND (2008)
RTO PICTURES
Channel 4
MOLLY DINEEN, WRITER AND DIRECTOR
I was making a film in the House of Lords as Parliament pondered the fox-hunting bill. They'd spent 700 hours debating and still hadn't finished when I stopped filming.
As it happened, I'd also been shooting Countryside Alliance marches in London – just to have some footage 'in the bank'.
Together these two elements made me want to make a film, but foxhunting had a similar problem to the House of Lords: both were subject to huge prejudice from the public and media based on historical stereotypes.
I had started researching with the fieldmaster of the Beaufort hunt, Captain Ian Farquar – a hugely knowledgeable and charismatic character. But I realised we could not make a film with him as he would confirm the public's stereotype of the hunting community.
Then I became aware of an amateur farmers' hunt in Cornwall operated on a shoestring by a local electrician and a beef farmer, with a quiet fieldmaster called Ian who ran a fairground ride with his brother. As a hunting community, they were perfect for the film.
Early one morning, we went out on a 'flesh run' – the collection of sick and dead animals from local farms. I followed Ian into a small shed. Suddenly, he was wrestling a perfectly healthy-looking calf to the ground before shooting it in the head. It was shocking because it was so quietly violent and unexpected.
This happened at every farm we visited. Ian said it was a sad necessity of British farming at the time, but I needed a much more technical explanation.
Sticking with Ian would mean I could not convey 'why' to the audience. Bound by my filmic style, the content needs to come from characters and not voiceover or experts, and I had not cast the film as issue-driven.
The footage was profoundly disturbing and it needed economic and political context. In my career as a film-maker, I've often focused on character – as we can learn so much from humanity's shades of grey – but this story now needed a journalistic line.
Also, for a sentimental British audience that rarely sees the realities of food production, the killings would completely obliterate the rest of the film. The doc had to change structure.
Next door to Ian was a much larger hunt whose huntsman was very politically involved, so I changed horses mid-ride, so to speak, and began filming him.
Paul did the same flesh runs as Ian but could angrily and bitterly explain the economics and politics behind them, which gave the context the film needed: the same people who had brought about the ban on hunting would let this happen to keep down the price of milk.
I then found a farmer who hunted near London, who was so confident and articulate on camera, he'd become a spokesman for the Countryside Alliance. The film had evolved into a three-hander – all because of what happened in a shed with Ian.
FELTHAM SINGS (2002)
CENTURY FILMS
Channel 4
BRIAN HILL, DIRECTOR
One of my strongest emotions when we began making Feltham Sings was fear. This was the first ever documentary musical and there were so many ways it could go wrong.
I wasn't worried about finding good characters or interesting stories – there's always an abundance of both in prison.
My fear came from stepping into the unknown, from the fact that we were challenging existing norms about documentary making by asking people to sing about their lives. What if it turned out to be something completely lame – an ambitious failure?
What I discovered very quickly, and what I continue to believe, is that fear is a great stimulus to creativity. It keeps you on edge and makes you examine what you're doing from every angle.
When we began to rehearse with the young men, I realised something else: the people in the fi lm had become so much more than documentary characters; they were creative collaborators in the process – they threw in ideas about the songs and about how they might perform them.
The next realisation was that telling a story in this highly stylised and unusual way affects audience perception.
In a more traditional documentary about men in prison, you might see, say, an armed robber as being just an armed robber. But if you see that armed robber stand up and sing, making himself vulnerable, you understand that there's something else to him, something you might not have thought about.
I've done a few films like this now and I've come to believe that everyone has a creative impulse that can be tapped and is beneficial. I was still anxious about the film until about four weeks into the edit.
Then one day, I suddenly started to see how it would work, how the songs would gel with the actuality and the interviews, and how the humour and sometimes the pathos of individual characters could be highlighted by the very act of singing.
If you asked me now what film I'd like to make next, I'd like to revisit those people from Feltham Sings.
FROM THE SEA TO THE LAND BEYOND (2012)
CROSSOVER LABS AND SHEFFIELD DOC/FEST
BBC4
PENNY WOOLCOCK, DIRECTOR
From The Sea To The Land Beyond is well loved and keeps turning up on lists like this. It is kind of annoying because, unlike almost every other film I have made in the past 30 years, I sweated no blood over it.
I had just finished One Mile Away, a stressful feature documentary about an inner-city gang truce in Birmingham, when Heather Croall, then director of Sheffield Doc/Fest, rang me.
"You will think this is crazy, but I was wondering if you'd be interested in a making a silent archive film about the British coastline with music by British Sea Power," she said.
I leaped at the chance of making a film in which nobody would want to kill me – or anybody else. My editor Alexander Fry and I spent an intensely enjoyable five weeks in the cutting room, watching and shuffling together beautiful archive footage.
It was raining outside, and we were able to play. Our only brief was to not to stray too far from the coast. I remember the key light-bulb moment was realising that a beach can switch from a site of recreation to a war zone and from this moment, stories started telling themselves without words. We had so much fun doing it and maybe that's what shines through.
We had a pile of British Sea Power albums so we chose tracks that had the right feel and chopped them in. We watched cuts with the band in the screening cinema with our temporary score, so they could see how the music was working.
When we locked, they spent a week or two in a castle in Kent remaking some of the tracks, writing new ones and building musical bridges to make a seamless final score.
The first time the film was shown at Doc/Fest with the band playing, I was very nervous and the woman next to me kept squirming and snuffling. I worried that she was bored but gradually realised that she was crying all the way through.
The creative process is a mysterious thing and on this film, it was magical.
EDUCATING YORKSHIRE (2013)
TWOFOUR
Channel 4
DAVID CLEWS, EXECUTIVE PRODUCER
The first question anyone asks about Educating Yorkshire is always about schoolboy Musharaf: "How did the headphones scene come about? Was it set up?"
It definitely wasn't. English teacher Mr Burton came up with the idea of Musharaf reading words out loud after watching The King's Speech.
That moment, however, was the culmination of three years of complex access negotiations with tricky school boards, suspicious local authorities, wary families and embarrassed teens.
When we started looking for a school in Yorkshire, Thornhill felt like an exciting proposition: funny, charismatic teachers and clever and gobby kids, all brimming with Yorkshire charm.
More than 40% of students had free school meals (the national average was 16%) and 19% didn't have English as a first language. Almost half the 750 students were white and half were Asian.
Head teacher Jonny Mitchell said outside school the two communities lived side by side, not together, but once inside, integration was something they worked hard on.
Most governors and teachers were supportive, but Jonny warned us that winning over the local authority and the parents of the 370 Muslim students would be hard.
The production team did more than 100 home visits and met community leaders, including elders from the nearby mosque and local Asian councillors. It took more than six months to gain the consents we needed.
The local authority was worried the series would ignite a powder keg, exacerbating racial tensions. But hopefully, when they watched Mushy and Mr Burton, they were moved like the rest of us.
Rather than incite tensions, it did the opposite, uniting everyone. The story of a boy overcoming his own challenges was so powerful we could all relate to it, no matter what our race or religion.