When it came to telling the story of a British whistleblower, Official Secrets director Gavin Hood and his team found the north of England had plenty to offer.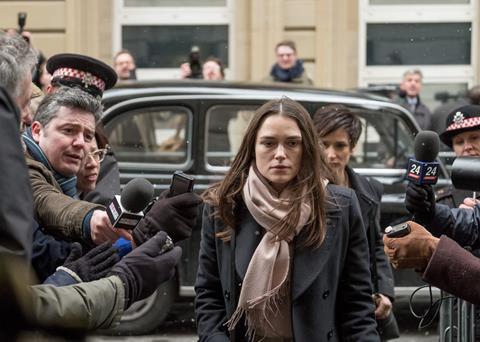 It is not exactly easy for a camera crew to barge into the intelligence and security stronghold of the Government Communications Headquarters (GCHQ). So the filmmakers behind Gavin Hood's upcoming thriller Official Secrets knew they would have to be inventive when telling the true story of Katharine Gun (played by Keira Knightley), a GCHQ whistleblower who tried to stop the 2003 invasion of Iraq by exposing a US plot to spy on the UN.
GCHQ, located in Cheltenham, was recreated in Shipley, West Yorkshire. Location manager Emma Jane Richards explains that she found "a curious hexagonal building, an empty office next to a government building. It had been cleared out after being flooded in December 2015, and parts of it were pretty untouched since the 1990s. It fired up the imagination, and when the set was installed the whole place came alive. It's the sort of magical find that had never been on screen before."
Inventive locations
That is just one example of the inventive locations found for Official Secrets. The Pilkington Glass Factory in St Helens, near Liverpool, did double duty for both a disused weapons factory and a hospital in Iraq. The back streets of Manchester doubled for London's Shoreditch, and Bradford Town Hall was transformed into London's Old Bailey. Keighley train station in West Yorkshire stood in for Cheltenham station.
Ged Doherty of Raindog Films, one of the producers alongside Elizabeth Fowler (Clear Pictures Entertainment), Mark Gordon (eOne) and Melissa Shiyu Zuo (GS Media), found exactly what the production needed in northern England — in Yorkshire, Manchester and Liverpool.
"It just made sense when we saw the locations," he says. "We wanted to shoot somewhere where the infrastructure was in place and where we could get good local crews to work with our HoDs [heads of department]."
During its 39-day shoot, which included seven days at a studio space in Doncaster, the production did not just take advantage of the north of England's locations and infrastructure, but also the region's hospitality and value for money. Doherty remembers with a laugh how shocked he was to find, on a first trip to Yorkshire, that a huge breakfast for five people cost just £19 (around $25). Train fares, too, are inexpensive and "it's quick and easy to get around", he adds.
Screen Yorkshire also proved to be a valuable resource beyond its financial contribution. Doherty adds: "They were extremely user friendly and very understanding. They are also realistic — you don't have to shoot the entire film in Yorkshire — they encourage you to do what's right for the movie creatively." Doherty also praised the crews he found in the region.
Richards, who has also worked on locations for films such as Finding Your Feet and Jack Ryan: Shadow Recruit, enjoyed the challenge of exploring some new remote locations, including a rundown farmhouse near Keighley as well as an isolated cottage in The Wirral, Liverpool.
"I had a lot of support from Screen Yorkshire, Creative England, Bradford Film Office, Liverpool Film Office, Screen Manchester, Prime Studios, Space 2 and the local locations network," she says, "and I found location owners, council officers and film offices friendly and supportive."


The UK. First for world-class film and television production. The British Film Commission provides free, tailored support, from development through to delivery.