When it came to delving into Superman's family history for DC Entertainment show Krypton, Northern Ireland proved to be the ideal location.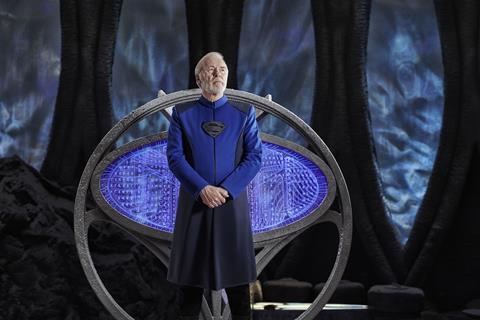 An origin story that follows Superman's grandfather as he fights for justice on his home planet, the spectacular television series Krypton, which is produced by DC Entertainment, Phantom Four and Warner Horizon Television, needed a crew and location that was up for an ambitious production. Not least because the otherworldly Krypton landscape needed to be created, bespoke, from the ground up.
With that in mind, the choice to shoot in Northern Ireland made perfect sense, according to executive producer and showrunner Cameron Welsh. Having hosted Game Of Thrones for eight seasons, the country's film and television professionals know a thing or two about world-building. "We benefited from the fact Game Of Thrones had been in there before us," says Welsh. "The industry is booming. We got to jump on the back of the groundwork they've done. Although they are very different kinds of show, the scale is similar. A lot of the crew from Game Of Thrones have come over to Krypton."
Due to the widespread talent and dedicated infrastructure of the country, Welsh says the two productions never found themselves competing for resources even though they were filming at the same time. "A gentleman's agreement was struck between the line producer from our show and from theirs over crew," he laughs. "People in the film and TV industry in Belfast see there is an opportunity to really grow the industry beyond where it currently is. There's more of a sense of camaraderie than anything else."
Rise to the challenge
Welsh explains that, although the first series of Krypton was shot entirely on sets in Belfast Harbour Studios — the first production to use the newly built facility, giving it the flexibility to design the space to best suit its needs — and the Britvic facility, the decision to shoot in Northern Ireland was also swayed by the wealth of potential locations. "We would like to start to expand the world and shoot some stuff on location," he notes. "There are some beautiful locations in and around Belfast that we would like to utilise." (This interview was conducted before series two was confirmed, but it has now been greenlit.)
Creating a series that is set entirely on an alien world came with its own challenges. The sets built on the two stages at Belfast Harbour were, Welsh says, the size of half a football pitch. "Everything you see we either make or build. We can't buy props or costumes or set decorations off the rack. But there is a very specialised skillset in Northern Ireland. We are lucky in that some of the quite specific needs of the production could be met locally."
Having worked in Belfast, Welsh says his impression is of a thriving industry that should continue to grow in the face of Brexit and other challenges. "I really hope that it doesn't affect the film and television community, as it's really building and growing into something special."
For all Northern Ireland had to offer, Welsh says it was the on-set atmosphere that left a lasting impression. "We had a lot of crew from Dublin and a lot of Belfast crew and it was great. It was a really tight-knit group of people."


The UK. First for world-class film and television production. The British Film Commission provides free, tailored support, from development through to delivery.